Ken Parfoot feels a deep sense of peacefulness looking out over the rear of his family's lifestyle property and being able to make out other houses' night lights only far away in the distance.
Ken says: "You get a different feeling out here in the countryside. Friends comment on how neat it is to just look out at bush and paddocks rather than at other people."
Ken and partner Helen Morrison grew up in the country in Thames. After a short stint living in Howick, they decided they'd move a little further out, buying this pretty lifestyle property in 2013.
Their three boys Harry, 8, Jack, 5, and Robbie, 3, adore being outdoors. And the property has allowed them to have three goats, two cows to eat the grass and chickens in addition to family cat Bayley.
Yet their rural setting is only about six minutes drive to Clevedon Village or Hunua, and 20 minutes from the motorway. The bus to Clevedon School stops right at their door.
Ken says: "I loved the uniqueness of this house immediately. With its high, angled ceilings and wrought iron work, you're not living in a square box."
He understands the house originated in the 1930s, later being substantially extended.
Trees shield the two-storey Hardiboard home and its picturesque nature from the road.
Cottagey style front gardens and a brick pathway introduce the home and its peaked-roofed charm.
The driveway is one of the major improvements the couple made here, concreting the first portion, then gravelling it past where it sweeps in a circle round a fine puriri and down to a separate double garage and then a barn.
Ken, who owns a hire company for drilling equipment and excavator attachments, says: "Before that it was just a muddy swamp."
They replaced all the fencing around the 4.ha property which has three large paddocks. They re-contoured land to give them decent lawn.
A front door with kowhai leadlights opens into an airy foyer and stairwell. It is graced by mid-height rimu wall panelling, wrought iron balustrades and and the soaring ceilings which occur through much of the home.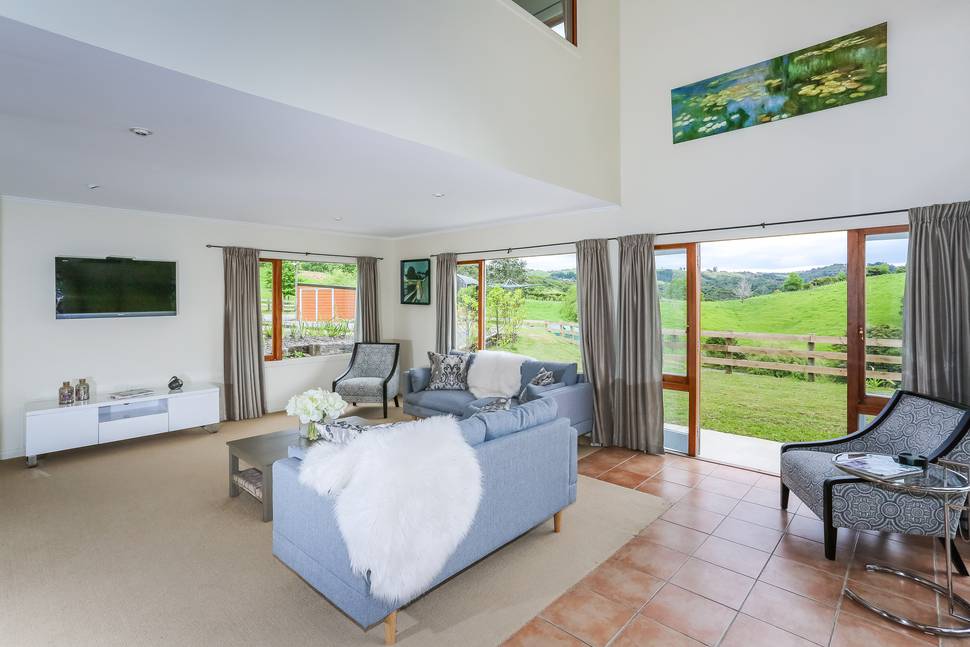 To the right, the main kitchen-dining-living room with native floors has a sweeping view across their land. They replaced the elevated deck it opens to with a much bigger hardwood one which hugs a magnificent kauri, its trunk more than a metre wide.
There's a scenic stand of kahikatea by their lawn and a smaller portion of their land is bush with a stream, attracting plentiful birdlife.
Helen, who also enjoys painting, likes baking in the kitchen's double oven.
All three bedrooms are upstairs including the en suited master with walk-in wardrobe and views and a bedroom with a little loft area the boys keep their Lego trove in. Also off the landing accented with wrought iron is the bathroom with clawfoot bath.
Stairs lead to the roomy downstairs living area opening to a little patio.
Ken says: "It's lovely sitting down here; there's lots of glass and lots of light and you look out over the kauri and kahikatea and it's a beautiful place to be."
He concedes he might have over-specified downstairs' wood-burner.
"When we first got it we cranked it right up on one of the coldest nights only to have to open all the doors and windows."
The property has a natural spring and they added stockyards near the barn with mezzanine level.
Given they have three busy boys and Helen needs space to paint, they have bought a slightly larger property, still in Clevedon.