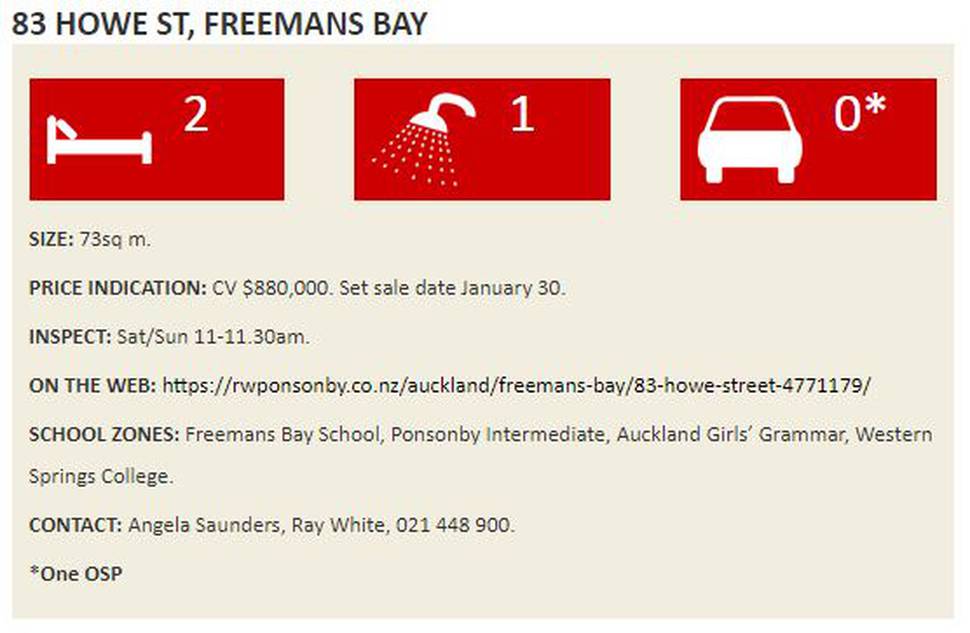 Charlotte Hobson and Jeremy Lawry rented next door to this home in handy Howe St in central Auckland's Freemans Bay for three years.
"It was a lovely unit," says Charlotte — producer of the upcoming new season of Dancing with the Stars.
Charlotte and Jeremy are in the TV business, at Three, where Jeremy produces current affairs show, The Project.
"We were working on X Factor together when the owner of this place decided to sell it and offered us first refusal, before putting it with an agent.
"That would have been fine, except that we only had a couple of days' notice — and we were about to fly up to Thailand for filming," says Charlotte.
The couple swiftly got their financial ducks in a row, and made an offer just as they arrived at the airport, several hours before the flight.
"Potentially we could have been right out of communication for 14 hours en route, but we heard that we'd been successful before take-off — and we celebrated with a few toasts on the plane!"
Once home, moving into their new abode was a little confusing; not so much for the couple, but for their cat, Saul.
"These places were built in the 1960s as council flats, using very good quality materials including lovely native timber floors," says Jeremy. "They're all mirrored in terms of layout — so this was the exact opposite floor-plan to where we'd been living.
"We came to grips with it quickly, but Saul took a bit longer to find his way around."
The property is cute and self-contained with some clever aspects in the kitchen, thanks to a previous owner who was an architect.
"She put in really good storage features," says Charlotte.
"There's a pull-out pantry and some nifty shelves that have two sides — plus a cleverly-concealed laundry cupboard."
The three-level townhouse has a generous living area on the same floor beyond the kitchen and a lovely timber deck with views to the CBD and Sky Tower.
Jeremy has tried to imagine how the view might have looked in the 1960s.
"There wouldn't have been anything like as many buildings," he says.
Two double bedrooms, each with great storage, and a cutting-edge, modern bathroom — with fabulous tiling and black tapware — are all on the top storey.
"We're so proud of the bathroom, which was our first big DIY project together," says Charlotte.
"Luckily Jeremy had worked on The Block show, and managed to find good tradies to help us with it."
Outside on the ground floor is the green, leafy garden.
"It was just empty, weedy space when we arrived but we've turned it into something attractive. It's been Jeremy's thing," she says.
Another bonus is the under-house storage and workshop — much of which keen woodworker Jeremy excavated, himself.
In terms of neighbourhood, this property is a winner with a primary school, Auckland Girls' Grammar and a daycare centre, all within easy reach.
"Then there's the cafes, the restaurants, and the shops at Ponsonby. It doesn't get much better than this," says Charlotte, who is expecting a baby in June.
"We've begun feeling that the suburbs, with a little more garden might be best for us at this stage in our lives, but we've loved it here."