To Heather Restall and Kevin Pugh, Tindalls Beach conjures up memories of lazy summer days just a stroll from their family bach across the lawn to the water's edge.
The brother and sister spent their school holidays at the family bach in the 1970s.
"Tindalls Bay is the little gem of the Whangaparaoa Peninsula, sheltered and safe for swimming and water sports," says Heather.
Their parents, Don and Muriel Pugh, had built another bach at Tindalls in the early 1960s, but had always coveted a waterfront position.
"They purchased 62 Tindalls Bay Rd about 1971 and built the ground-floor level [now a self-contained flat], always with the intention of continuing the upper levels," says Heather. "A few years later, in 1973, Dad built the second main entry level and garages."
Mind you, she says, they nearly didn't buy the land.
"My parents admired this beachfront location and walked past it many times, thinking it was too narrow to build on, until one day it was pointed out to them that both adjoining neighbours [who have long since moved on], were mowing a strip either side to make it appear narrow. It was, in fact, a full-size section of about 870sq m."
As a teenage building apprentice, Kevin helped his builder father lay the concrete composite floor.
"That concrete basement became our bach."
"Its Mediterranean style was up-to-the minute then and still looks contemporary today," says Heather.
It wasn't too long a trip from Milford to Tindalls.
"As a teenager, I met my husband, Peter, at Tindalls. His parents also had a bach there," says Heather.
"We would write letters throughout the school term and then meet up at Tindalls during the school holidays. We had the most idyllic time, playing in dinghies, sailing Lasers, fishing trips and evening walks along the beach with strict curfew instructions "to be home by dark" — rarely achieved.
"Dad would launch the boat in front of the property and then we would all pile in for a fishing excursion. It was great to be able to anchor the boat, and keep an eye on it, immediately in front of the house for water skiing or more fishing later in the day. Dad was still launching his boat, by himself, for fishing trips, at age 85 years."
Kevin says: "Dad was also a keen gardener. He had fruit trees and vegetables. Many a person would stop and chat to him over the fence."
After Muriel died 30 years ago, Don moved to live at the property full-time. In 2002 he added the third level, so there would be enough room for his seven grandchildren — including Heather and Peter's triplets.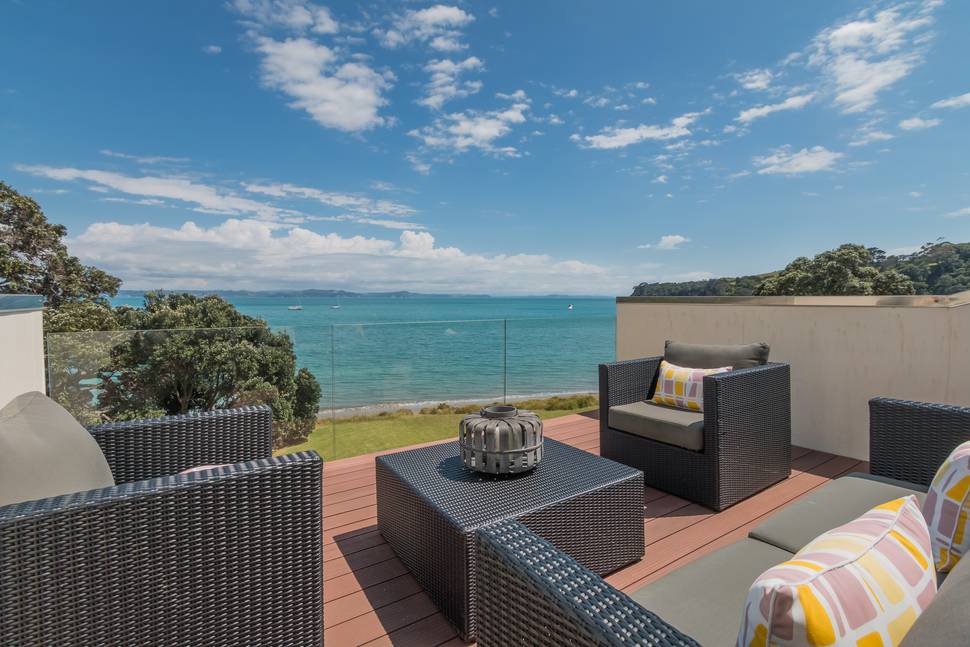 "Tindalls is a Kiwi kid's paradise," Heather says. "Hide and seek and 'spotlight' after dark, cricket or baseball on the flat lawn. And the big plus, as parents — no road to worry about between the house and the water's edge.
"As they got older, the triplets enjoyed erecting a tent on the beach-front lawn, where they slept, just to assert their independence. Three generations of family memories."
Kevin describes the views from the north-facing property as expansive.
"You look across to Wenderholm, Orewa, Red Beach, out to Motuora and Kawau way and across to Stanmore Bay.
"The property is virtually beachfront, it has a little reserve in front of it and that enhances the front lawn."
The home's ground level has two bedrooms, open-plan living/kitchen opening out to the lawn, plus the bathroom/laundry.
The next level up has two garages flanking the covered entrance, a foyer, then the living/dining/kitchen with deck access, and the master bedroom and en suite.
On the upper level are a large bedroom, bathroom and the family room opening to the balcony.
"It is a warm home because of its concrete block construction and concrete floor, which holds the heat of the day" says Heather. "However, there is a heat pump and gas heating."
Heather and Kevin have decided to sell 62 Tindalls Bay Rd. They did consider keeping the property, but feel it is time to let go after their father's death last year.
"Tindalls is a tightly held bay by various families, and here is the opportunity for someone to get in," says Kevin.
Heather believes it would be an architect's dream to update. "And the immediate beach-front location is surely priceless.
"The unitary plan also allows for a minor dwelling to be built on the property, if desired."