Auckland house prices horrified Susan Hurrell Fieldes and Graeme Fieldes when they moved here from Hastings for Graeme's work — and that was 33 years ago.
The couple were intent on sending their two children to Auckland Grammar and Epsom Girls' Grammar, so they focused on in-zone suburbs they could afford.
When they found this cross-leased property in a quiet Greenlane street, they loved the size of its garden, convenience to the central city and how close it is to Cornwall Park.
Since the Fieldes family bought their Tawera Rd property in 1984, they have come to know all the neighbours, who are quiet and friendly.
The 1960s house, which is constructed from Hardiboard and has a flat iron roof, was in good condition when they bought it and has been well maintained and renovated in stages since.
But the garden they took over basically consisted of a large lawn, an old fence behind which previous owners would pile all of their rubbish and high, out-of-control hedges.
A large, covered-in pergola, which kept light out of the northwest side of the house and made that part of garden feel dark and dingy, has since been opened up.
Over the years, Graeme and Sue have transformed their now lovingly landscaped and tended garden which is a major selling point.
Graeme has been an avid collector of cacti and succulents he has grown and sold from the level property, which includes two large glasshouses.
"At one point I had more than two-and-a-half-thousand varieties. I used to be out in the garden from nine in the morning until 6pm when I could," he says.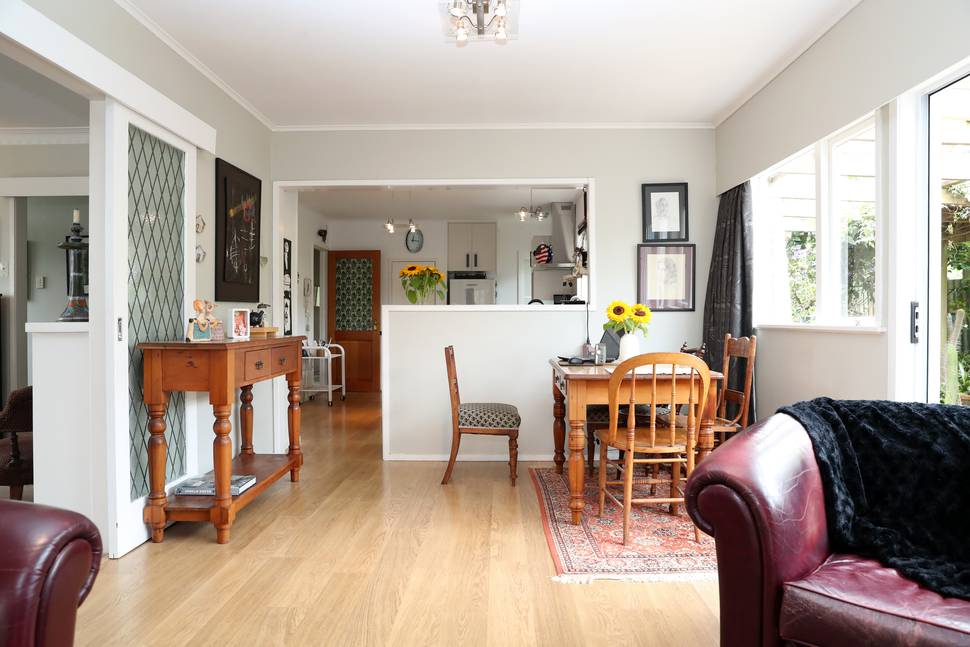 Most rooms in the house look out to the rear garden, which has undulating borders filled with an interesting mix of shrubs and perennials.
The four-bedroom, single-level house is the rear one of two on the cross-lease title. At the front of the house is an art studio, converted from a double carport, where Sue works from home as a print-maker.
The home's simple layout includes a central hallway with rooms opening off each side.
Graeme and Sue's changes have included renovating the kitchen twice — most recently five years ago when they added a long, central island to make the most of this large room, which they had previously opened up to the dining and family rooms.
Sliding doors from these rooms open to the formal lounge at the north end of the house where Susan taught students piano for many years.
Three years ago the separate shower, toilet and bathroom were renovated, and aluminum sliding doors have been added to three of the four bedrooms so they can open out to the garden, which includes a sheltered patio off the end of the house.
Though the couple still like to garden, they no longer want a large property to maintain so are looking to move somewhere smaller — but still large enough for a small selection of Graeme's plants.