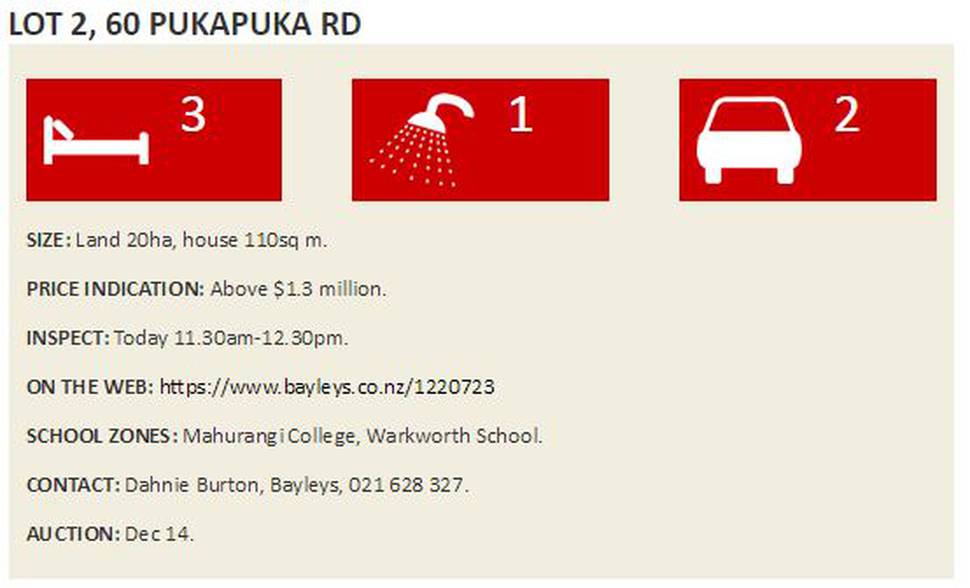 For the past decade, Sandy Clark and her family have been what they call "caretakers" of an original villa on a 20ha site at Mahurangi West.
They owned a 70ha block further along the road and recognised this was a special piece of land and the classic old villa quite a charmer, so, in 2006, they bought it.
"It was probably one of the original houses in the area, more than likely turn-of-the-century, and I think it was built here, rather than shifted on," Sandy says. "It has been tenanted but in the past year we've renovated it."
Built of traditional white-painted weatherboard with a green corrugated iron roof and a bull-nosed verandah along two sides, the house was originally basic but it had good bones and lots of native timber throughout.
Most of the interior walls and ceilings have been freshly painted off-white.
The living room, with its old-style timber bi-folds and french doors, has a vintage feel with a fireplace with a traditional timber mantelpiece and polished wooden floors.
The kitchen, which sports sunny yellow walls, is also country-style but updated with modern benchtops, a white-tiled splashback and pantry-style cupboards.
The bathroom has a modern vanity and fittings.
There are three bedrooms: one retains its vintage tongue-and-groove timber panelling below an ornate dado rail.
Outside, the timber-floored verandah provides tranquil rural views and Sandy says it's peaceful, sheltered and sunny — a great place to just sit and look over the land.
"Before we bought it, the property had an olive block on it and the owners were propagating trees and testing different varieties, so it was a sort of experimental horticultural research block, hence the propagation shed," Sandy says.
"That appealed to us because my mother had had a propagation business in Australia so this was something close to her heart."
Currently, the 20ha of north-facing land is being farmed. It has been divided into five main paddocks with fencing and facilities for stock, including troughs in all but one holding paddock. Sandy's family has planted a few wetlands to attract back the native birds.
"This area has great potential with Auckland getting so close and I feel we need to preserve the green belt around the city.
"So with 20ha and a propagating shed there's an opportunity here for various kinds of horticulture."
There's also the chance to enjoy the natural attractions of the area, which include walking, boating, swimming, fishing and discovering local history.
At the end of the road is Mahurangi Regional Park, which protects three peninsulas at the mouth of historic Mahurangi Harbour.
The park was the ancestral domain of Ngati Rongo and there are four fortified pa sites, at Opahi, Cudlip and Te Muri Points, and above Sullivan's Bay.
More than 100 Maori and European settlers are buried in the Te Muri urupa (cemetery) in the park, watched over by two sacred pohutukawa trees.
Mahurangi West is accessed from SH1 just north of Puhoi, so commuting is feasible.
Sandy regularly makes the drive to and from central Auckland in about 35 minutes.