Craig Batty and Megan Jarrett did some soul-searching before deciding to sell their Snells Beach holiday home — their friends are a bit disappointed with the decision, too.
"They're a bit gutted we're thinking of selling," Megan says.
This is because their four-bedroom house with expansive sea views is only an hour's drive from Auckland, which means getting away from it all is incredibly easy.
They get there and sit on the deck looking out to Kawau Island, Megan says.
"We rock up there on a Friday night and grab a wine and just look out to sea and watch all the boats."
Even on a Friday night with traffic it only takes a little over an hour, says Craig.
"We bought it as a holiday home," he says. "And then we kind of had the intention a bit later on to maybe lift the house up and to build on there."
Says Megan: "We used to stand on our roof and just look at the view, it was incredible, just stand literally on the roof to check out the view if we were to build. The views are brilliant anyway but we just wanted to go that tad higher."
As it is, they can see from Algies Bay all the way to Great Barrier. Often they see the Spirit Of Adventure or cruise ships going by.
Megan says you always know when the whales or dolphins are feeding because of the birds diving, and Craig likes fishing in Kawau Bay. He takes a chilly bin on his jet ski, or sometimes they will drive around and go out from different places.
"We've seen sharks out there, orcas, dolphins, heaps of penguins, yeah, little blues. It's great."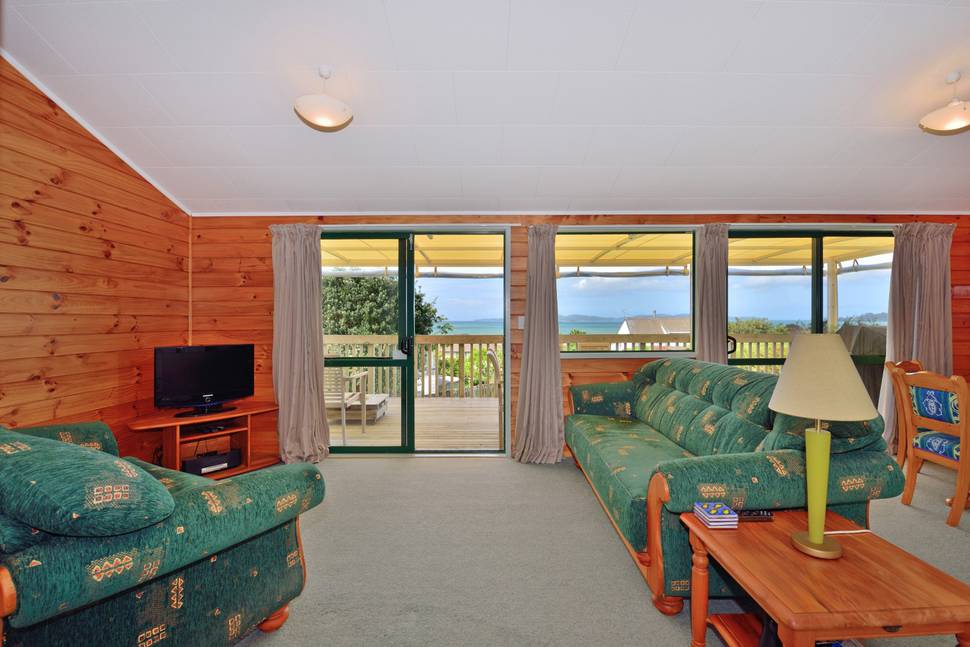 Sometimes they jet ski over to Kawau Island, park up at the yacht club and have lunch.
The couple has had their holiday home for 11 years and have had many good times entertaining with friends.
The layout is perfect, they say, because you walk through the back door into the kitchen and lounge and on to the deck, and at either end of the house are two bedrooms and a bathroom.
"So when you've got friends up there you've basically got your own end of the house, or your own little wing really," says Craig.
"We put the roof over the deck as well, which adds another room basically."
They needed that roof because the property is a sun trap. The couple spends "hours and hours" on the deck and another bonus is the beach is only a five-minute walk, either down the road or through the lane at the bottom of the garden.
The house is so easy-care, too, they say.
Craig works for a company that makes Palliside cladding, which the house has, but bought the house before he got the job so he already knew the cladding never needs painting or waterblasting.
"It's basically a hose-down once a year. There's no maintenance on it, which is terrific for a bach by the sea."
They can walk to the Brick Bay Winery for lunch, visit Goat Island, play golf in the area, go body-boarding at Tawharanui or walking in Scandrett Regional Park.
Matakana and Warkworth are nearby but Snells Beach has everything you need, they say.
The coupleis selling only because they are not spending as much time at the property, having moved from Henderson to a Grey Lynn apartment, which they love.
But they will still be visiting. Megan's parents live in Snells Beach so Craig won't be giving up the jet ski any time soon.