David O'Connell reckons there's a big difference between living across the road from a park and truly feeling as if you're a part of it.
That is the feeling you get at his development, SOL, which has centrally located Basque Park wrapping around its apartments.
David says: "I just love the way these apartments work with the park. They sort of reach into it, which gives you a different feeling from apartments that just sit on a road near a park."
Three-quarters of SOL apartments were sold off the plans but David and business partner Gerald Fava chose to retain seven two-bedrooms to offer at this stage, completed, to properly showcase their quality.
The pair owned industrial premises at this location for years and were always struck by the site's extraordinary north-facing park-hugging potential.
David says: "It's amazing; you open the doors here now in the middle of the day and the predominant sound you hear is birds. And yet you're so central here, close to Upper Queen St."
He and Gerald commissioned Steve Jensen, of JYC Architects, to design this building to a clear brief, knowing they wanted north-facing, high-stud, front-to-rear apartments with functionally sized decks. They wanted a building that blended with the park, had a contemporary aesthetic and exacting quality.
They chose Aspec Construction and have been delighted with the company's work.
The resulting building has 33 apartments across four levels over basement car parking. The park wraps around SOL's northern and eastern sides.
This orientation delivers beautiful light into apartments and lovely outlooks across the park, redesigned by renowned artist and landscape designer Ted Smyth in 2006.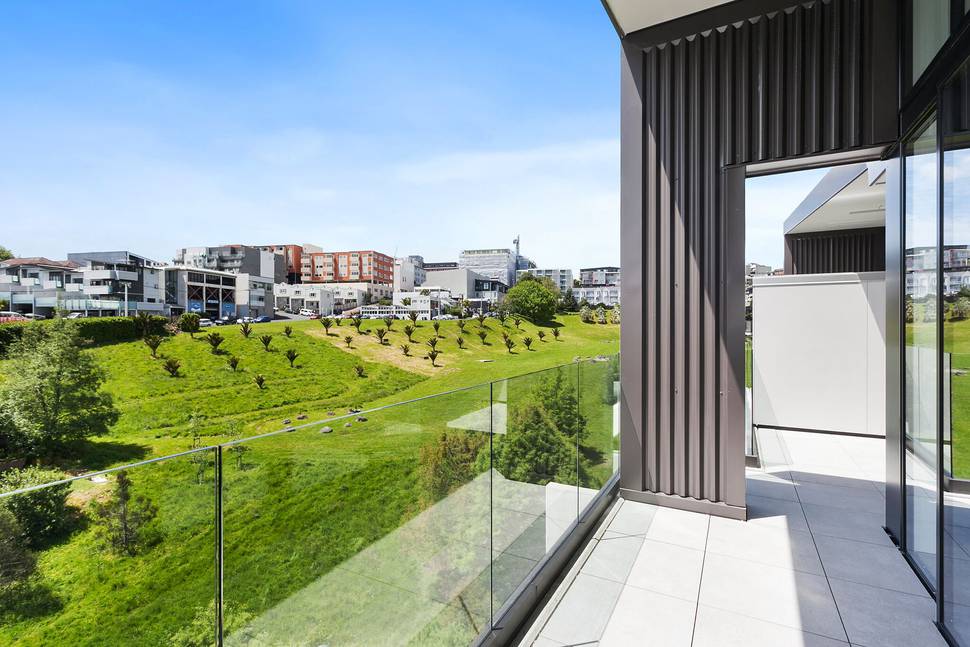 Considerable effort has been put into making the concrete building with cedar accents fit in with its park neighbour.
This is seen in elements such as a patterned glass screen down the building's eastern entry face and the circular openings along the basement car parking, both of which reflect shapes and forms seen in the park.
All the apartments open to generously sized decks, some of which wrap around on two sides, opening off master bedrooms as well as living areas.
They are partially covered and you can see how the developers have gone the extra mile using attractive Meranti ply under the overhang.
David says: "These really are proper decks you can barbecue and entertain on, not just balconies."
All the apartments have their own entrances off an atrium breezeway which provides individual access while maintaining privacy.
Generous studs ranging from 2.7m to 3.3m and floor-to-ceiling glazing enhance the interiors.
The remaining seven apartments vary in exact layout but all have two bedrooms with a master suite with walk-in wardrobe and en suite plus a second bedroom and second bathroom. Kitchens in the airy open-plan living spaces feature Smeg appliances and engineered stone bench-tops.
Apartments have a heat pump but David reckons it'll probably be used more for cooling, given the sunny orientation. The double bifold doors opening to decks utilising high-spec easy-opening joinery.
David says: "It's lovely looking out at the park, watching kids play, people walking their dogs or practicing tai-chi."
He says it's been incredibly rewarding seeing how delighted 'off-the-plan' buyers are with their finished apartments, many of whom are professionals in their 30s to 50s.
Building is complete with small finishing touches being made to the apartments. This means anyone who buys one of the few remaining apartments can expect to take possession within 30 days.