Mountain climbing and a bit of research brought about this splendid 1970s home treasured by the same family since being built.
Granted, Mt Albert is hardly Everest-like, but that's the peak Roger Peak used to regularly scale to try to spot spare bits of land on which he and wife Dale might build their family a new home.
Roger says: "I'd spot what I thought might be suitable land and then go in and search the titles at the Lands and Deeds Office to find the owners to contact."
His perseverance paid off and they bought this property at the tip of pohutukawa-lined Weston Ave bearing a poorly positioned old bungalow they demolished. At the time the couple were living in a too-small local house with their four children.
Friends recommended architect Brian Halstead. The Peaks discovered Brian was also an acclaimed landscape architect, not only skilled in designing houses but the landscaping in which to integrate them.
Former GP Roger offered him a layout idea he'd sketched.
"Brian said 'Hmm ... I think we could do better.' But we didn't mind at all because were so bowled over by what he designed for us."
Watching last year's TV series on the history of Kiwi houses The New Zealand Home emphasised to Roger just how typical number 40 is of its era.
Roger says: "It's archetypical 1970s Auckland School of Architecture design. It's got interesting, high sloping ceilings with exposed beams and shape changes and brings in the use of rimu inside. "And the finishing is very 70s with these wallpaper choices."
Roger marvels at the generosity of a former neighbour who gifted them a metre-wide strip of land to widen their driveway, asking only that they put a wall along it and cover surveyor's fees.
The five-bedroom home is predominantly brick veneer downstairs and board and batten upstairs with a tile roof.
"The roofline is striking; there are so many different angles," says Roger.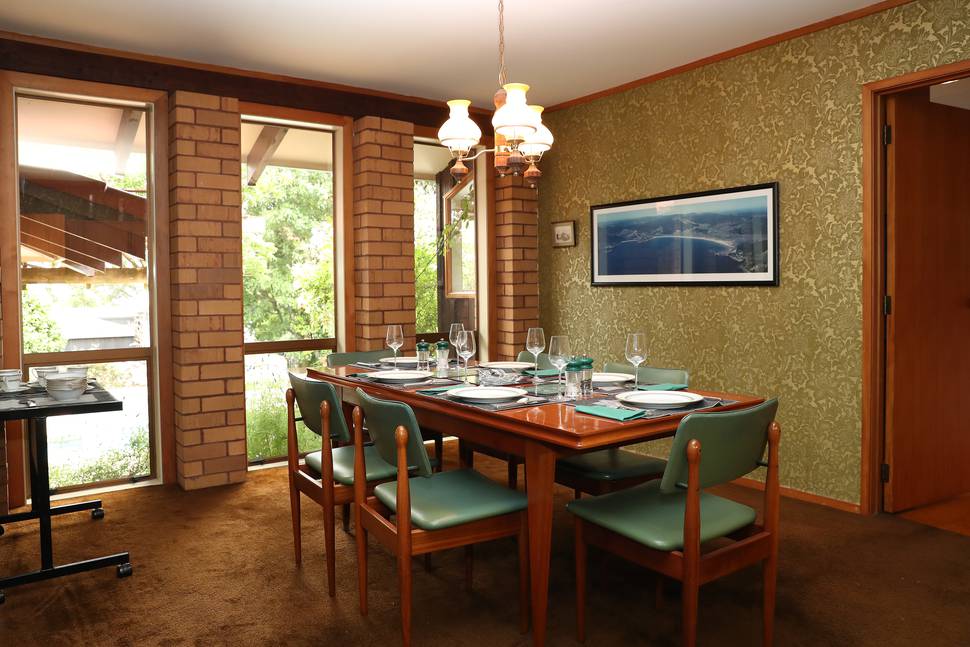 Upstairs elevation delivers views towards the Sky Tower and across towards the upper harbour.
Considered positioning on the site allows living to open out to large brick patios, gardens, lawn and a sizeable in-ground concrete pool. The internal-access double garage has rear doors accessing a boat parking spot.
Entry is into a foyer proffering chocolate-hued carpet and an original light in a stairwell adorned with vertical rimu.
Distinctive features abound throughout the privately set home. Think white angled ceilings, ribbed and braced with dark beams, plentiful built-in timber furniture and cabinetry, window-seats, brick pillars and swags of 70s wallpaper.
The Peaks haven't felt the need to change much about the home since building, finding it well-suited to raising their four now-grown children.
Ground floor living spaces are plentiful - the big media room with orange floral wallpaper, the family room with blue floral wallpaper adjoining the kitchen and the main living room.
The latter is Roger's favourite, enriched by memories of family evenings enjoying takeaways and a video warmed by a fire in its corbelled brick fireplace.
He says the dining room where they hosted many dinner parties has superb night-time atmosphere.
This level also contains an office near the front door which was Roger's weekend consultation room, a bathroom and a laundry.
The five bedrooms upstairs include the master with balcony and great views and one uppermost bedroom, up a further set of stairs, with even loftier views.
They are served by a bathroom boasting a turquoise bath plus a separate shower room and a toilet.
The home's now too large for Roger and Dale, who was a radiographer and later became an accountant. They're heading to a retirement village.