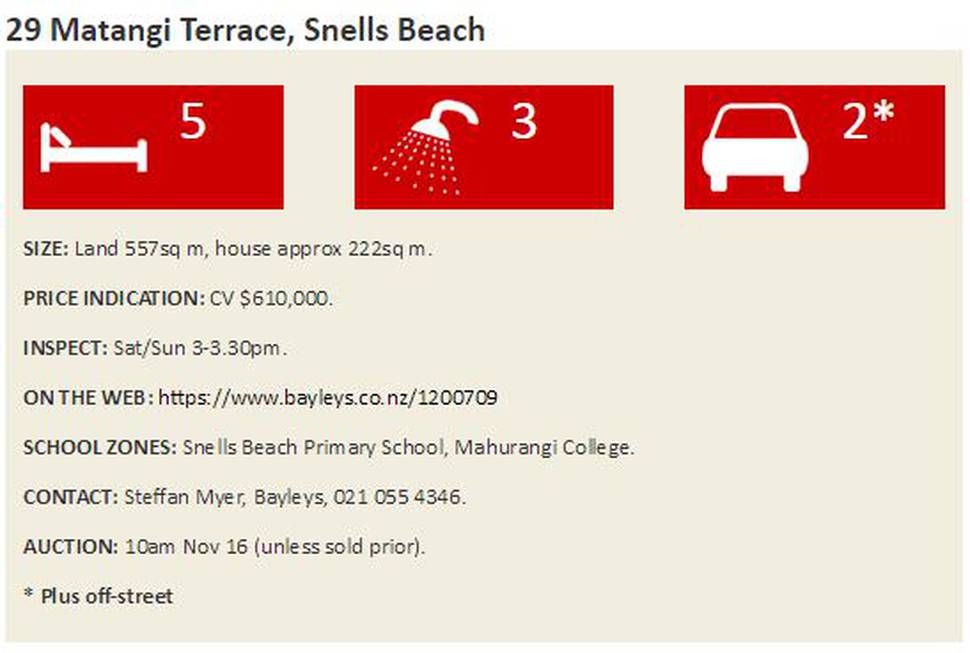 Heather Lussey says visitors are often surprised how peaceful her family's Snells Beach holiday home is, given that it's close to so many amenities.
Heather says: "Most people are surprised how tranquil it is when you are still within walking distance of the shops, pubs, and cafes.
"And there's an access path near us that takes us down to the beach in under 10 minutes. It's been a great place for us to come and just relax."
Heather, who works in policy development at Auckland University, and her husband Derek Greenly, who is in IT, bought here around 10 years ago.
The Titirangi-based couple wanted a holiday home they could relax in with their now grown-up daughter, and with friends and family, some of whom have visited from Heather and Derek's homeland of Britain.
Heather says: "Another brilliant thing is that it's only an hour and a quarter's drive from our home. That makes it so easy to pop up to and use compared to other places we'd considered which were further afield.
"It's a beautiful place to go, especially because of the view over Kawau."
The bach was more about position and potential when the couple bought it, and they engaged architects to help create the peacefulness, easy living and spaciousness it offers today.
They designed flexibility into it. It is able to be used as one large two-storey home or as two separate living spaces closed off via doors since each level has its own entry, kitchen-living area and outdoor living spaces.
When they bought the two-level home, downstairs was essentially a garage and rumpus room. Their architect's design stripped the lower level back to its supporting poles, rebuilding and extending it while creating a separate double garage, which can house their fishing boat.
Heather says: "So downstairs was basically built new and we've renovated throughout upstairs."
Number 29 is at the tip of a quiet cul-de-sac. One of Heather's favourite places is the pergola out the front where a flowering vine grows up towards the balcony overhead, creating a lovely semi-shaded outdoor environment with a Mediterranean air.
There's plentiful off-street parking in addition to the garage, and the couple have put in attractive low-maintenance gardens.
Heather points out that, because they're on a peninsula, there's always somewhere sheltered to go fishing regardless of the orientation of the wind. They're handily located to head out to explore Matakana's market, wineries or any of the lovely beaches around here.
Downstairs, which can be used as a separate unit if desired, has a living-dining-kitchen space opening to the front deck and to a side deck. Heather has used her eye for decor to choose soft, soothing colours that reinforce the peaceful atmosphere.
This level has three large bedrooms and two bathrooms, one with en suite access to the master bedroom.
Upstairs can also be used as another self-contained living set-up, able to borrow a bedroom-bathroom from downstairs if needed. It has another open plan living-dining-kitchen with a wood-burning fire, opening to an upper balcony with expansive views out over Kawau Bay.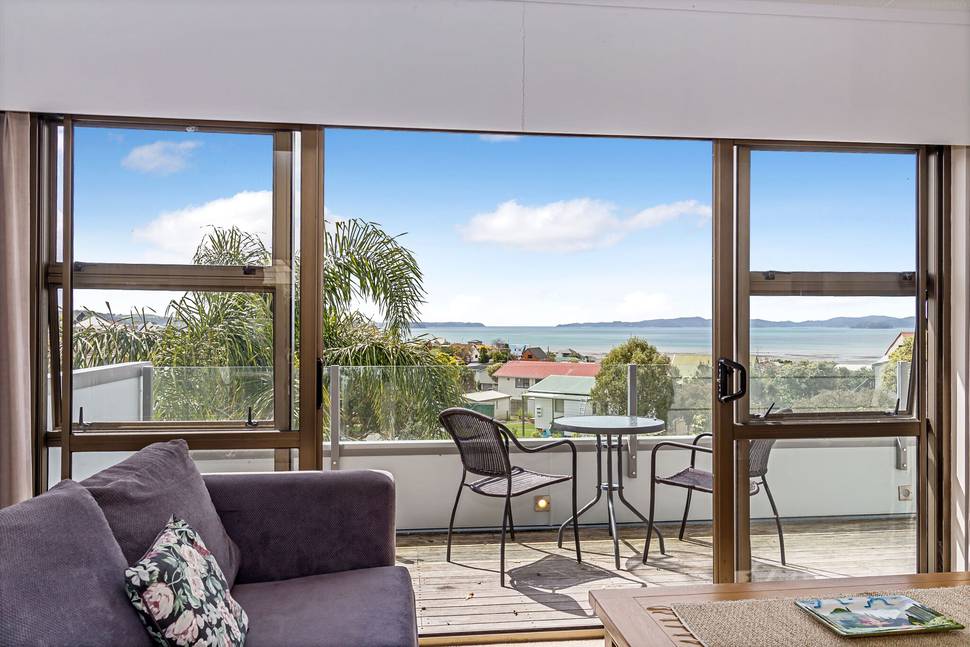 Heather says: "It's a grand view. In the evening it's lovely with the sun shining down on Kawau and we get lovely sunsets."
Upstairs has two bedrooms, one of which has been used as a study, and another bathroom.
The couple's daughter is studying at a European university. This has meant Heather and Derek have changed their holidaying priorities, selling their bach as they want to visit her as much as possible.