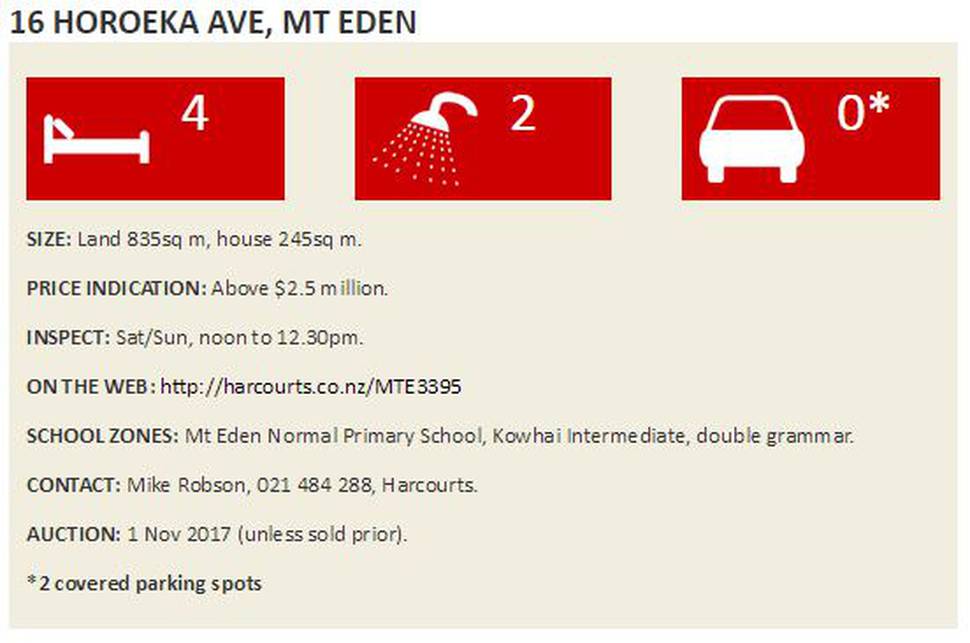 For the Rolleston family this picturesque double-bay villa was a "fall in love" house, rather than just somewhere that ticked all the boxes.
Katy Rolleston says: "We saw it featured in a Herald Homes editorial, came through it and knew straight away that we didn't want to look at anything else."
Husband James says: "It just had so much street appeal. I think it's that symmetry which makes a double-bay villa so appealing."
The couple were previously living in a Remuera bungalow but hankered after a villa.
This extensively renovated circa-1913 home looks very much like a long-standing resident on its big corner site. However, it was actually relocated in 1988 from Herbert St, Mt Eden to this land, which used to be a tennis court.
Buying here in 2012, former primary school teacher Katy was enthusiastic about being zoned for well-regarded Mt Eden Normal Primary School, planning ahead for sons Freddy (now 6) and Wilbur (3).
James is managing director of Spaceships Rentals but trained in graphic design and both he and Katy have a strong interest in interior design.
So even though the centrally-heated villa had been renovated throughout when they purchased it, they've continued to make their own changes, bringing it into line with their preferences and ideas.
The front gate in a rock wall topped with glossy magnolia introduces the villa with its deep front veranda set behind lawns.
The corner site allows an internal-access double garage off Bellevue Rd, where there's also a handy back entrance for Freddy to nip into school.
The traditional hallway emphasises the lofty 3.4m stud-height accented by several beautiful pressed-tin ceilings.
Two front bay bedrooms include the master with en suite and walk-in wardrobe. Then another two bedrooms on the right include one with stylish built-in bunks plus another walk-in wardrobe.
Freddy and Wilbur love that they have a shower head each in the double shower in the family bathroom with separate bath.
The formal lounge is able to be closed off and boasts a pressed tin ceiling and a heritage-style gas fireplace flanked by bespoke shelving and cabinetry concealing a pull-out television.
The couple had the polished matai and rimu floors lightened, unified the decor, and removed the wall between the dining room and granite-benched kitchen.
"The boys didn't want to be in the dining room before because they couldn't see us in the kitchen," James says. "It flows really well now."
The kitchen is extended by a family room with a study and laundry to one side. They replaced the family room's carpet with rimu flooring and installed a big rear bank of bifold doors opening the space wide to outdoors.
Katy says: "We've also removed a couple of big trees from the rear. So much light floods in here now and it works so well for entertaining all summer long."
James' perfectionist nature came to the fore when he overhauled the rear grounds, landscaping and installing a big deck.
To ensure the rear landscaping was a continuation of the existing, he found railway sleepers matching those used elsewhere on the property and specimen-sized magnolia.
Now the deck doubles as an entertaining area and a play area for the boys on their scooters and bikes.
It is supplemented by a side outdoor entertaining area off the dining space, benefiting from the shade of a mature pohutukawa.
The family is moving to James' hometown of Christchurch to be closer to family.