When, to make way for a new house, Aiden Craig and Tania Pearce demolished the century-old home they had lived in for eight years, they received an unexpected bonus. It came in the form of a hidden wad of $500 in 1970s banknotes.
"It just fell out of the wall, and that was what got me really interested in the history of the house," says Tania.
"Who would stash something like that in the veranda wall before it was filled in? Who knows where it came from?"
That stash added handsomely to the proceeds of the sale of the old roof tiles, windows, doors and courtyard pavers from the house, which they couldn't move off site in one piece because of the surrounding bush.
"Somehow people got wind of the fact we were getting rid of it and they filled us in on some of its stories," she says.
Wagon wheels and horseshoes Tania found in the bush date back to the days when this property was a weigh station.
Toy cars and balls she also found tell something of the days when it was a home to recalcitrant boys from the city.
At one point, the house had been the one-room weekend bach of an Auckland city jeweller. One man told how he had sourced the kauri for his alterations.
"He was probably sad but he totally understood," says Tania, of the home's demise.
She and Aidan had intended renovating the house but when an engineer declared it to be "75 to 85 per cent rotten", they engaged Scott Jury of Jurado Architects to design their new home. Built three years ago, its "concrete and kauri" theme is much more than a nod to complementing an industrial vibe.
The bathroom vanities were built from old kauri floor joists. The kauri flooring comprises some from the old house that was re-milled and installed alongside matching swamp kauri.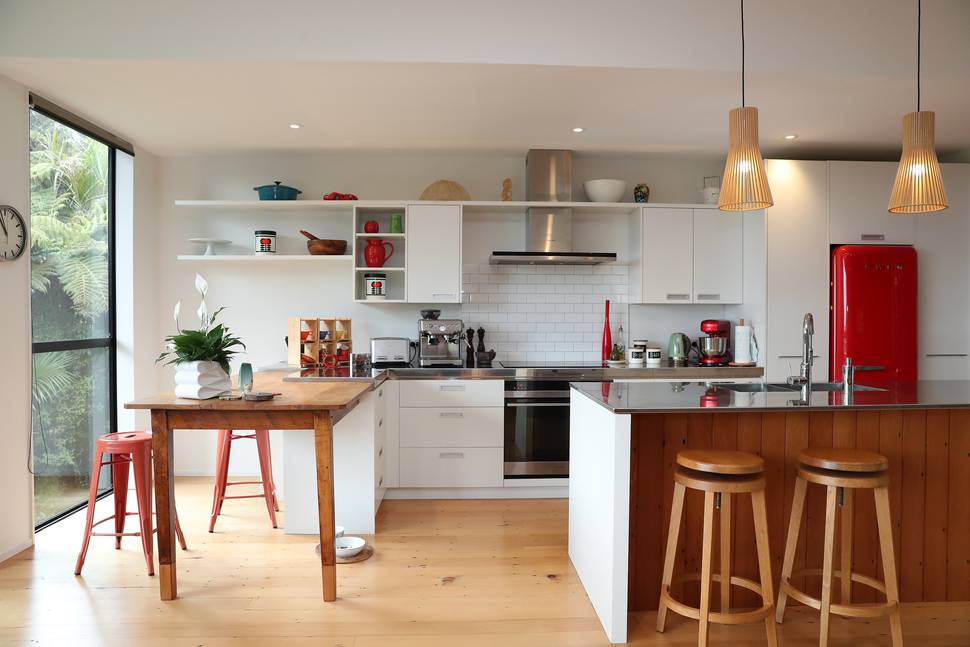 The kauri cladding behind their wetback was once white painted weatherboards. "That was all there was that wasn't rotten," says Tania.
Outside, there is a textural timber imprint to the pre-cast concrete entrance above their entry deck and front door.
Inside, the kitchen breakfast bar features swamp kauri cladding and an old kauri table integrated into a stainless steel side bench where Robbie (15) and Hannah (13) do their homework.
"It is not a wet area. It is quite separate and it works really well," says Tania.
Separate bedroom/bathroom wings for the adults and children flank this central living area with floor-to-ceiling windows to views as far as the upper reaches of the Waitemata harbour.
Within each wing, large casement windows designed without corner pillars bring unobstructed, sheltered views into the bush.
The children's wing includes the deckside TV lounge and a laundry with external shower on the deck.
On the opposite side, the master bedroom's en suite can be closed off to become a second bathroom, with its floor-to-ceiling backdrop of dense bush.
A separate office/guest area near the front door is close to a large storage cupboard designed for conversion into a stairwell down to the basement rumpus room.
The family are now off to dip into the outdoor Wanaka/Queenstown lifestyle.