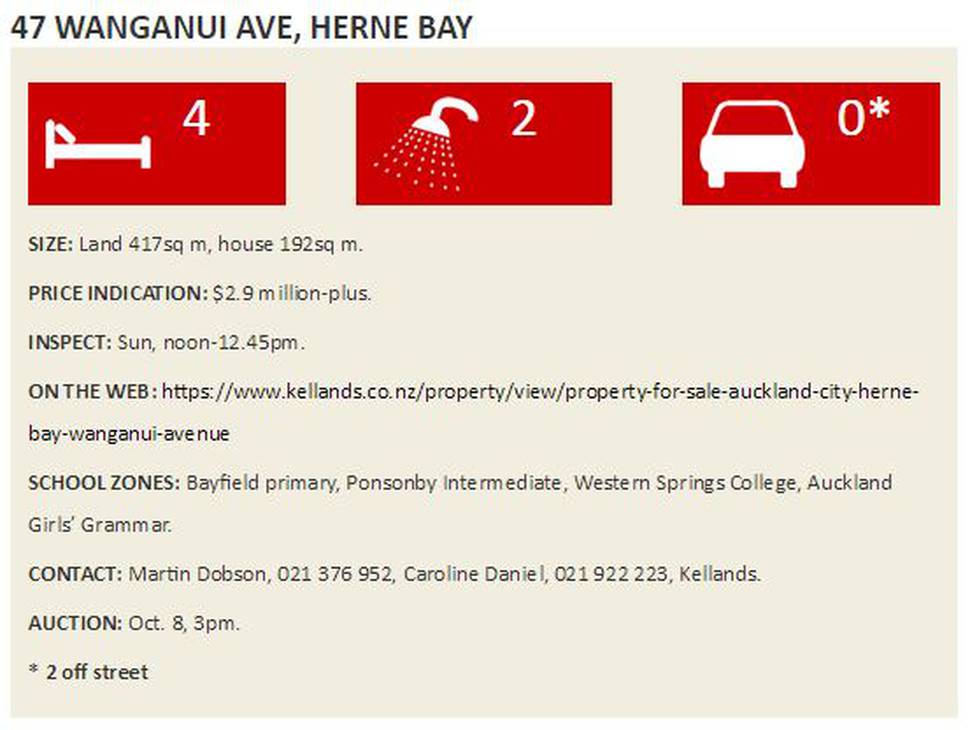 Nicky Tong is a bit of an accidental house shopper, but luckily it doesn't happen that often. Twelve years ago she spotted this house in Herne Bay while out walking with a friend, went to the last open home and bought it - when husband Simon was overseas.
"Simon hadn't even seen the house. We'd been vaguely thinking we needed more room as our family was growing, but hadn't even looked at Herne Bay because we thought it would be unaffordable," she says.
"But it was exactly what we needed. It turned out to be a street full of families; children playing in the street. It's a wonder the tree outside has withstood all the climbing it's had to endure from the kids. And they can walk to school."
Nicky says the house has been a labour of love for some time: when she and Simon moved in, their older kids were 11 and 13.
Babies Maddie and Nawton, now 9 and 6, were born in this house. It has morphed and changed along with the changes in the family, but the basic bones, with its bay-windowed front were a great starting point.
Nicky has even turned her design experience into a business, launching an interior design company with a friend.
In the front of the villa the Tongs kept the floor plan pretty much the same as it had been renovated just before they moved in: a central bedroom had been carved into a master en suite and a separate family bathroom, the back of the house pushed out for a kitchen and family room.
Their own renovations and updates have come in phases over the years, the most recent being a glamorous makeover of both bathrooms with warm stone-look tile, feature mosaics, underfloor heating and top end fixtures in both rooms (including an intriguing black Zuchetti shower head in the master bath that looks like an elegant lamp).
Nicky customised the vanities in both rooms, amping up the glamour with bronzed glass shower doors and LED lighting that switches from guest-welcoming glamour to sensible makeup. The family bathroom has a sculptural tub and brass fittings, the master has black.
Daughter Maddison has the bay-windowed room, complete with striking diamond-pattern wall paper from PaperRoom; there are clever modern light fittings in all the rooms and new closets for the front three bedrooms.
The Tongs removed the non-functioning fireplaces (with unsafe chimneys) to make room for customised wardrobes in the children's rooms.
Another fireplace at the back of the house was removed to make room for a west-facing wall of bifold doors leading to the back yard.
The couple had optimistically pushed out the back of the house to make a shared office/parent space - that was converted to a bedroom when baby Nawton came along.
Since then it has also done duty as a teen space, as it opens off the new media room and out to the pool.
Sliding pocket door closes off the space for winter evenings, another sliding door hides the laundry.
The original wide-plank kauri floors were blonded, while cool white paint and shutters updated the whole house.
But about four years ago Nicky got the kitchen makeover of her dreams, including a wide Falcon cooker.
Kitchens by Design specified a smart mix of white two-pot lacquer and striking zebra-wood veneers, mixing it up with black hexagon splashback, stainless steel and marble-look Corian benches. Double wine fridges are tucked under the huge central bar, perfect for entertaining.
Nicky has worked her way through the house updating lighting with modern LED that can be programmed for different moods.

Last year's final renovation was converting the back yard to a pool oasis - a heated 3.5m x 5m pool, complete with an outdoor shower and sun deck that wraps around exiting palm trees.
This time, Simon got his dream kitchen - a shiny stainless-steel line up of mega Galaxy barbecue, with sink and fridge - and the whole area is covered by an awning to turn it into a third living room in summer.
There is even a roomy sky-lit shed right at the back of the property for bikes and freezer - a bonus for an era of houses that don't have garages (there is double off-street parking in the landscaped front yard).
Their next house the couple did manage to buy together - but it was still an unintentional move, as they'd just gone to look at a modern house in Point Chevalier to admire the architecture, not planning to buy.
As Nicky shed a tear at leaving their happy family home, the children reminded her that they will create equally warm memories at the next one - as the next family at Wanganui Ave will do.