By Graham Hepburn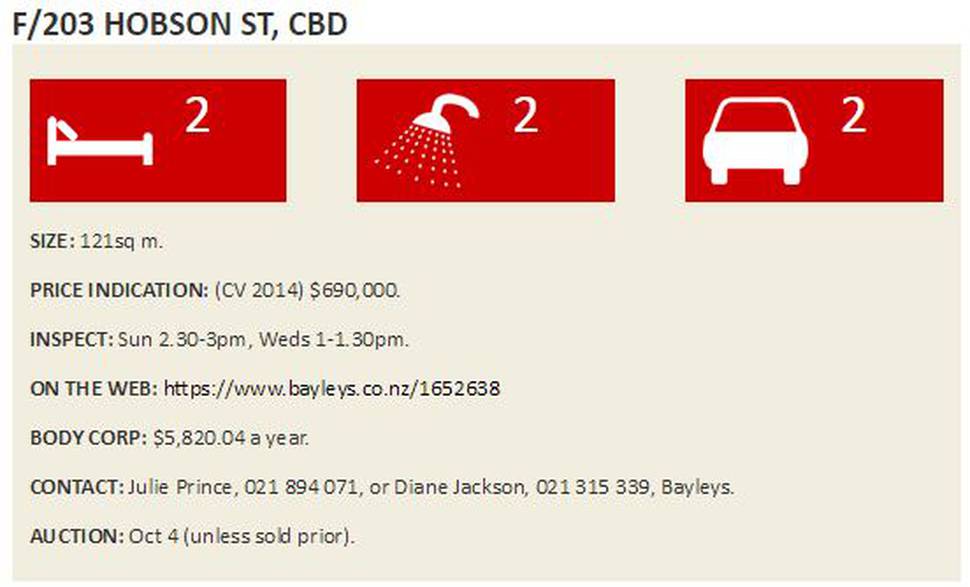 Industrial buildings converted to apartments are popular with buyers and it's easy to see why when you step inside Danny and Ruth Wells' place in Hobson Lofts.
You are greeted by soaring timber sarked ceilings, exposed brickwork and grunty timber beams and trusses.
"We both really like places that have a bit of a surprise," says Danny. "People when they come in here say, 'Wow, look at that ceiling.' I remember when I first came to look at this place, I walked in and went, 'Oh, yeah.'"
Ruth says: "We are really attracted to features like wooden floors and exposed brick."
When the former Dominion Laundry Co building (circa 1911) was converted into apartments in 1995, care was taken to keep the character of the premises and display its time-worn but robust materials.
In the Wells' apartment, the living area is full height while bedroom and bathroom modules have been inserted upstairs, with the timber sarked ceilings still on show.
Rain sensing skylights in the upstairs rooms, including the bathroom, mean these spaces are well ventilated and filled with light. The bedrooms also have shuttered windows looking out over the living space, while the bathroom, which is tiled, sits between them.
Skylights feature in the main living space, which also has two large sash windows set in the brick wall in the kitchen and living area.
One of those skylights sits over the office nook or, as Danny calls it, "the DJ booth", which has its own set of stairs and sits on a mezzanine floor over the front door.
One of the upstairs bedrooms overhangs the lounge space, providing a sense of enclosure and cosiness. Between the kitchen and the lounge, and tucked back a little bit, are a laundry, another bathroom and a storage area.
Carpet in the lounge gives way to wooden floors as you step up to the kitchen and dining space with its beautiful exposed brick wall.
Ruth says the kitchen appears a little dated these days but is still serviceable and has heaps of storage. There's certainly plenty of bench space as well as a breakfast bar to perch at.
"It's always been a nice social place," Ruth says. "We would have friends over for drinks then head out for the night - we've got two car parks so it was good for them.
"One of the great things this place has going for it is the location. I love going to the theatre and you can just walk there; the same with the movies."
She says they bought the apartment 10 years ago and lived here for a while before renting it out.
Now the couple are working on another industrial building, trying to create their "dream home".
Danny says: "So we thought we would sell this and that would free us up to pursue that."