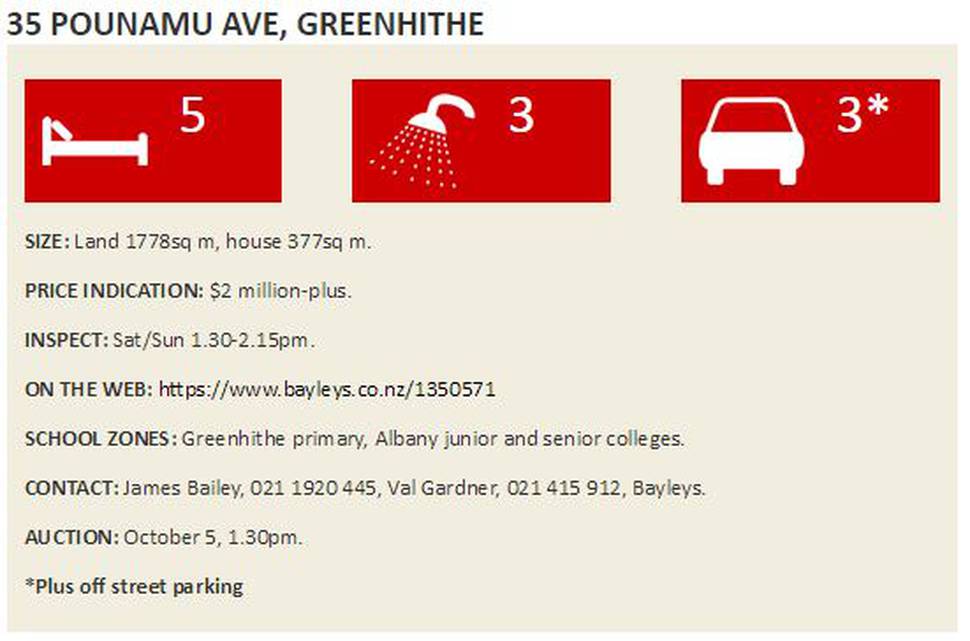 Fourteen years ago, when her daughter Georgia was 4, Janine Junkovich was keen to move from Ponsonby to more spread-out country suburbs, thinking of the sort of free-range childhood a city couldn't offer. Her husband Steve had only one pre-requisite.
"I said, 'Anywhere but Greenhithe,'" he says. "I'd grown up there, my parents had bought there over 40 years ago.
Then it was countryside, there were only 50 kids at the school. I couldn't see myself living there again. But in the last five or six years, it's turned into a suburb. But there are still kids on their bikes or playing cricket in the laneways here."
But, almost inevitably, a search of Auckland's surrounding country towns brought the couple back to Greenhithe for its relaxed lifestyle that was not possible in the city.
The burgeoning school - nearly 600 students now - signals the growth in the community, now comfortably joined to the city fringe.
Steve admits he's grown to like popping down to Constellation Drive for gourmet food, the ease of airport access now the Waterview tunnel is complete and, of course, the great cafes and pub in the village itself.
There are high schools - public and private - for their daughters.
And Janine still gets her long country walks around the village with their dogs every day.
Younger daughter Bella, 11, has only known this life, but with Georgia starting university next year, the family have decided they're ready to head back to the walkability and bright lights of the inner city, and are returning to Ponsonby.
The 10-year-old solid masonry house in the gated community is only the second Greenhithe house the family have lived in.
It was designed for entertaining, with two north-facing living areas opening to a covered verandah that can be used nine months of the year, complete with pull-down blinds and a fireplace to take the chill off evenings.
In the living rooms, high windows in the 3.5m stud allow sun to penetrate the spaces.
Steve says the house was designed and built by owners of a window joinery company, so the large aluminium sliders and stylish windows are top-quality, double glazed and smooth to operate.
There are two more fireplaces inside to supplement the heat pumps.
Janine and Steve were taken with the great layout of the house - a master suite on one side of the living rooms, the girls' spaces on the other.
Steve has an office on the quiet parents' end, and there's a guest loo and good-sized laundry. Nearly every room opens to the garden and pool, with a spa pool that gets heavy use year round as it sits under a pretty cabana.
This year, Janine has had fun with interior designer Olga Skorik, of Ermitage, revamping the decor: stylish rich paint colours, new smoky-finished oak floors, new carpets and linen curtains and, best of all, knock-out light fittings.
Olga's sure colour eye has made the most of the original colours of the grey and granite kitchen and stone fireplace surrounds.
The family have hosted work functions of 50 or more, with crowds spreading inside and out.
There was plenty to the house that didn't need changing: the striking black mosaic tile walls in the en suite and girls' bathroom, cool kitchen with its wide stainless steel F&P cooker and attached scullery with sink and wine fridge, the kids' lounge off their bedrooms.
Janine admits there is an entire backyard they have never got around to landscaping, as their two girls spend all their time around the pool.
That garden could well be terraced or lawned for rambunctious boys, and it adjoins a pretty piece of council reserve full of cabbage trees and manuka.
As well as the double garage, there's a separate extra-tall garage for a boat, plus, tucked around the back a huge man-cave/storage room.
The family are already eyeing their lovely spread out lifestyle and wondering how it will all fit back in the inner city, and have Olga lined up to inject more of her stylish palette into their new place, so have mixed feelings about leaving behind their delightful village and country spread.