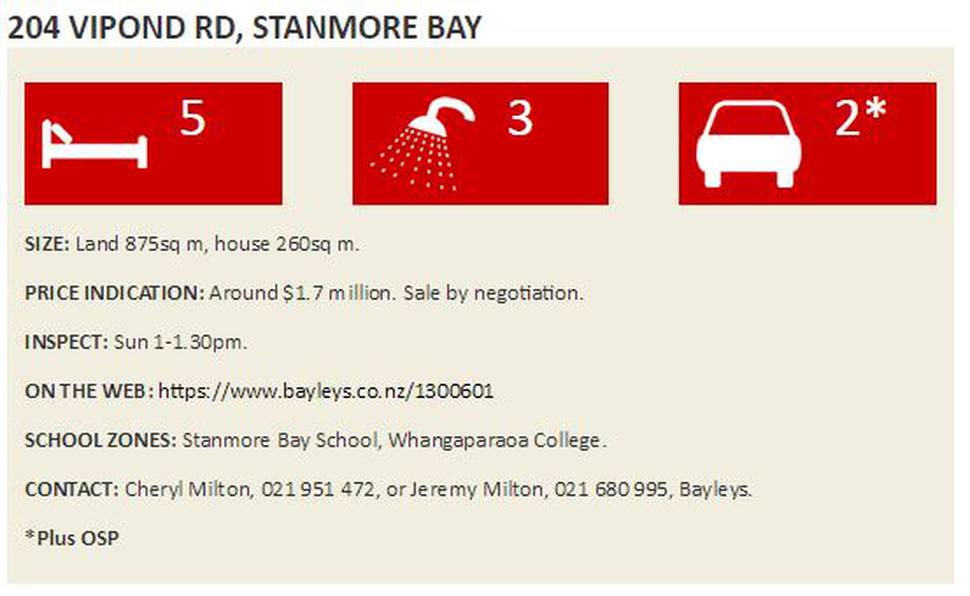 When Tina Onnes bought this Stanmore Bay home, it was a 'two birds with one stone' situation.
Tina says: "I thought if you can combine the feeling of a holiday home with where you actually live, you get the best of both without the hassle of having two properties."
That theory served her well as she's still in this corner property with wide sea views 17 years on.
"I wanted to make it into a laid-back, casual but smart beachy house.
"You've got the city on your doorstep living here but it doesn't feel like it; the minute you pull into the driveway you feel relaxed."
Having moved here with two sons in their late teens after a marriage split, she wanted a reliable home, liking this one's circa-1970s brick and tile construction with cedar accents.
Aside from operating a small quilt business, Tina is now retired but originally this location's seven-minute access to the motorway was handy for her job as a conference events manager on the North Shore.
Tina's been told a prominent car yard family owned this as their beach house. She thinks this may explain why some features such as an ensuited master bedroom and line-up of rooms opening to the covered front deck seem ahead of the home's era.
The two-storey property on the corner of Vipond Road and Lea Pl has broad upper level ocean views from Hatfields Beach past Kawau, Little Barrier and Great Barrier.
Tina can nip through the reserve at the end of little no-exit Lea Pl and be in the sea in under a minute to swim or go kayak fishing for snapper.
She came here armed with DIY experience, useful for banishing decor such as brown shag-pile carpet and orange-and-brown bathroom wallpaper and replacing it with more peaceful aesthetics.
The hub of the home is upstairs where Tina had a separate little kitchen ripped out. The resulting open-plan kitchen-living-dining space suits entertaining well.
Its light-filled ambience is accentuated by a high angled ceiling, ribbed with chunky wooden beams. Living is extended by the generous covered front deck that Tina and her partner Nigel Ainley adore.
Tina says: "You can hear the ocean in the evenings. And there's never a dull day looking out at that view. You get gorgeous still days and others where the wind comes up and you can watch a storm coming through."
The master bedroom with en suite and wall of wardrobing opens to the deck as does a neighbouring bedroom that construction project manager Nigel has used as his office.
Upstairs is completed by a third bedroom and the renovated main bathroom with big bath.
At one stage Tina thought her mother might come to live with her and renovated downstairs, creating a lounge-kitchenette with its own front entry, two bedrooms and a bathroom.
The internal access that used to exist between this area and the home's main downstairs entry foyer could easily be restored if desired.
This entry foyer neighbours two garages, one with a laundry and powder room.
Tina wanted the grounds to evoke a relaxed island style and be as low maintenance as possible. Planting includes palms, subtropicals and a whole variety of fruit trees.
The grounds also include an outdoor entertaining patio, lawn, and a side setting with view of the sea where the couple have positioned their spa. Families and boaties would appreciate the plentiful off-street parking.
Tina long thought she'd live out her days here but now likes the idea of living in a somewhat sleepier location and is targeting Mangawhai, an hour to the north.