By Louise Richardson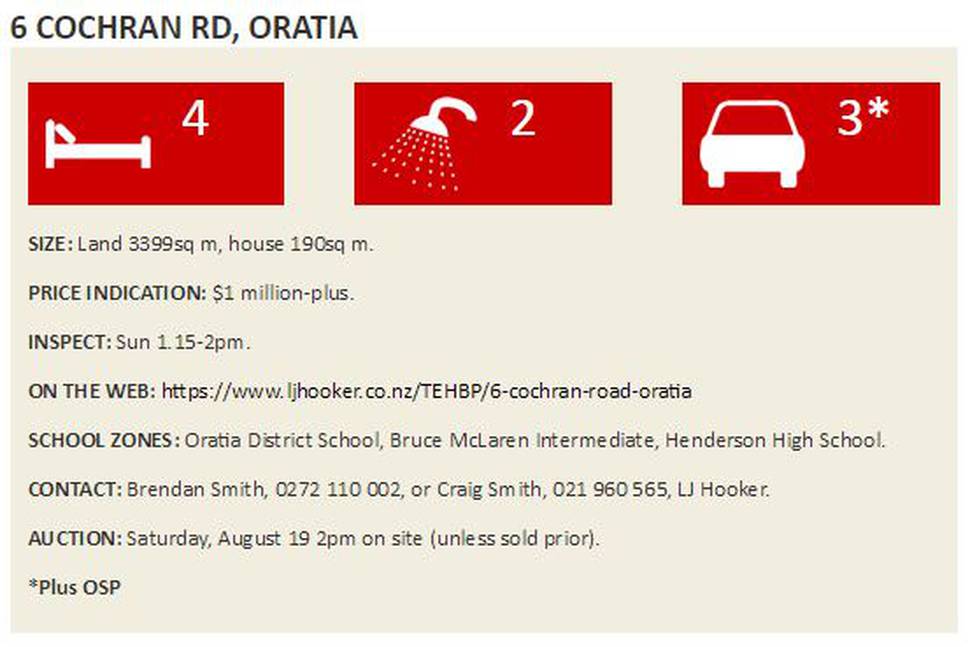 They'd lived in Howick and on Waiheke Island but neither Graham nor Sharyn Farquhar had even heard of Oratia when they and daughter Cailin (aged 16) stumbled upon one of West Auckland's best-kept secrets seven years ago.
"We lived in bush on the island and loved it, so this property immediately looked very attractive," says Sharyn.
Set in 3399sq m of lush native bush with its own stream, bridge, waterfall and even glow-worm caves, the house was constructed 30 years ago by a builder, who paid enormous attention to detail and used the best quality materials, with timber joinery throughout.
"A lot of the furniture is built-in, so of course it stays," says Graham.
"He did many things you mightn't normally think of, like adding lots of alcoves and a curved wall."
The decor is country farmhouse-style with terracotta tiled floors downstairs, which is handy because along with four cats, three chinchillas and a rabbit, the family has two golden retriever poodles, Harry and Milo, who love to run around.
Graham and Sharyn say that they liked the existing colour scheme with its rich, warm reds, yellows and greens so much, they've never been tempted to transform it. In fact, the biggest change they've made to the property is the addition of an enormous, sunny deck at the rear.
Behind the combined lounge and dining room with exposed brick, smart wall unit and a roaring gas fireplace for warmth, the cute and compact kitchen has a large separate laundry, with loads of storage space situated just behind it.
The ground floor bathroom, next to the home office-cum-first bedroom, looks straight into native bush and is so private you don't even need a blind, and can relax in the tub anytime, without a care.
Upstairs lies the master suite with huge wardrobes, its own little balcony and plenty of access to attic space.
The couple share the bathroom up there with Cailin, who has her own suite of two bedrooms and a living area.
"It means that we all have a sense of having our own space when we need it," says Sharyn.
When she was young, Cailin attended the highly-regarded local Oratia District School, where she was very happy, and she's now at high school in Henderson.
"People have this perception that we're practically at the other side of the world out here but the airport, where I used to work, is just 30 minutes' drive away on a good day - maybe 40 minutes during rush hour," says Graham.
His business is now situated at Sylvia Park and he says getting there is no problem either.
He says there's a convenience store just 4 or 5km away, and Titirangi Village is about 8 minutes by car.
Having waited months for permission to build a three-car garage with an apartment above for Cailin at the front of the property (in addition to the current garage/workshop and double carport), the Farquhars simply gave up hope.
However, at almost exactly the same time that they bought another house nearby - which they say is remarkably similar to this one, only bigger - the consent finally came through.
"That's a real bonus for the new owner," says Graham, who needs plenty of parking for his various vehicles.
"We're going to miss Cochran Rd and the neighbours who were very friendly and welcoming when we moved in - and since," says Sharyn.
"This is a close-knit community and we even have our own book club.
"It's a no-exit road and there's never much traffic around so the kids all play happily in the street, just like the good old days."