By Louise Richardson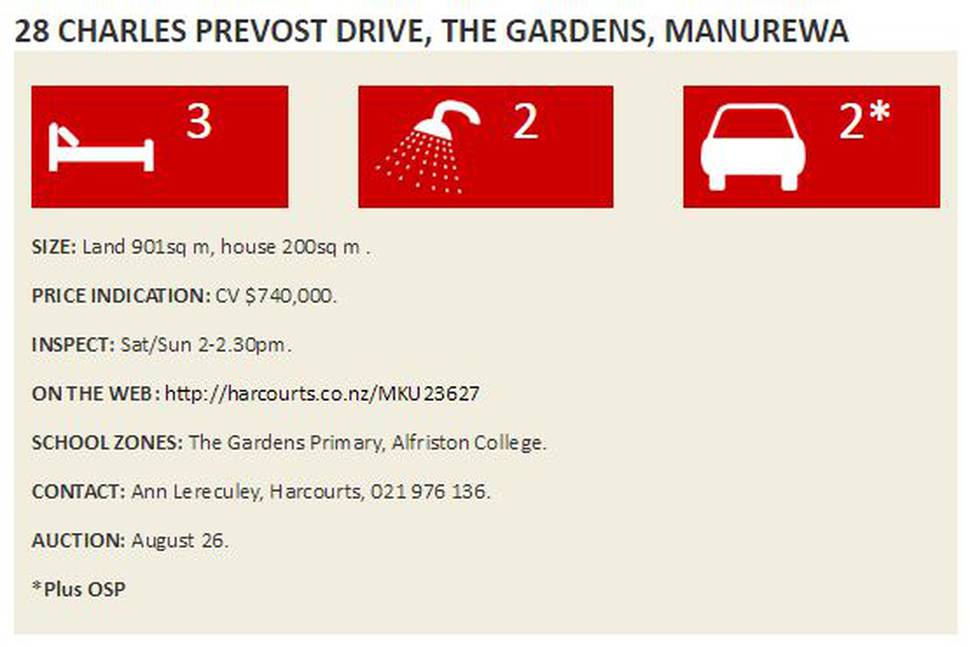 Ron and Barbara Clark's well-constructed single-level house was built in the second stage of what was then a town-fringe subdivision in Manurewa back in 1985.
"We'd been living in Papatoetoe with our three children but the thought of designing our own dream home brought us that bit further out," says Barbara.
"It was all so new here, we didn't even have a telephone line. In those days you had to wait months for Telecom to do anything at all - it was very frustrating," says Ron.
The house is situated on a private spot at the end of a shared driveway and was designed to have plenty of space for cars in the double, internal-access garage - plus outside parking for the boat, and the caravan, which Ron and his father built.
Inside, the layout is simple but effective. A bright, vestibule opens onto a formal lounge on the right, with what the couple call the dining and family room to your left.
Barbara says that she's always been a fan of simple, understated decor and in three decades this part of the house has aged remarkably well, with the addition of new carpet a few years ago.
The modern kitchen, too, is a recent innovation and both Ron and Barbara are proud of the many space-saving features it enjoys, including Lazy Susans in the corner cupboards, a large pantry with automatic lights and a second pantry that takes the form of a narrow, vertical, pull-out unit.
The house is essentially L-shaped and the bedroom wing lies beyond the kitchen and living areas. First come two roomy double bedrooms, which are often used by Ron and Barbara's five grandchildren and, more recently, two adored great-grandchildren as well.
Barbara's spacious separate laundry has a large airing cupboard - currently accommodating her extensive collection of knitting patterns, and there's a door to the back yard and the clothesline.
While they are still as neat as a new pin, the separate toilet and family bathroom are a monument to the 1980s with peach-coloured fixtures and foil wall coverings. It's not a major undertaking, but they'll look great after an update.
The master bedroom is spacious and behind saloon doors is the second bathroom.
Barbara jokes that Ron's wardrobe is bigger than hers, but both are surprisingly capacious, which is in tune with the rest of the house where provision of storage space is certainly generous.
What was a veranda outside the living/dining room was transformed a few years ago into a sunroom, with adjoining decking.
From this private, light-filled grandstand you can sit and look directly into Auckland Botanic Gardens - all 64ha, displaying some of the region's most beautiful horticultural features.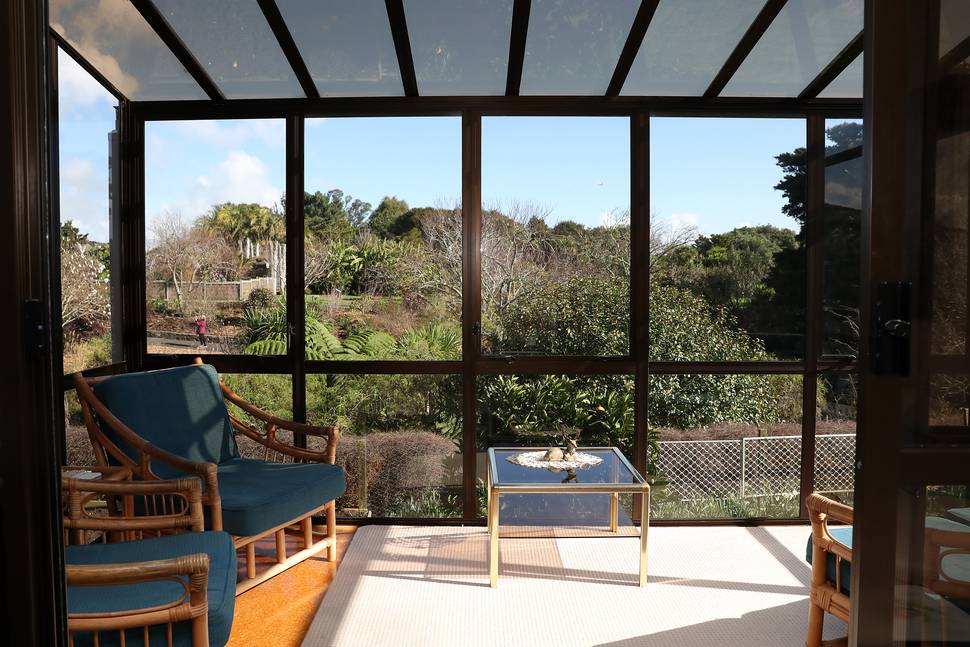 First conceived in the 1920s, and implemented since 1964, the part just behind Ron and Barbara's house has been fully developed in the time that they've lived there.
"It started as a view of cows grazing in a field and now it's just so beautiful, with loads of subtropical plants, and native trees and shrubs," says Barbara.
"We've even got our own secret gate to get in there."
The couple, who are moving on to a nearby retirement apartment, sit and gaze for hours as walkers and runners pass in front of them and the Wiri Rambler - a little train that carries people around the gardens - rolls by.
"We've got the best seat in the house here," says Ron.