CREST, 2 TURAKINA ST, GREY LYNN
ON OFFER: Paul Brown designed development of apartments, penthouses, townhouses and ground-floor commercial being sold off the plans in a building on the crest of Grey Lynn with views to the harbour.
OPTIONS: A: 2-bed, 1-2 bath apartments, 59-64sq m (plus 6-9sq m deck) from $905,000 including 1 car park. B: 2-bed, plus study, 2-bath apartments, 93sq m (plus 9sq m deck) from $1.495 million including 1 car park. C: 3-bed, plus study, 2-bath apartments, 133-137sq m (plus 19sq m deck) from $2.395m including 2 car parks. D: 3-bed, plus study or media room, 3-bath penthouses, 172-180sq m (plus 39-72sq m deck), from mid-$3 millions including 2 car parks. E: 3-bed, two-bath townhouses, 113-118sq m (plus 33-41sq m deck) from $1.885m including 1 car park.
INSPECT: Onsite display suite open noon-1pm daily or by appointment.
BODY CORP: From $2737 a year
SCHOOL ZONES: Newton Central School, Kowhai Intermediate, Western Springs College, AGGs.
CONTACT: Matt O'Rourke, Ryan Harding or Louise Stringer, Barfoot & Thompson, 021 375 909 (Matt), 021 621 580 (Ryan) or 021 628 839 (Louise).
A Grey Lynn record price for a penthouse, is an endorsement of the Crest development's quality, says the man behind it.
Maidstones Group's David Southcombe confirms one of the development's penthouses has been sold off the plans to offshore buyers for $3.75 million - a record price for a penthouse in the sought-after suburb.
David says: "It just shows me how much confidence our buyers have in the quality we're going to deliver with this building.
"That's pleasing because we've gone the extra mile every step of the way with Crest. That includes choosing this site with its unobstructed views, getting renowned architect Paul Brown to design our building and the superior standard of our specifications."
He says the overseas-based couple who bought the penthouse had hired a driver to take them around a number of premium apartment developments around several upmarket Auckland suburbs.
"They said they could easily see themselves living at Crest, because they could purchase a house-sized apartment here with great finishes in a great neighbourhood."
The development will offer 49 freehold dwellings including five levels of apartments topping ground floor commercial plus five two-storey townhouses. Lots of glass, vertical timber fins and steel cross-bracing will be incorporated into the concrete building, giving it a slightly industrial aesthetic.
The building has been purposely designed with a northerly aspect for sun and harbour views but also to maximise the quietness of that orientation. It will be arranged around a central light well with living wall and have basement car parking off Turakina St.
David points out they've been diligent about providing everything possible to help illustrate to buyers what they're getting.
This includes the extensive onsite display suite, detailed model of the building, renders of the outlook from every level and the high scaffolding stairs rising from it enabling buyers to take in the view for themselves.
However, he's also certain part of what's assuring buyers' confidence is seeing his other premium development "North" well-progressed just across the road, scheduled for May completion.
It's sold out bar four townhouses he's deliberately held back so they can be sold completed.
David's mother has bought a North residence as has one of the real estate agents marketing David's developments while another has purchased a dwelling in Crest.
Despite half of Crest's residences being sold, it's still possible to buy all its dwelling types from two-bedroom up to the top-end three-bedroom penthouses.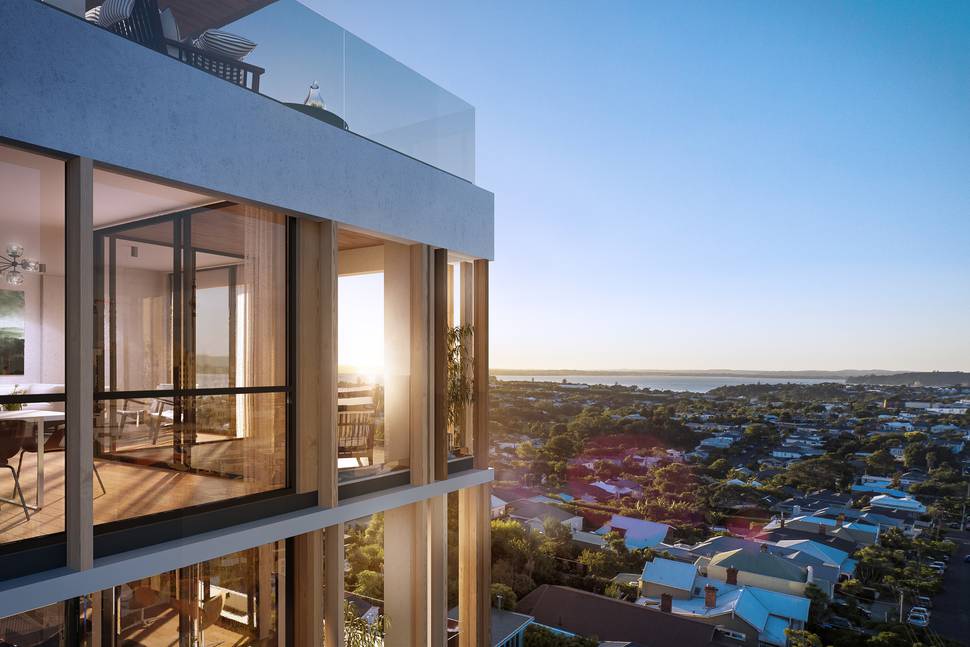 David says Crest's more expensive dwellings have been selling well.
He says: "The depth of the empty-nester apartment buyer segment is massive and seems to just keep on growing. And that end of the market doesn't feel very susceptible to the ebbs and flows of the market."
Apartment specifications include either ducted air-conditioning or heat pumps and Miele appliances, and about 60 per cent of Crest residences having separate sculleries. The top-level penthouses include extras such as double-sided fireplaces and home automation systems.
Construction is scheduled to start this May for completion two years later.