THE INTERNATIONAL, 9 PRINCES ST, AUCKLAND CITY
OPTIONS: A: 1-bd from 61-68sq m; $940,000-$1.235 million; exclusive of car parking. B: 2-bds from 92-165sq m; $1.455-$2.86 million; includes one car-park. C: 2-bds + study, 137sq m; $1.88-$2.24 million, includes one car-park. D: 3-bds 211sq m; from $3.14-$3.8 million; includes one car-park. E: Penthouses from 233-321sq m; plus 90-131sq m terrace; $6.85 million-$9.15 million; includes two car-parks.
PRICE INDICATION: Estimated fees 1-bd $2660-$3660, 2-bd $4520-$9350, 3-bd $9540-$12,000; penthouses $20,500-$28,000
INSPECT: Show suite onsite, open Tues-Sun 1pm-4pm and other times by appointment
SCHOOL ZONES: Freemans Bay School, Ponsonby Intermediate, Western Springs College, Auckland Girls' Grammar
CONTACT: Ross Hawkins or Jason Gaddes, New Zealand Sotheby's International Realty, 027 472 0577 (Ross) or 021 994 921 (Jason)
One of the key features of Jasmax's striking design includes a white steel and alloy exoskeleton that cantilevers off the building, skirting conservatories, including particularly large ones on the building's corners.
An array of luxurious amenities, highly lauded architects and a "resident rock-star" interior designer are just a few of the reasons the developer of The International apartments is adamant they'll be unrivalled in New Zealand.
Core marketing has just commenced but, of its 88 penthouses and one to three-bedroom apartments -- worth more than $200 million -- more than half have already sold. Residents enjoying city, park or harbour views from their Princes St ridge-top perch get premium amenities.
These will include a library, private dining room, wine cellar, boutique cinema, gym, outdoor terrace with heated pool, cafe by Ponderosa Group and concierge service.
Developer Gary Groves of Sanctuary Group says: "If one of our residents wants to swap over what's in their wardrobe for the change of season they can even send their Prada and Gucci outfits or the like down to dehumidified, temperature-controlled storage in the basement."
The concierge based in the vaulted triple-height lobby will be able to arrange everything from dry-cleaning to dog-walking.
Gary says: "I'm confident that Auckland is ready for international-standard apartments. There simply is nothing else in Australasia that has these specifications."
His mission to create this country's premier apartments drove choosing architects from Jasmax and interior designer Rufus Knight. Rufus, who Gary describes as their "resident rock-star" interior designer, has bought an apartment in The International. He's carved a strong name for himself through high-profile work, including projects for Fearon Hay Architects, a Belgium architectural practice and cutting-edge retail fit-outs.
Gary believes their location, in a neighbourhood that historically, was central Auckland's elite precinct because of its elevated views, has been pivotal to their popularity.
The International will be next to the ivy-covered Northern Club, opposite the grounds of Old Government House near Albert Park, two blocks from High St and three blocks from Queen St.
He says: "It's a premier, dress-circle location. It delivers everything you could want; sun, aspect, proximity and views, being ridgeline and park-side."
Sanctuary Group has just completed highly specified boutique apartment development Western Park Ponsonby.
They'll create The International using as a starting point the office building, fronted by the character facade of the historic 1889 Grand Hotel, which recently housed Fonterra's headquarters.
The project entails far more than traditional re-purposing.
They'll gut the building of all services, strip it back until only the concrete floors between levels and the core concrete staircases remain, and then re-build, achieving 17 storeys by adding two.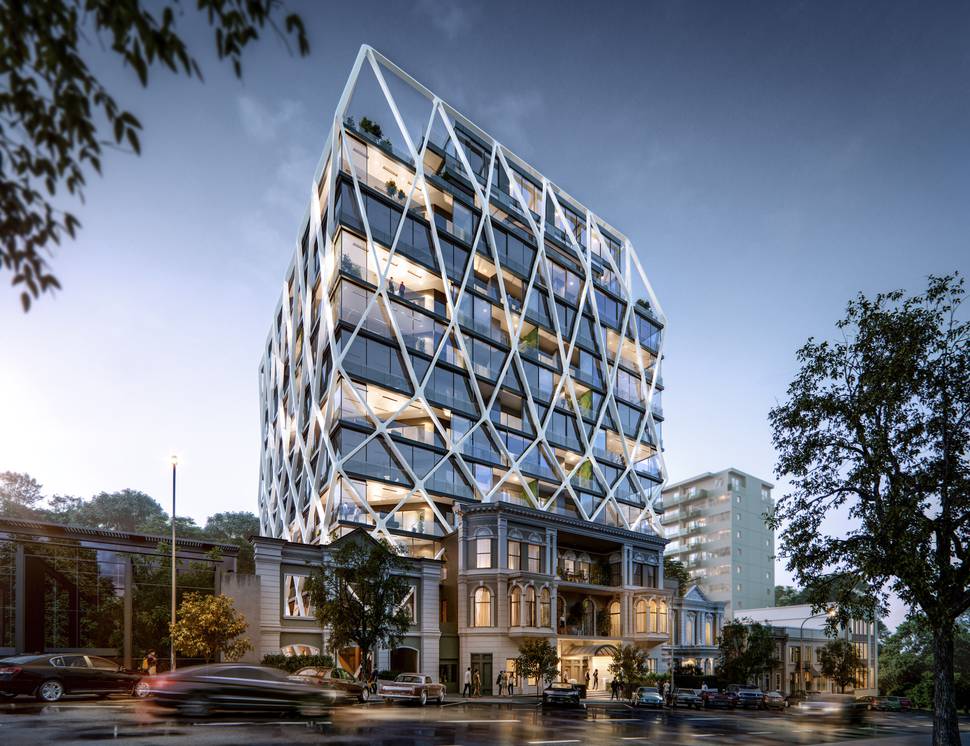 One of the key features of Jasmax's striking design includes a white steel and alloy exoskeleton that cantilevers off the building, skirting conservatories, including particularly large ones on the building's corners. Bounded by glass balustrades, these will be true all-weather indoor-outdoor spaces able to be completely closed off from the elements by sliding closed exterior glass stackers.
The 3.6m height between existing concrete floors will facilitate extraordinarily generous three-metre apartment stud height.
Gary believes Auckland's apartment market has come on in bounds from pre-Global Financial Crisis days when most apartments built in the CBD or fringes targeted investors.
"The market's matured now to a stage where owner-occupiers are seeing high-end quality apartments as a bona fide option. Some of the residences we'll be delivering here are as large as a typical house."
Rufus' interiors for these air-conditioned, centrally heated apartments favour streamlined natural materials including wide-board timber flooring and extensive use of vein-cut natural stone.
There are some car parks beyond those included in apartment pricing available to purchase for $150,000 each.
Building work is scheduled to start later this year for completion in early 2018.