11, MUSSON DRIVE, WAIHEKE
SIZE: Land 7.5ha (approx), house 300sqm.
PRICE INDICATION: CV $1.24 million.
INSPECT: Sat/Sun 12.15-1pm.
SCHOOL ZONES: Te Huruhi School, Waiheke Primary School, Waiheke High School.
CONTACT: Harry Howe, Ray White 372 5226 or 021 0278 1618.
AUCTION: March 7.
In his work as a music producer, then an archaeologist, Tim Moon has travelled the world and seen many incredible sights. But nothing beats the outlook from the house he and wife Tracy own on Waiheke island.
Their home sits high on a north-facing ridge looking over the 7ha of bush that come with the property and across vineyards to Hauraki Gulf, and Auckland in the distance.
There are spectacular views from almost every room -- even the under-the-house garage has floor-to-ceiling windows to make the most of the view from the property the couple have owned for 10 years.
The best place to enjoy the 270-degree panorama is the glass-walled summer house, or bale, which Tim had built in Bali then disassembled and shipped to New Zealand.
"We sit here just about every night and never get tired of looking at the view," says Tim. "It's stunning on a clear day, but also when you can see storms rolling through."
Tim, who originally moved to Waiheke 18 years ago to escape the rat race in Auckland, was sold on the Musson Drive house as soon as he stood on the deck and saw the view, and learned that it came with a huge swathe of land that includes three valleys, several streams, 2km of walking tracks, a bridle path and hundreds of trees aged between 600 and 800 years old.
What he didn't know at the time was that it is also the site of an ancient kainga, or village, with a well-preserved Maori pa.
"For an archaeologist, to own something like that has been an absolute gift."
Tim spends four months of every year in Bosnia overseeing an archaeological dig and, although he loves his job, working in the former war zone comes with its fair share of stress. But any tension just melts away the moment he arrives home.
"This place is so peaceful," he says. "You feel such a part of nature here, and we are next to the Whakanewha Bird Sanctuary and Reserve, which is conservation land. But it's just five minutes to schools, the supermarket and some spectacular beaches, and half an hour on the ferry to the city. It's the best of both worlds."
The house itself is a colonial-style homestead that was moved over to the island in 2003 by billionaire businessman Graeme Hart from his Glendowie property. It had been beautifully decorated throughout, so Tim and Tracy didn't need to do much to it.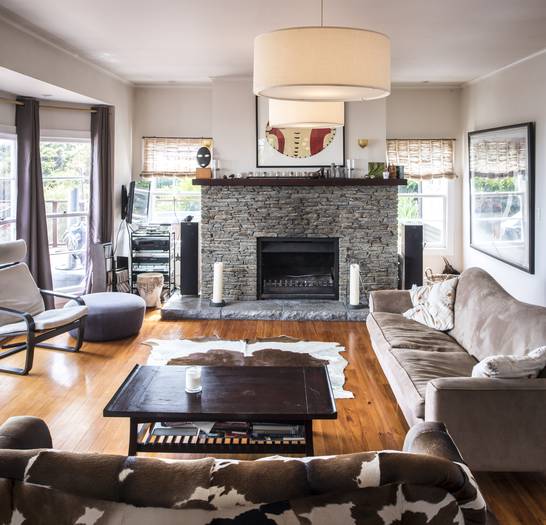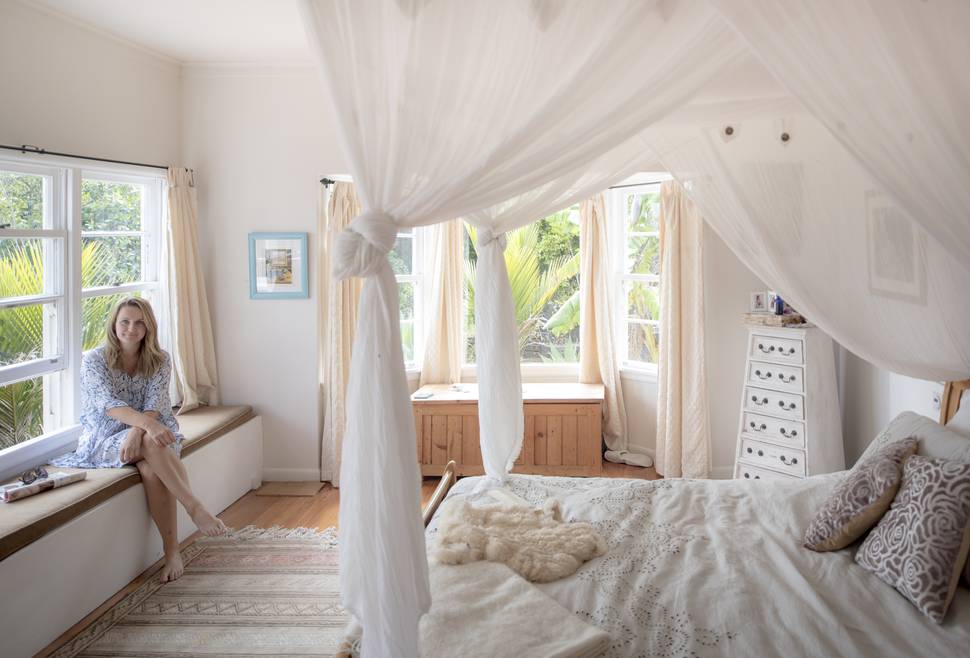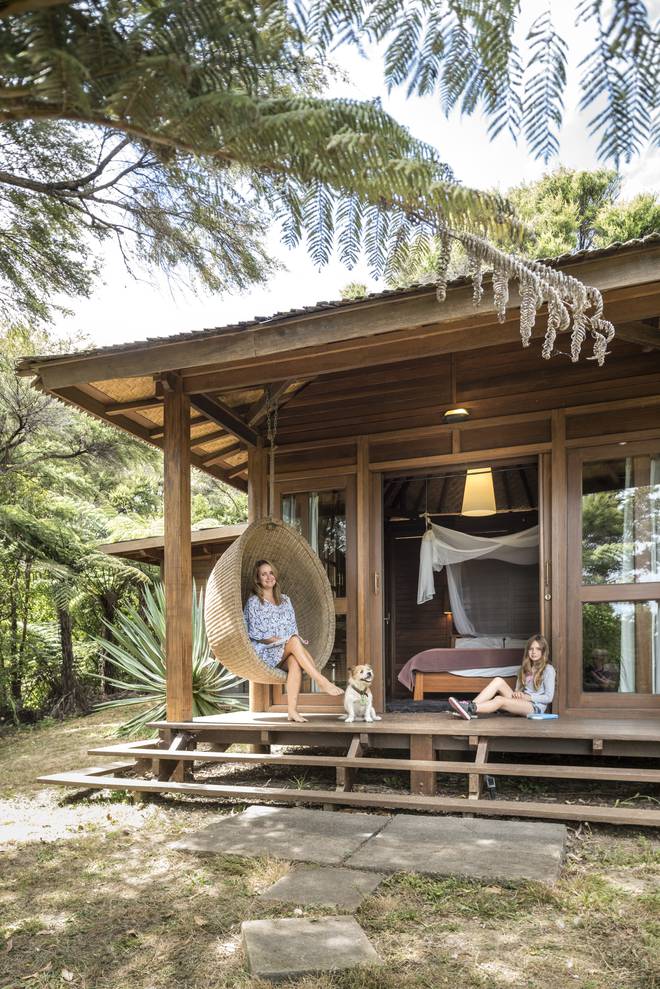 What they have done in the decade they've lived there is add the Balinese sun lounge to the deck and also had a teak Bali-made guest house, with a bedroom, bathroom and veranda, put up in the garden. That has proved very popular with friends and Tim's two adult children from a previous marriage when they come to visit.
Tim and Tracy also made good use of attic space by converting part of it to a loft room, which is reached via a pull-down staircase.
"There's another 20m of roof space that we use for storage but that could also be turned into extra bedrooms," says Tim.
The house has four bedrooms on the main level, including one that Tim uses as an office. This is where he writes up his archaeological reports when he returns from field trips, and also where he runs the music businesses he still owns.
Son Oscar, 13, and daughter Phoebe, 9, have spacious bedrooms with built-in storage, and the family bathroom has an elegant clawfoot bath and a separate toilet.
The master bedroom has an en suite and dressing room, and opens out to the huge deck. The formal living and dining rooms, plus the kitchen/family room, are also north-facing and look out across the deck to the views.
The Moons are allowed to develop guest accommodation on the land, and could build up to five villas without needing resource consent. It's an idea they toyed with, along with converting the enormous downstairs garage into a yoga studio.
But, instead, they have enjoyed the property as a wonderful family home.
"You couldn't ask for a better place to bring up kids," says Tim.
However, after 10 years they're ready for a new adventure and would like to design a home themselves.
"But we will definitely stay on Waiheke," says Tim. "This place is an amazing sanctuary and I couldn't imagine living anywhere else."