A young woman paralysed in a freak accident has shared the incredible moment she managed to stand and hold her one-year-old daughter for the first time.
When Rachelle Chapman's best friend gave her a playful push into a pool at her bachelorette party back in 2010 - when she was aged just 25 - it changed her life forever, Daily Mail reports.
Paralysed from the chest down and left a quadriplegic after hitting her head on the bottom of the pool, Chapman was forced to readjust everything about her life in a single moment.
But the Virginia woman was always determined to become a mother - and recently stood and held her young daughter for the very first time.
Sharing a collection of family photos, she wrote: "I also included a picture at the end of me standing in rehab with the brace on so you can see what it looks like. In that picture I hold Kaylee for the first time upright."
Speaking of her dream of becoming a mother with husband Chris, Rachelle told TLC: "I had these tubes down my throat, a feeding tube and a breathing tube, and I looked kind of scary. But the first question that came to my mind was, 'can I still have kids?''
While Kaylee is Chapman's daughter, having been born from her eggs fertilized with her husband's sperm, the girl had to be carried by a surrogate due to blood pressure medication Chapman takes.
Close friend Laurel Humes, who Chapman and her husband met in college in 2004 at East Carolina University, agreed to carry the girl and gave birth on April 26, 2015.
Since then, Rachelle has focused her efforts on raising her daughter, despite criticism from some that she is not capable of taking care of a child.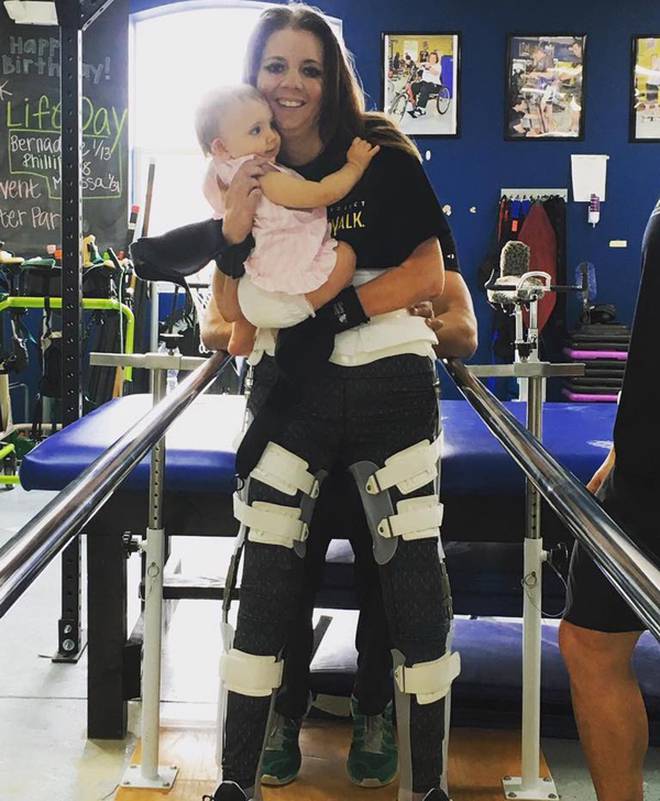 She told Today: "[My husband] Chris and I together as a team are more than capable of taking care of a baby, especially with the help of my mother, who was all in from the beginning."
Mother Carol Friedman lives with the couple, mostly to help her daughter out of bed and into her wheelchair in the mornings after Chris has left for his job as a school science teacher.
Meanwhile Kaylee has learned to walk using her mother's wheelchair to pull herself up, and now walks along behind her holding on to a bar at the back of the chair.
Chapman has been working hard to figure out a way to do all of the things a mother would usually do for her daughter, despite being severely disabled.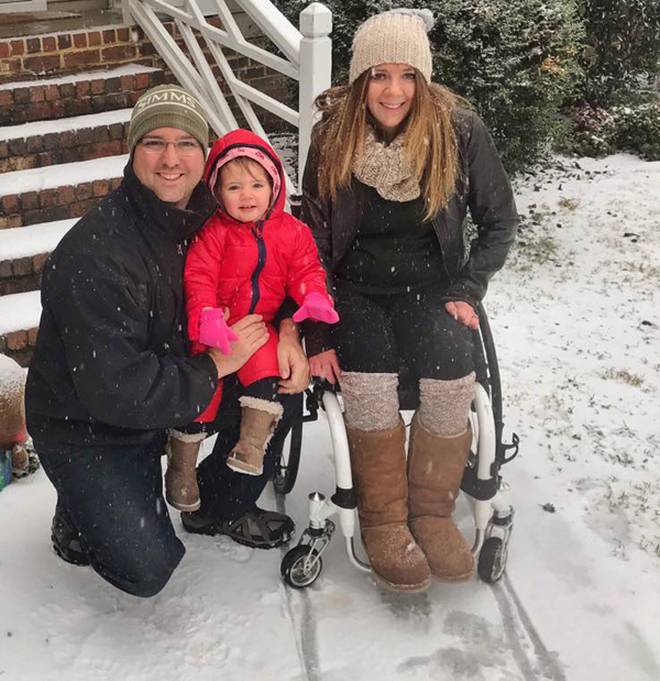 She added: "Even though my fingers don't work, I have found a way to manipulate my hands to do a lot of things. I can hold Kaylee. I can feed Kaylee and I can play with her while Chris is washing bottles or whatever. We have a system that works for us.
"And beyond love, Kaylee has a house over her head and food in her tummy. She's a happy, happy baby who doesn't realize that I'm different. This is normal for her."
While Chapman still refuses to name the woman who pushed her into the pool, once turning down a slot on Oprah because her team demanded the friend appear as well, she says she has stopped speaking to her according to People.
Chapman said: "In the beginning, she was there for me and I was there for her.
"She was distraught and depressed about what happened. But as the years passed, she didn't make the effort, it was just going through the motions and every time we spoke."
Chapman said the friend came to visit after the birth of her daughter, Kaylee, but that was the last time they spoke.
She added: "I had to actually cut ties with her and end the friendship. I had to tell her that we couldn't be friends because she just wasn't there for me anymore."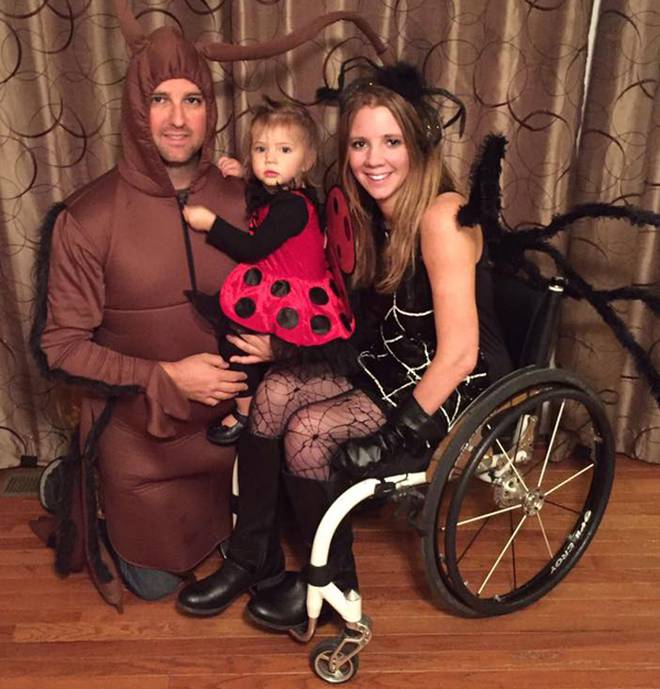 To celebrate Kaylee's first birthday last May the proud parents threw her an Elmo themed party because she is obsessed with the Sesame Street character.
Chapman has also been learning to drive a specially adapted van, in the hopes of becoming more independent and driving her daughter to school or sport practice one day.