Tall Black Sam Timmins dropped into Woodville to visit his grandparents David and Julie Timmins last week, before he returned for his third year at Washington State University playing basketball for the Washington Huskies.
At nearly 213cm (seven foot) tall, Sam attended Otago Boys High School, playing in its top basketball team, helping his team win the National Secondary School title in Palmerston North in 2015.
He gained a scholarship to attend Washington State directly from school with six months training before joining the university basketball programme.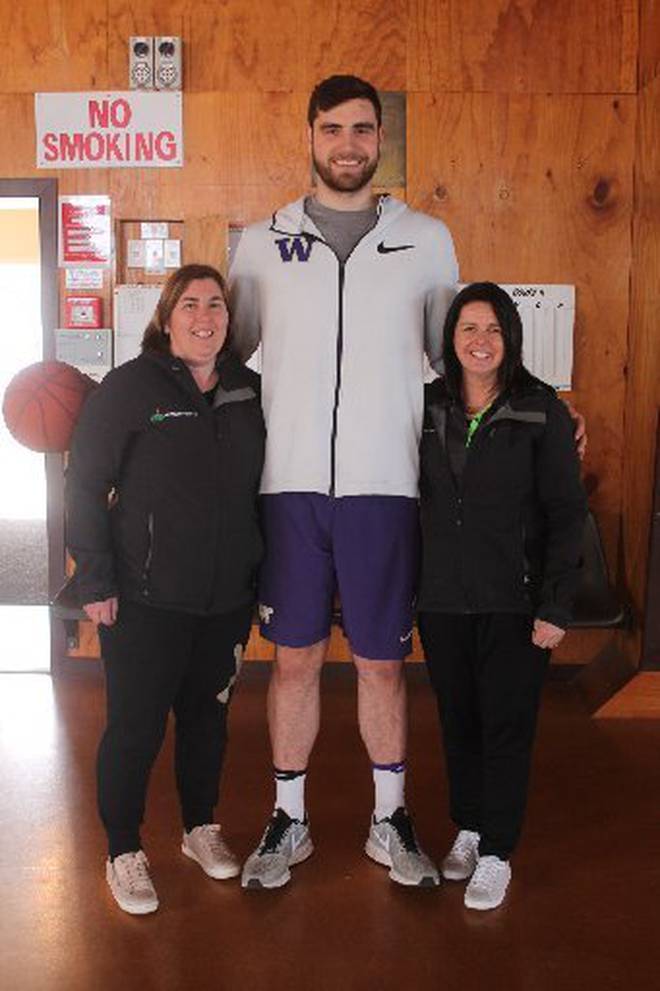 He has started each game as a centre or power forward in most games.
He finds the training intensive, developing his fitness and skills as part of the programme which includes maintaining health through diet and sports psychology, learning team tactics and personal management.
In 2017 he was selected for the Tall Blacks and travelled to Lebanon to play in the FIBA Asia Cup. His team won its pool, beating Lebanon and Kazakstan, won the quarter final against Jordan, losing the semi-final to Australia and then the playoff for third and fourth to Korea.
Before the tournament the Tall Blacks played in Chengdu China against China and Lithuania.
The new USA university year is about to start and Sam has been in New Zealand for a month's break, most of it in Dunedin with family. One condition was that he had to train and he offered to run a coaching clinic for basketballers in return for use of the Woodville Stadium for the week he was there.
Over 60 mostly primary students turned up to learn and they had a great time over two hours of continuous coaching.
Sam considers playing for the Tall Blacks in Lebanon the peak of his career so far, but at just 21 he has it all in front of him. He hopes to make the professional basketball ranks but has two more years to complete his scholarship, which includes a communication degree for a living after basketball.