When John McGifford took over the mantle of CEO at Central Football in April 2011 he had no idea how passionate a protagonist can be about the beautiful game.
More than seven years on, McGifford is stepping down from the position on October 1 this year, blissfully aware of the highs and lows of a rollercoaster ride, both on and off the field.
"While I'm moving aside, I'm not moving away," he says from his office at Park Island, Napier.
The former Hawke's Bay Racing chief executive has presented to the board a revised management structure that'll take Central Football into its 2018 to 2020 strategic plan.
The revamp means McGifford will hold a new portfolio to stimulate the federation's fiscal growth and redefine the roles of other staff members although no new employees will be appointed.
Operations and game development manager Darren Mason, of Napier, who has been with the federation since January 2016, will assume the mantle of chief executive.
McGifford also will profit from the renaissance, declaring his hours will be reduced in a CEO career spanning almost two decades.
"But it also enables me to to continue working alongside a great group of people in realising the organisation's strategic objectives," he says indebted to chairwoman Johanna Wood and the board.
For the 59-year-old, the code was something he was mildly interested in and now he really enjoys it.
"Ask me an offside rule or anything like that and I'll go, 'What's that?', but it's a game I actively enjoy watching now and get a lot of enjoyment from."
He had found the transition from racing to football interesting although the similarity in business models, he suspects, had made the job quite manageable.
"There's politics in every sport, including racing, but there was more in football - tough - to be fair," he says with a grin.
He had slipped into the hot seat of Central Football at a time when Taranaki had broken away from the catchment area.
"My first job here was shaking a lot of hands and kissing babies to get that region back above board again," says McGifford. "We let the rope go out a little bit, I suppose, until they were comfortable then we started to wind them back in again."
The growth in Taranaki, he says, has been exceptional in the past few years.
It helped that he had spent 10 months with Thirsty Whale Hawke's Bay United as CEO from August 2010. He believes it's imperative to support the ISPS Handa Premiership (national summer league) franchise because it's a pathway for its leagues and elite players.
"It's the highest level of football you can play in the country, below the [All Whites] and the [Wellington] Phoenix in the A-League so it's important to support it."
Central Football's financial and resource backing is crucial. Some structural and role changes in the amateur regional body will result in boosted support for the franchise.
"Hawke's Bay United are walking a very, very fine line in their financial statements but they aren't the only national club doing that," says McGifford of a franchise that runs autonomously with its own general manager and board but reports to stakeholders Central Football.
He gives the rapport between the two bodies a tick of approval in the past two years.
While mindful every facet can be improved he's not certain it'll be enough to save a club in the national league.
McGifford says the national summer league needs a facelift to a level where every affiliate slips out of the financial doldrums.
"I know that the national league clubs are quite involved in taking it up with New Zealand Football and are quite engaged with them around that."
Personally he's wanted to do things but time wasn't on his side. That's the reason why Central Football is restructuring to enable him to focus on the bigger picture.
Part of his new role is to look at commercial opportunities to grow its income, especially in Taranaki, which can result in establishing a football facility there or a "reasonable cash injection" from the property Central Football owns there.
"So we're actually creating money outside of football to support football."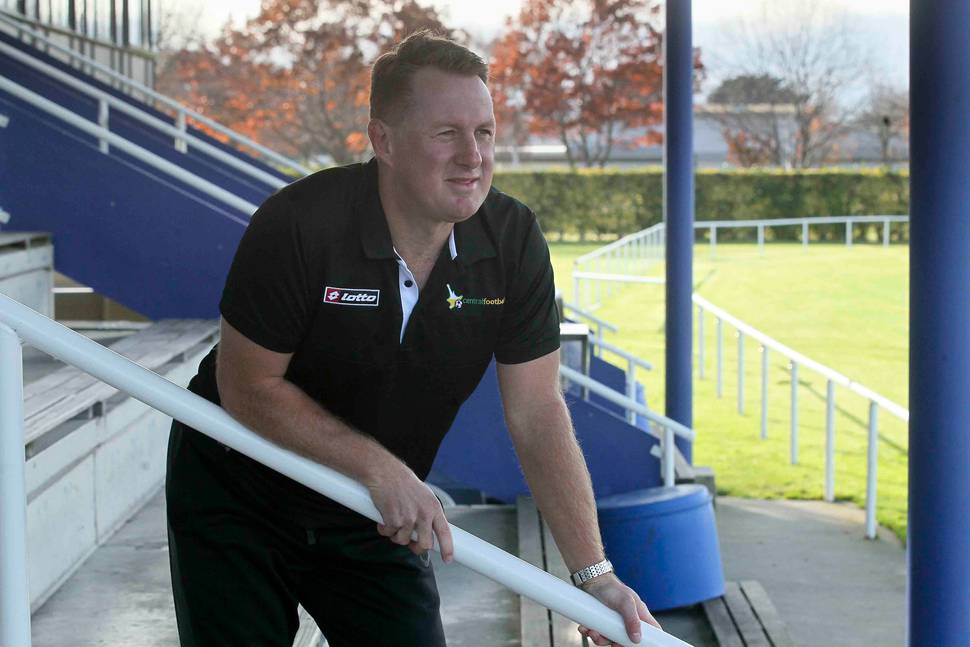 While it's the board's decision, McGifford doesn't believe there's a desire to relocate the headquarters from Napier to Taranaki.
Central Football's financial stability is the highlight for him, enabling it to reinvest in the game.
When he took charge, it had a turnover of $950,000 and was functioning well but its own financial limitations restricted delivery. By 2015 that turnover had mushroomed to $2 million before reaching the $2.15 million mark in the following two years.
"This has been achieved without increasing club fees. In fact, fees on average are less this year than they were in 2011."
His pride and joy is establishing a hardship fund which pays interest on money invested to help the disadvantaged clubs and players.
The other highlight was helping secure the Fifa Under-20 hosting rights in Taranaki in 2015.
"It's fantastic to have a major Fifa event within your federation," he says, mindful the Bay had missed out despite the Napier City Council putting in a bid.
McGifford says Darren Mason is a satisfying result of the board's foresight in establishing a succession plan.
"Darren's a great guy and he knows more about football ... than I do so he'll bring a new focus to the on-field activities," he says, confident the new structure will endorse and champion Mason's drive.