Irony sat, dressed in black in a chair alongside the Wairarapa United bench, in the form of Phil Keinzley in all the euphoria at Guthrie Park, Hastings, yesterday.
Keinzley, the man who had chiselled an enviable reputation in soccer at the foothills of the Rimutakas, cut a desolate figure as the Building King Havelock North Wanderers erupted into wild celebrations in round five of the Ultra Football Central League match.
For someone who had done remarkably well as coach/team manager/sponsor in importing talent from the Pacific Island nations in the past decade or so, it couldn't have been pleasant watching the hosts thump his Paul Ifill-coached side 6-2 in what was the upset of the round.
Yesterday the visitors had two Barbados imports, two from Britain, if you count Ifill, and just as many from Vanuatu but it took only two Solomon Island imports from a predominantly home-grown Havelock North outfit to unceremoniously bring the favourites down to earth with a thud.
The Wanderers had beaten Keinzley at his own game but, significantly, had maintained their identity with a reservoir of talent from their backyard.
Perhaps the belief wasn't entirely there among the Guthrie Park faithful until late into the second half but the signs of a gargantuan upset were ominous when the Wanderers led 2-1 into halftime at a sun-drenched park.
The doubts were quite justified as captain Ethan Dent and his men appeared to have retreated into a mode of defending a 2-0 lead by the 30th-minute mark.
Right winger Liam Shackleton chipped one in from his flank in the fifth minute, then in the 16th player/coach Chris Greatholder drilled a ball past Wairarapa goalkeeper Alexander Britton after a crisp cross on the left flank from import Gagame Feni.
Wairarapa player/coach Paul Ifill pulled one back in the 34th minute after the Wanderers defenders were guilty of gifting the former Wellington Phoenix star too much time and space to unleash a shot.
But it's amazing what a goal or two can do in a game of football.
It didn't for Ifill's lot yesterday but it did resoundingly for the league upstarts when winger Feni turned it into a memorable occasion with a hattrick of goals to punctuate the victors' first three points in the premier winter league this season.
For Havelock North, it was also was their first endorsement that incremental gains as a collective was going to yield dividends in the long run.
"I think we've done well in patches in the past few weeks ... but we're starting to put them together," said a jubilant Greatholder, although he felt they should have put the game to bed much earlier.
The veteran centre-mid said Wairarapa went into the changing sheds 2-1 down when they should have been 4-0 down.
"I'm really pleased with our second half and our application has been really brilliant from everybody throughout because we stuck to our plan."
A well-drilled and mostly disciplined side, it seems all Havelock North needed was a little magic to make them break out of their cocoon.
That, without doubt, has come from Feni and compatriot striker Ian Paia, who offered not only some razzle-dazzle with their footwork but also impetus in the final third to ensure opposition defenders will thread their worry beads this season.
The islanders had given their assurances in the pre-match ritual that goals weren't going to be an issue this season and, it seems, even a contingent of Napier City Rovers fans had come to check it out.
Feni, who added goals in the 63rd and 93rd minutes, showed why he plied his trade with Canterbury United Dragons and Waitakere United.
Paia, a former international, will need some time to find a niche once he overcomes the culture shock and New Zealand style of the game.
Greatholder said the Wanderers had found a delicate balance between creating play from the back of the field but also playing "direct" when the need arose against different teams.
However, the imports' prowess shouldn't overshadow the potential cohesiveness and understanding the villagers can develop as the season goes on.
"I've seen it on the training field and now I've seen it in the group, coming together as a strong unit," Greatholder said, revealing he had impressed on the lads not to lose sight of the bigger picture before the game.
The hosts' defence will need to be more assertive and vocal although he emphasised keeping a presence in the rib of the park was part of the blueprint rather than putting a leash on a lethal Ifill hovering on the left flank - a risk that had paid off.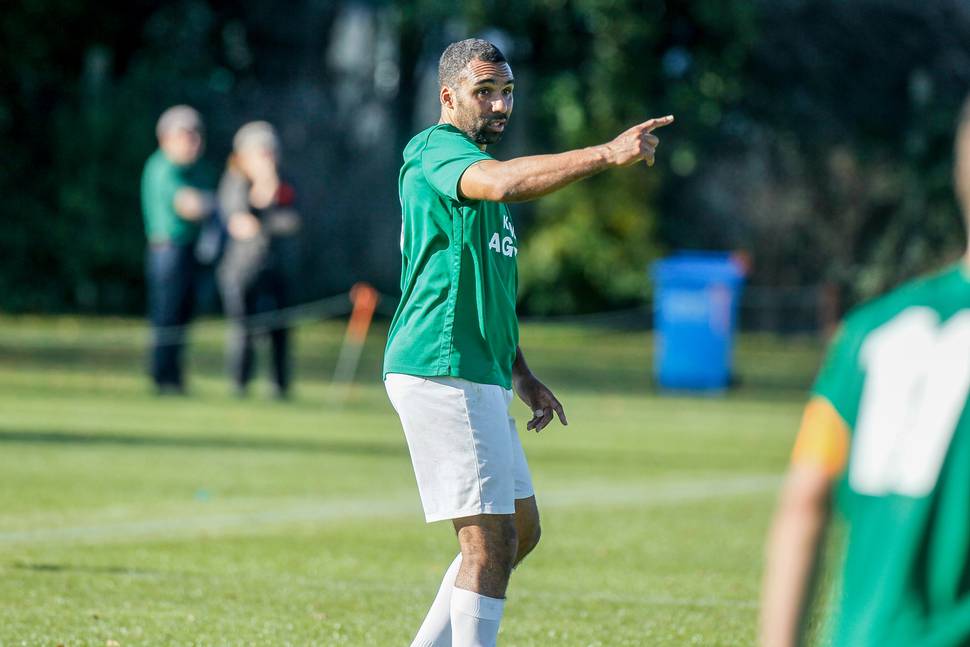 Barbados import Shakille Belle had swooped on a defensive blunder to level 2-all in the 51st minute with a speculator.
Dent had made it 4-2 from a Feni cross in the 71st minute.
"The goals came from all the hard work from the boys so with a little bit of effort we've got a result today," Feni said.
He said fellow 27-year-old Paia got a taste of what the Bay autumn weather and ground were like but as soon as he would feel at home there would be more coming from him.
"I think the weather suits us today a little bit because it's a little like our weather back home in the islands."
Greatholder said the maiden victory had injected oodles of belief into his men before they play away against Integration Works Waterside Karori in a 2.30pm kick off on Saturday.
"It's a game with three potential points."