Central Districts Stags' fans are beginning to scratch their heads in trying to figure out who provides the tempo in the team.
"I have been reading stories on them and I couldn't figure out who is actually the hero in it," one remarked this week as the Heinrich Malan-coached Stags host the Northern Districts Knights in the final round of the one-day Ford Trophy domestic men's campaign this summer at McLean Park, Napier, tomorrow.
Tomorrow's game is a dead rubber, considering CD captain William Young has adroitly marshalled his green army into a home semifinal against the yet-to-be-decided second-placed team at Pukekura Park, New Plymouth, on Saturday, February 17.
CD have two lives as top qualifiers on 27 points after opening a yawning nine-point gulf between them and second-placed Auckland Aces to secure the top rung of the competition ladder.
The third-placed Knights are on equal 18 points with Auckland, who host the out-of-form Volts, after seven rounds but both sides will be eager to claim wins to also receive a second life although if the weather pundits are on their game in the North Island this weekend the status quo will take the guesswork out of it.
Either way the Stags will enjoy watching others squirm.
Remarkably the Canterbury Kings, Wellington Firebirds and, to a lesser degree, Otago Volts have a chance to claim the fourth playoffs berth as they sit on two wins each.
The elimination final is on Wednesday next week and the televised grand final is on Saturday, February 24.
Young says CD can be perceived as having no heroes or everyone as a knight in shining armour.
"We've been playing very well despite losing the Super Smash final," says the 25-year-old from New Plymouth who lives in Napier.
He points out CD have won six games on the trot in the one-dayers for just one loss in the format.
"The team's in a fantastic place. If the guys are stepping up at different times it just shows we're turning up at games sort of playing what's in front of us."
When the top order collapses the middle order steps up, he says, feeling that is reflected in the bowling where wickets are shared.
"Looking at the scorecard perspective, it's hard to come up with a hero. The group's travelling well and we back each other 100 per cent."
Young says CD's motivation is around maintaining a winning formula tomorrow, players pushing for international honours and it's their first outing at McLean Park this season.
The Stags are coming off an inspirational three-wicket victory over the Firebirds at the Basin Reserve and it's their second grand final, after losing the Burger King Super Smash Twenty20 crown to ND in Hamilton last month.
The Knights arrive here on the back of a bullish 66-run win over the Otago Volts in the previous round in Dunedin on the platform of Nick Kelly's second List A century.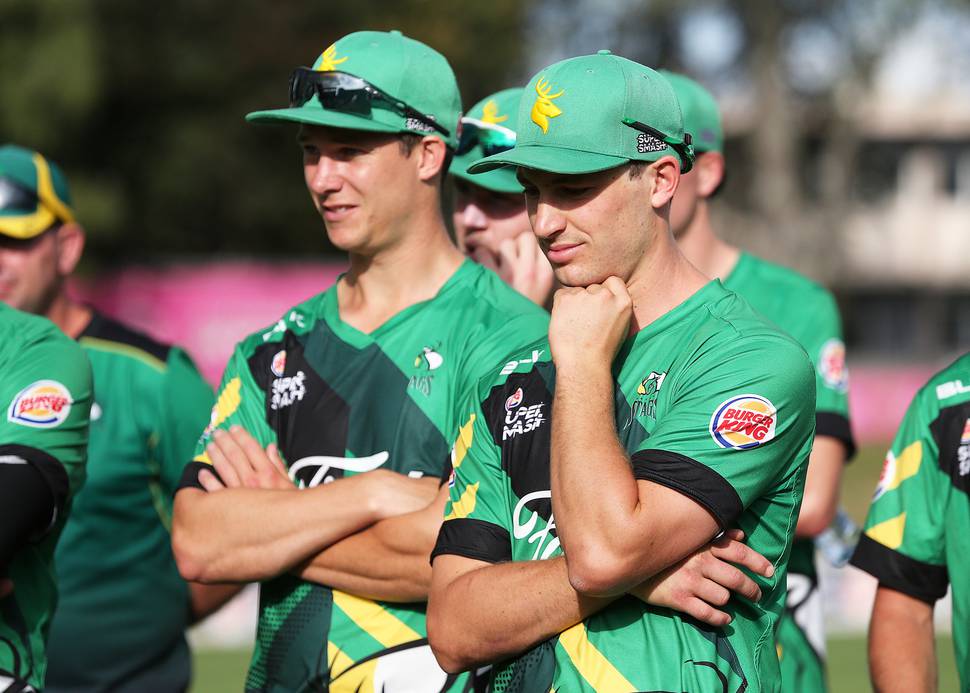 It's still a scary proposition for rivals if CD hit their straps and several players find form in a game.
Young emphasises the Stags have great depth because, unlike in past summers, when players leave for higher honours there are enough experienced lads to fill the void to maintain their collective prowess.
CD and Black Caps opening batsman George Worker (311 runs), in No 3 position, is sandwiched between the ND pair of Daryl Mitchell (341) and Kelly (310) in the Ford Trophy "most runs" honours.
Auckland and Black Caps newbie Mark Chapman (433) is setting the pace.
In the bowling department of the format, Stags game-changing seamer Blair Tickner is the second highest wicket-taker with 13 scalps, two behind former CD and international tweaker Tarun Nethula.
The Ruahine Motors Central Hawke's Bay CC premier men's team cricketer shares that rung with ND bowler Brent Arnel.
CD spinner Ajaz Patel is No 8 with 10 wickets and Black Caps speed merchant Adam Milne is 10th equal with eight.
But, just as they felt after the T20 campaign, you somehow get the feeling they will give up personal kudos for titles.
"Absolutely," says Young. "The ultimate driving factor for us is winning trophies so we'll give up the personal glories or someone having the title of hero to come away with some silverware."
The drop-in wicket project won't be put to the test tomorrow in the only white-ball game in Napier this summer due to delays in the revamping of the McLean Park outfield.
The upgrade of the international venue begins after the Hurricanes v Sharks on Friday, April 6.
CD Cricket chief executive Pete de Wet said the International Cricket Council would issue a warrant of fitness on the outfield based on a domestic game although Nelson Park, across the road, was a back up.
"The weather isn't looking too flash, which is disappointing, but considering it's our only white-ball game at McLean Park this season so the weather gods are going to rain on our parade we're hopeful it might blow through," said De Wet as the outlook is grim for most of North Island.
The gate charges at McLean Park tomorrow are $15 adults, $5 children and $30 for a family pass which allows for two adults and three offspring.
■ CD STAGS: George Worker, Ben Smith, Jesse Ryder, William Young (c), Dane Cleaver (wk), Joshua Clarkson, Adam Milne, Ajaz Patel, Blair Tickner, Tom Bruce, Seth Rance, Bevan Small.
Coach: Heinrich Malan.
■ ND KNIGHTS: BJ Watling (wk), Nick Kelly, Daniel Flynn, Doug Brownlie (c), Daryl Mitchell, Scott Kuggeleijn, Brett Hampton, Brett Randell, Brent Arnel, Zak Gibson, Josef Walker, Henry Cooper.
Coach: Graeme Aldridge.