The seeds of hope were sown at a high school in Hawke's Bay but now the roots of special needs taekwondo have found a global bed to germinate on.
The scheme is the brainchild of Ben Evans, of Napier, who spawned the idea to head of special needs Bethany Hoquard at Havelock North High School in 2006 and from it emerged 10 Down Syndrome, autistic and cerebral palsy pupil participants for part of their PE assessment programme.
Almost a decade later it was music to fourth dan instructor Evans' ears to find out in Toronto, Canada, a fortnight ago that his concept will be the basis of the historic inclusion of special needs taekwondo as a division of the world championship for the first time in Brighton, England, in July next year.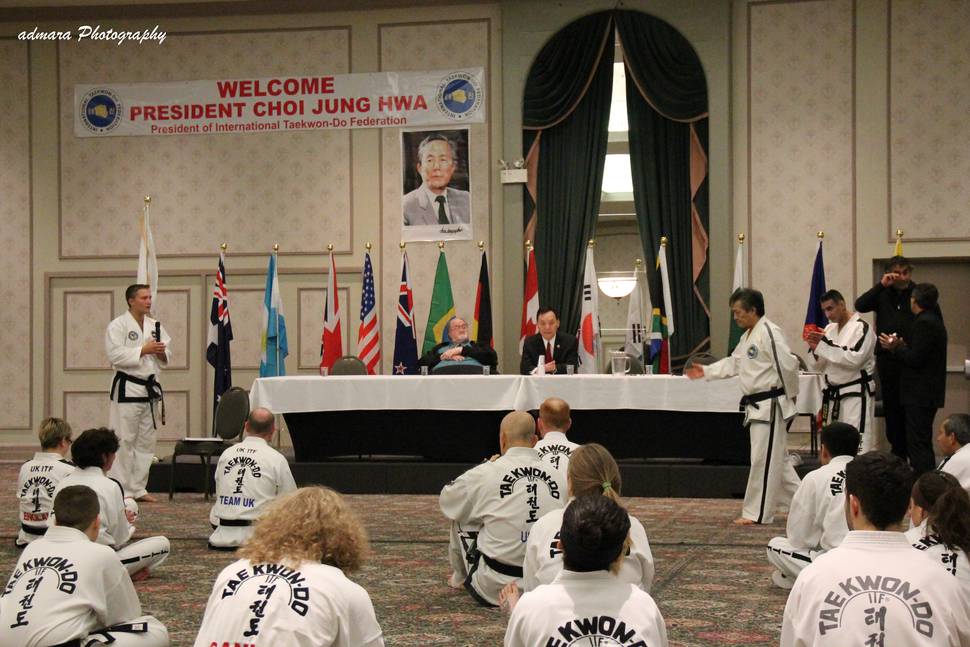 "The son of the founder of taekwondo said in front of 210 instructors during taekwondo's 60th birthday celebrations in Toronto that the special needs division was going to create history," says the 24-year-old with a sense of pride of the president of the International Taekwondo Federation (ITF), Choi Jung Hwa.
It was a surreal experience for Evans to be called up to the front five minutes into Korean Choi's welcome speech, asking the delegates if they had heard of the Bay instructor and his stellar work with special needs.
"When people said yes it just sent shivers down my spine so it was quite a mind-blowing experience," he says, blissfully aware fellow international instructors were familiar with his Facebook entries and had visited his Bay club website.
It inspires him and gives him a sense of immense satisfaction that England, Greece, the Netherlands, Canada and the United States are among nations who have latched on to the notion to establish branches.
"It's been a slow process but it's developing," says the man who wrote a book, Special Needs Taekwondo, which was first released in January 2013 and something he showed to Prime Minister John Key at a Napier gathering. A second edition has been printed.
Hoquard is still at the helm of the HNHS special-needs programme and it pleases Evans immensely that some of those original pupils in his class will be jetting to England next year with his mainstream group of talent.
Johaan Lankroon, 22, of Hastings, who has Down Syndrome, is one stage away from claiming a blackbelt and Aaron Garnham-Pitcher, whose disability has yet to be diagnosed, is another showing great potential.
Garnham-Pitcher's Nana Blossom has confirmed her grandson is able to ride a bike and skateboard after finding balance and co-ordination.
Evans, who will be competing in Brighton as well, says on top of that his students tend to be fitter, flexible and oozing with confidence.
Another student, Tupuna Rangi, 19, of Fairhaven School, has autism. Evans says he's on track to becoming a blackbelt in March next year.
"The teachers were just blown away with Tupuna's progress because he wasn't able to remember too many things before he joined my classes."
Evans, who takes 21 classes with 200 students a week throughout the Bay, says the sessions helped Rangi develop patterns in his brain.
"He's aiming to go to the world championship next year."
Evans mentors students from the age of 6 to 60, saying it's never too late to take up the martial art although the younger one starts the more beneficial it is.
That Choi watched him do his fourth dan grading in Toronto last month is another sense of satisfaction for Evans.
"It's very rare for him to do that so I was very pleased."
He never met taekwondo founder and Choi's father, the late General Choi Hong Hi, who died when Evans was 12.
Evans says he is the youngest fourth dan in New Zealand in the code and also the youngest international. He can grade exponents to second dan blackbelt.
He harbours the desire to attain his seventh-dan blackbelt to assume the mantle of master.
"It'll take me 25 years to be one," he says with a laugh.
He charges students $36 a month and accepts he won't become rich any time soon.
"I'm not there to make money but build the community, not live off it," says the Welsh-born ex-Londoner, who hopes to travel to promote special needs taekwondo abroad.
"I want to push myself in, not make myself a barrier."
Evans, who finds it more rewarding to teach with patience, welcomes sponsorship, government or private, but says he is loath to ask parents for money.