Former Black Caps coach Mike Hesson, among other things, hopes to be a broadcaster so, no doubt, I'm sure we all want to wish him all the best.
Personally, I can't wait to read Hesson's autobiography outlining some of the tumultuous times in New Zealand men's international cricket, such as the time he sanctioned a coup within the playing ranks, resulting in Brendon McCullum displacing Ross Taylor as captain with military precision.
Of course, Taylor's take on it will be equally intriguing to juxtapose with Hesson's assertions.
However, I have a more pressing issue to address after Hesson declared the person who replaces him as mentor should ideally be a New Zealander.
"Having skin in the game is important," the 43-year-old told Newstalk ZB's Martin Devlin just before he resigned on Saturday. "If you don't have that, you can pack up your stumps and go."
The advise smacks of Trumpesque-like values but in Hesson's defence he did clarify it has to be someone who has "real affinity with New Zealand".
"Whether it's a New Zealander or someone who resides in New Zealand, is irrelevant."
Ideally, Hess, the person to replace you should be the best candidate for the job - end of story.
Kiwi, for the sake of Kiwis, isn't the most potent potion to ensure the Black Caps will succeed, as noble as nationalism may appear to be.
New Zealand Rugby League (NZRL) took that stance but David Kidwell turned out to be a wrong recipe - all heart, little nous.
An Australian, Michael Maguire, has assumed that mantle now after the NZRL made a calculated decision to amend its statutes to an open-door policy from a system that limited the role to New Zealanders only.
For the record, former NRL coaches Geoff Toovey and Des Hasler were among others on the shortlist but how Maguire goes only time will tell.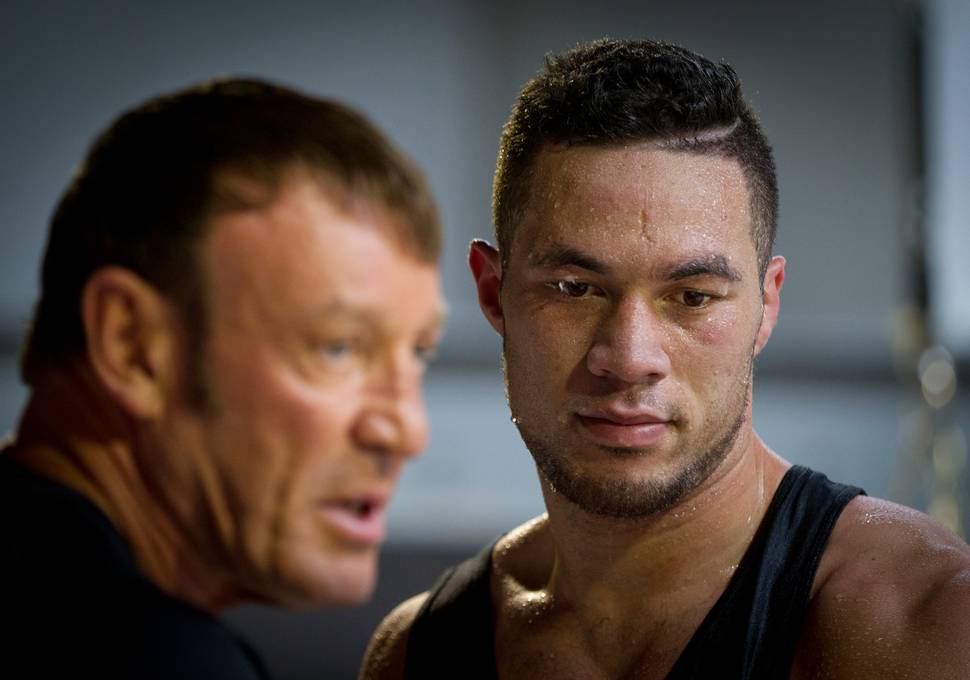 The same principles apply to Kiwi boxing trainer Kevin Barry who is mentoring professional heavyweight Joseph Parker who carded a back-to-back loss last weekend against Englishman Dillian Whyte on the heels of the disappointment against undisputed champion Anthony Joshua.
"I'm a little insulted you even ask that question," a bristling Barry responded to a reporter when asked if he should resign as his trainer. "I can't get in the ring and throw the punches for Joe. I give every ounce of energy I have to this man. I love this man and my mission is to make him as good as he can possibly be and I'm totally dedicated to Joe."
No one doubts Barry's love for Parker. After all, he did love David Tua to bits as well, to the extent that he was like a member of his family.
The problem is Parker needs a trainer who doesn't love him that much. The pugilist's Samoan background takes care of that quite adequately.
He needs someone who is removed and brings a fresh approach. Barry has now shown twice, with Tua and Parker, that at the elite level he hasn't got what it takes to take them through.
That doesn't mean Barry is an inept trainer but what does come across is his inability to recognise that perhaps Parker could do with some marquee mentoring for a different perspective to recognise his worth.
All of which takes us back to Hesson's commendable tenure.
The reality is the Black Caps have yet to claim a world title in any of the three formats.
When Hesson came to the helm in 2012, after the John Wright and John Buchanan debacle, the quest was to focus on winning the bragging rights in a white-ball (Twenty20 or one-dayers) format. It was Buchanan's brainchild but New Zealand Cricket had succumbed to a wave of euphoria surrounding a Kiwi taking the team to that threshold.Obviously that hasn't transpired although Hesson, in his interview, reveals test cricket "is the purest form" for him when reflecting on his lows and highs.
He talks about surrounding himself with "good people" and working with players who needed to work on their games, much like himself as a player, as opposed to the "greats".
One wonders who weren't the good sorts in the Black Caps mix.
At times, it seems, what Hesson isn't saying offers greater insight on what needed addressing during a reign that had excerpts of Nobel Prize-winning author William Golding's Lord of the Flies from 1954.
"The geniuses will just go and take care of themselves. They'll score their runs and take their wickets so you can work with them," he says.
Does that imply the Black Caps need a coach who needs to focus on the "geniuses" to take that leap of faith to eke out a result for global honours?
Where does Hess stand on instantly picking players who are born in India or South Africa but have grown up or excelled here?
As NZ Cricket moves on, it's fair to say the likes of Gary Stead, of Canterbury, and Mark O'Donnell, of Auckland, should have just as much a chance of succeeding Hesson as anyone else.
Not surprisingly its chief executive, David White, has indicated it'll keep an open mind but "it would be great to have a Kiwi".
If the All Blacks employ a non-Kiwi then the hue and cry will be justified. New Zealand is rugby but one cannot say that about cricket and many other codes.
The biggest victim in this process will be the likes of Central Districts Stags coach Heinrich Malan.
South African-born Malan's credentials with CD make him the front runner if transparency in performance and pathway is anything to go by.
What makes the 37-year-old from Pretoria, who has been at the helm of the Stags for five summers, a prime candidate is helping establish a culture and structure at CD to groom predominantly homegrown talent from the scattered major association catchment area.
Based in Napier with his family, he's done what many homegrown coaches couldn't do with better established major association teams with fewer hurdles and abundant resources.
Last September, Malan toured with the NZ A side as Shane Bond's assistant but his worth is best reflected in the quality picked for the Black Caps and NZ A squads.
More significantly, his endorsement will only reaffirm a coaching pathway from domestic cricket.
Ironically England-born coach James Pamment had performed a similar feat with the Northern Districts Knights before Mumbai Indians head hunted him for the IPL this year.
Let's hope Malan doesn't fall through the cracks.