ACT leader David Seymour was in Napier on Monday to discuss his controversial End of Life Choice Bill.
The bill would legalise voluntary euthanasia, allowing people with a terminal illness or a grievous and irremediable medical condition the option of ending their life with assistance from a doctor.
About 100 people braved the wet weather to hear Seymour speak on what he describes as the last great human rights issue.
"We have come to accept in our society that everybody should be equal, that people should be able to be themselves, that people should be able to live the way they want to live," he said in an interview with Hawke's Bay Today.
"But we still have this taboo about death."
He said opposition to this bill is speculative, for example that people could be pressured into assisted dying.
He said overseas evidence showed vulnerable people were not pushed into assisted dying, despite what critics say.
"The people who use assisted dying laws are not vulnerable people with no access to care.
"They are people who are wealthier, more educated, have greater access to palliative care, are more likely to have health insurance.
"It's not something that people use because they are pushed into it, it's something that is an option taken by people who are used to being in control of their lives."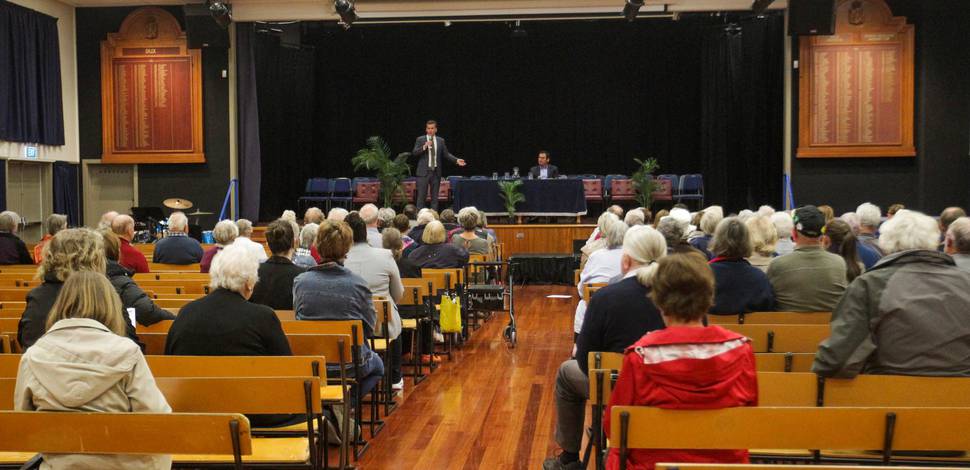 People at the meeting fell on both sides of the issue.
There were concerns heard about the fact that mistakes can be made in prognosis, which could mean people choose the route of assisted dying when they are not terminally ill.
Seymour said it was an issue of choice.
"Should we have what we have now where everybody has to hold on just in case? Or should we say this is a personal choice?"
It was also raised that a vast majority of people who submitted to the Justice Committee on the issue were opposed to voluntary euthanasia.
One crowd member suggesting those would be the people who had carefully considered the issue, as opposed to those surveyed on the matter.
Seymour said he didn't think it was worth disputing polls, joking that as leader of the ACT party it was an area he had a lot of experience with.
He said he believed the opposition to bill in submission was due to the level of organisation of those who disagreed with the bill.
The bill has currently passed one reading in parliament, and will be read again in March.
This issue is a conscious vote, meaning MPs make their own decision as to how to vote, as opposed to voting along party lines.
Stuart Nash, who hosted the meeting, said he has decided to poll the Napier electorate and vote based on what constituents want.