Te Kōhanga Whakawhāiti ō Te Iwi Marae in Pahiatua hosted a wahakura wānanga over the weekend of August 3 - 5.
The completed wahakura were dried and 'dressed' with linen, blankets and knitting to give back to whānau (families) on Wednesday 29th August. Local organisations, including Pahiatua Help-n-Hand, Pahiatua Community Services Trust and Rangitāne o Tamaki nui ā Rua joined with the Mokopuna Ora Collective to bring the event to the Tararua.
Wahakura are hand-woven sleeppods for pēpi (babies) made from harakeke (flax) and using the tradition of raranga — the skill of weaving with harakeke.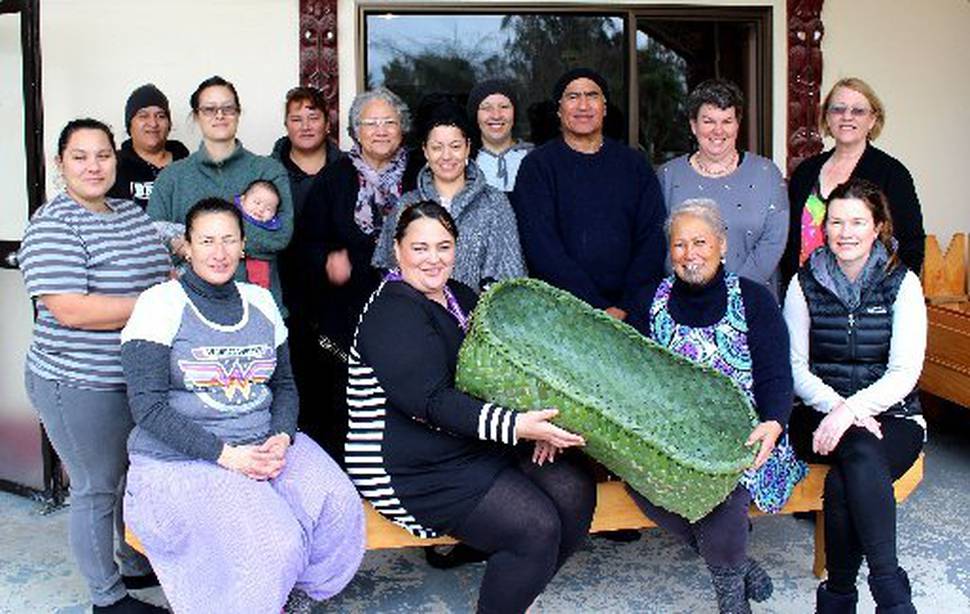 The wahakura is the first kaupapa Māori safe-sleeping device. It is a contemporary solution to help combat Sudden Unexpected Death in Infancy (SUDI). Wahakura support whānau who choose to co-sleep with their pēpi by promoting bonding, supporting breastfeeding and allowing parents to respond easily to their pēpi during the first few weeks of their life.
This wānanga was an opportunity for expectant parents and their whānau to weave a wahakura for their new pēpi alongside experienced weavers and supporting health professionals.
Jenny Firmin, raranga teacher, nō Whanganui, was on site all weekend to teach the wahakura waikawa style. She was supported by local experienced weavers from the Tararua. Opportunities to share positive hauora (health) messages and to connect with other support networks was another focus of the weekend, with childbirth educators, midwives, an obstetrician, nurses and other health professionals weaving alongside whānau.
For several months leading up to the wānanga, the Mokopuna Ora ki Tamaki nui ā Rua, Mokopuna Ora in Tararua, team met weekly in Pahiatua, fine-tuning the plans for the weekend. The team were formally welcomed to the marae with a pōwhiri on Wednesday July 25, supported by Tā Daymond and Kapa Haka students from Tararua College.
With the support of Jenny Firmin, local weavers, including Ataneta Paewai, Hiria Tua, Traci Wheeler, Deana Weavers making wahakura for new babies.
Broughton, Manda Milner, Huatahi Albert, Mel Reiri, June Kahu and Kathleen Bailey were busy with the hauhake (harvest) of the harakeke during the week in Pahiatua, Woodville and Dannevirke. This team ensured that the harakeke was prepared in advance, ready for whānau to begin weaving on Saturday.
During the weekend there were six relaxation stations provided by Te Kete Hauora o Rangitāne and Te Tihi Whānau Ora team from Dannevirke.
They included Healing Conscious Access bars provided by Kimmy, Bronwyn and Ruth, hand mirimiri (massage) provided by April, Mariah and Masina, and hapū māmā (expectant mothers) received back, shoulder and neck mirimiri by Ngareta.
A kōha of kawakawa balm made by Ellen, and coconut epsom salts from the TOAM (Smoking Cessation) team, helped to ease away the aches and pains. There were also yoga sessions with Emma from Begin Where You Are Yoga.
Food was donated from the community to feed the 70-plus people for dinner. Pre-dinner entertainment was provided by the kapa haka students from Huia Range School and Te Kura Kaupapa Māori o Tamaki nui ā Rua in Dannevirke. After dinner, 'Nanny Noa' Nicholson kept the crowd captivated with her witty stories.
Jenny Firmin believes in teaching whānau how to weave rather than doing it for them.
They can think about how they are preparing to welcome their new pēpi while producing a wahakura that is unique. "Everyone involved could see the love that went into every wahakura. The pēpi who will sleep in these wahakura will be surrounded by that aroha (love)." said Kelly Wylie from Pahiatua Community Services Trust.
The Pahiatua Help-n-Hand Supergrans were there sewing and knitting to dress the wahakura, and continued to work after the weekend.
Many services provided support and contributed toward the successful delivery of this wānanga.

For more information contact organisers Kelly Wylie, manager@thetrust.org.nz (0212941286), Ngareta Paewai, ngareta@rangitane.co.nz (0275780181) or mokopunaora@gmail.com