The harsh weather which has plagued Hawke's Bay for much of the week has seen slips and surface flooding render some roads and highways unusable.
And while the worst of the rain and wind has gone, the clean-up is expected to take several weeks in some cases.
State Highway 5 between Napier and Taupo was temporarily closed yesterday morning and State Highway 2 between Napier and Wairoa was closed at Raupunga for most of the day due to a slip. It reopened at noon yesterday but was down to one lane with a stop/go in place.
The NZ Transport Agency said road users are advised to take care on State Highway 5 and to delay travel on State Highway 2 if possible.
As of yesterday morning, about 50 rural roads across the Hastings district were affected - some in multiple places.
But roads in urban areas of Hastings had suffered only minor issues and teams had been able to deal with them rapidly.
Hastings District Council incident manager Alison Banks said the main message from Council was that drivers needed to take extreme care, particularly on rural roads.
"This is a changing situation and with the ground so sodden we are likely to see more trees and slips occur. We cannot stress strongly enough that drivers need to be on high alert in rural areas, particularly when rounding blind corners."
Road crews had spent the past three days out in treacherous conditions clearing slips, and moving trees and boulders and were prioritising roads based on the severity of the damage and the amount of traffic that uses them.
"Some roads are affected by flooding, and in those cases the only thing we can do is wait for the water to clear. We do want everyone to know that we have a great deal of manpower out working in the field, but it is going to take time to get everything back to normal," Banks said.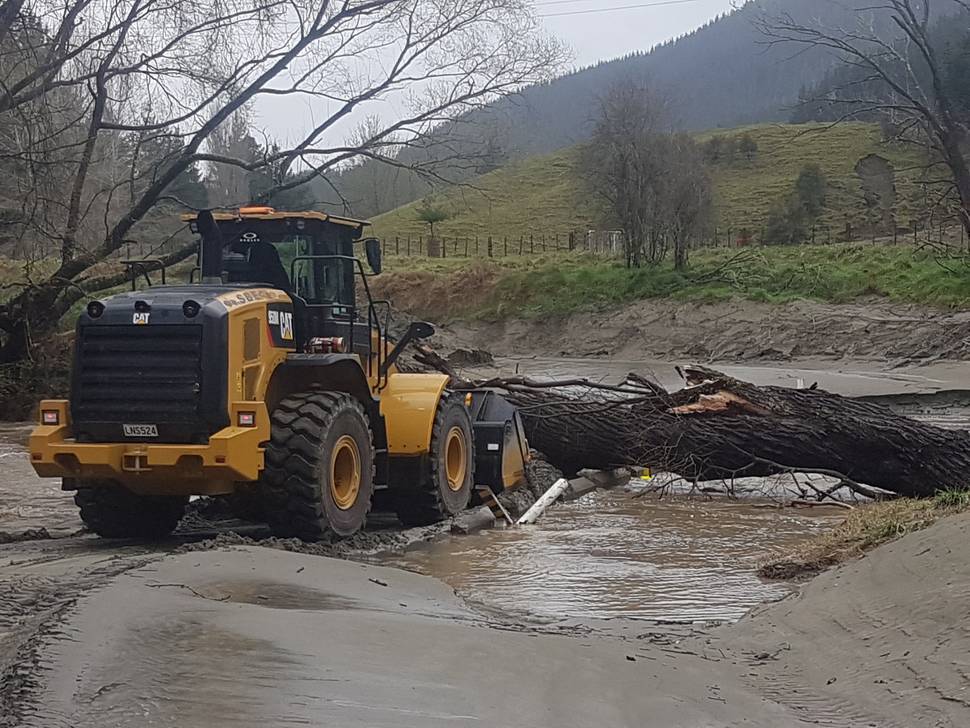 Puketitiri Rd had been severely affected with slips in 13 different places, while Maraekakaho was another area quite badly affected, with 13 roads in the area affected by slips, flooding and debris on the roads.
Banks said it was likely to take two to three weeks before the whole clean-up was completed.
Central Hawke's Bay had up to 10 roads closed during the worst of the storm on Wednesday, but since then things have gradually gotten better.
Porangahau Rd, which stretches to the coast, reopened late yesterday afternoon - the last of the main roads left to be repaired.
District Council group manager - community infrastructure and development, Josh Lloyd, said they had detours in place, with contractors escorting the school bus through the road to get the children home safely.
Arborists spent the day clearing "at-risk trees". Lloyd said their concern was if the wind picked up, trees could block roads again.
However it has been a different story in Napier, with City Council senior roading engineer Tony Mills noting they had "performed well" during the storm.
He said they were aware of a couple of small slips but they had been on private land or had not affected the roads.
"I put this down to how well we maintain our drains and prepare for storms and a special thanks should go out to our depot crew, roading maintenance crew and Higgins," Mills said.