Hawke's Bay karter Tom Bewley got a perfect form of consolation after a disappointing sixth placing in his class at the National Schools Championship on Saturday.
The 10-year-old Te Mata School Year 6 student, who competed in the Vortex Mini Rok class, won a trip to Italy in October by winning the four-round Rok Cup Series.
Saturday's Furnware-sponsored National Schools Championship at Roy's Hill, which attracted 80 starters, doubled as the fourth and final round in the series.
The first round was the Rotorua-hosted nationals in April and this was followed by the City of Sails meeting in Auckland, a Palmerston North meeting and Saturday's. The Italy meeting will be the Rok Cup world championship.
"I'm pretty excited because it will be first trip to Italy and it's a place I always wanted to go to. I hear they have pretty good pizzas there," Bewley said.
It will be Bewley's second taste of international experience. Next month he will race at Australia's City of Melbourne Titles meet, his prize for winning the three-round Wellington Provincial Karting Association's Gold Star Series earlier this year.
One of 20 starters in his class on Saturday, Bewley, said a couple of bad races were costly for him. Points accumulated over five races determined the title winners in each class.
"I was taken out in two races and just didn't get the set up right. I didn't give dad [Dwayne Bewley] and the rest of my crew the right feedback. That was a good learning thing for the future," Bewley said.
Napier Boys' High School Year 12 student Zac Stichbury, 16, was the Bay's only title winner on Saturday. The favourite in the nine-strong Rotax Lights class, Stichbury, won it by one point from Aucklander Ashton Grant.
"Three of us were equal on points going into the final race and I won it from pole. Ashton was second and Wellingtonian Rianna O'Maera Hunt was third," Stichbury recalled.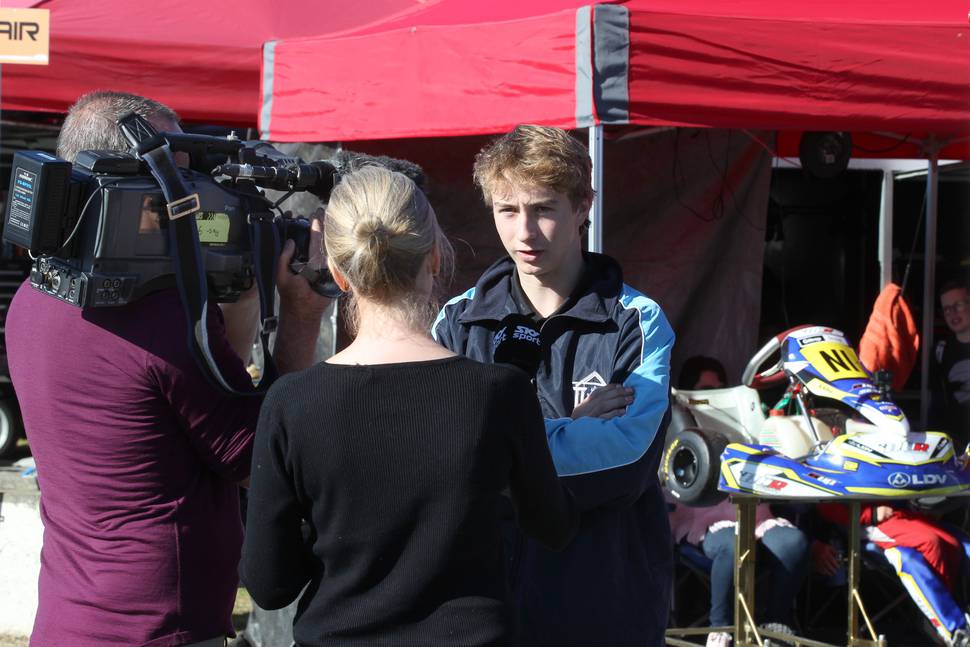 Stichbury, a son of former New Zealand V8 Touring Car driver, the late Ashley Stichbury, finished third from grid nine in his first race. He won his second off pole, was second from grid six in his third and third from grid four in his fourth.
"It was close racing all day in our class. That's my first National Schools Championship title and it was my second crack at it," Stichbury, who finished at the Rotorua-hosted open nationals, said.
The other Bay starters in the class, 15-year-old Karamu High School Year 11 student Jackson Whitfield was fifth.
Stichbury was regularly targeted by a Sky Sport television crew from Auckland throughout the day. He didn't let these commitments disrupt his focus on the title chase.
His next outing will be the Rotax Max Challenge in Te Puke next month. Stichbury's next major event in the Bay will be the annual Blossom Meeting in September.
Two other Bay drivers were in action on Saturday.
Napier Intermediate School's Stuart Baker and Hastings Boys' High School's Jamie Van den Berk finished out of the top 10 in the Rotax Junior class.