Hawke's Bay Civil Defence emergency management group controller Ian Macdonald is urging drivers to avoid unnecessary travel.
Between 100 and 130mm of rain is predicted through to midday tomorrow in the Ruahine and Kaweka Ranges, on top of what the region has already experienced.
The amounts forecast could cause rivers to rise, surface flooding and slips.
Hawke's Bay Regional Council rivers staff will continue to update the modelling based on the rain forecast.
Macdonald said most rivers are coping with the downpour so far, although close attention is being paid to the Esk River and rivers around Wairoa.
The Wairoa River has reached annual levels nd is approaching five-year levels, and there are reports of surface flooding.
Meanwhile the Mangaone River at Rissington Bridge is just below the 50-year level, which it reached in March, and the same areas flooded then are flooded now.
The Esk River is currently at a five-year level and likely to rise while Tutaekuri River at Puketapu is estimated to reach a five-year level.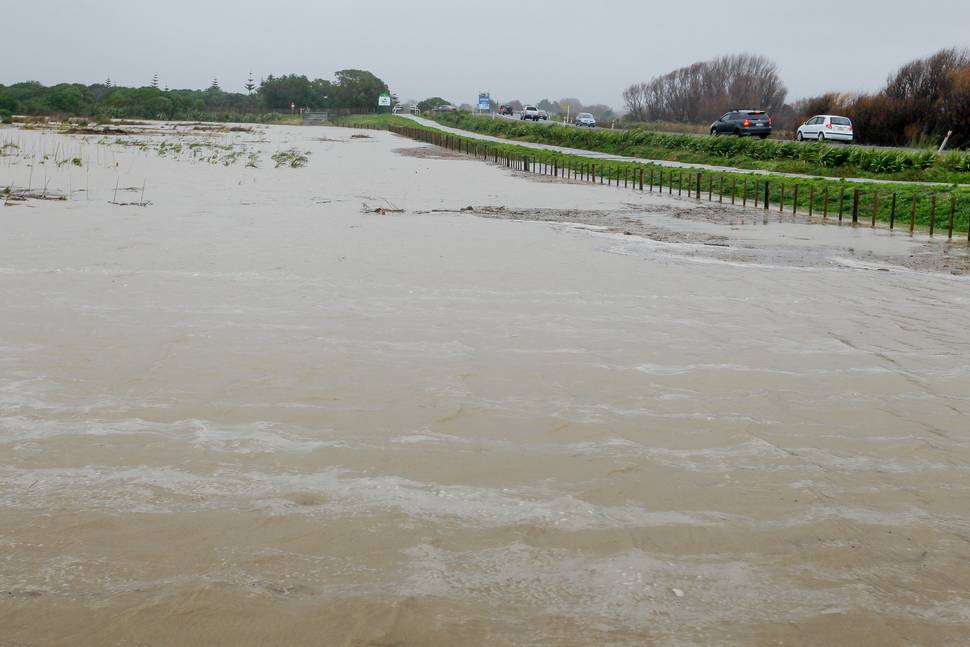 "The public might see some rivers spilling over, that is normal and we are confident the stopbanks on our major rivers will keep them contained," said Macdonald.
He said people who live in low-lying areas should keep a close watch on the rivers and streams in their area and be prepared to move if they feel unsafe.
People are also being urged to keep away from the coast from Cape Kidnappers to Mahia where heavy swells are expected throughout the day, culminating at high tide at 4pm.
A 5.83m easterly swell has been recorded at the Napier Port buoy.
Macdonald said more heavy rain is expected later this afternoon through to lunchtime tomorrow, so Civil Defence is closely monitoring the situation and council staff have been placed on standby to activate a coordination centre if necessary.
The NZ Transport Agency (NZTA) said State Highway 5 between Napier and Taupo is closed because of multiple slips.
State Highway 2 between Gisborne and Opotiki is also closed at Te Karaka because of flooding, which is blocking traffic.
Road users are asked to delay travel if possible, as no official detours are available at this stage.
NZTA said crews are working hard to reopen the roads, but challenging conditions are hampering efforts.
MetService meteorologist Tom Adams said the region would experience relatively warm temperatures over the next day, but heavy rain was a big concern.
Since midday yesterday a lot of places in the hills had had more than 100mm of rain, Wairoa Airport had had 66.2mm and Napier Airport considerably less with 29.4mm.
A heavy rain warning is in place for the region until midnight tonight.
"The winds will ease and then the rain will start easing," he said. "Chalk today up as a pretty wet and horrible day but things will improve tomorrow."
He said the system is a low from the tropics. "The air it is bringing down is of tropical origin, so even though it may feel pretty horrible, temperatures certainly aren't the coldest we've seen this season."
Many won't be surprised by rainfall in winter, but Adams said tropical weather was unusual for this time of year.
"You do get these types of tropical systems coming down on the odd occasion; there's a rigid high pressure that moves south in summer and north in winter and that's what generally shields us from the tropics."
"For low pressure to break through this ridge is very unusual, for a global band of high pressure to make it down to our neck of the woods is even more unusual and it's worth paying attention to, because it's going to be quite a significant weather event."
Napier Port container operations manager Warren Young said after being hit by wind gusts of more than 45 knots, the port closed its container terminal as a precaution for almost two hours.
"Now winds have reduced the terminal is open but we are keeping a close eye on the weather. The safety of our staff and operators coming to the port is our top priority."
They have also located one of two empty shipping containers blown into the sea from its container terminal overnight.
It could not be confirmed initially that the containers had fallen into the sea, as staff could not access the terminal due to dangerous weather conditions.
One container has been located on the foreshore between Westshore and Bayview. The Harbour Master is now managing the situation and Police have been notified.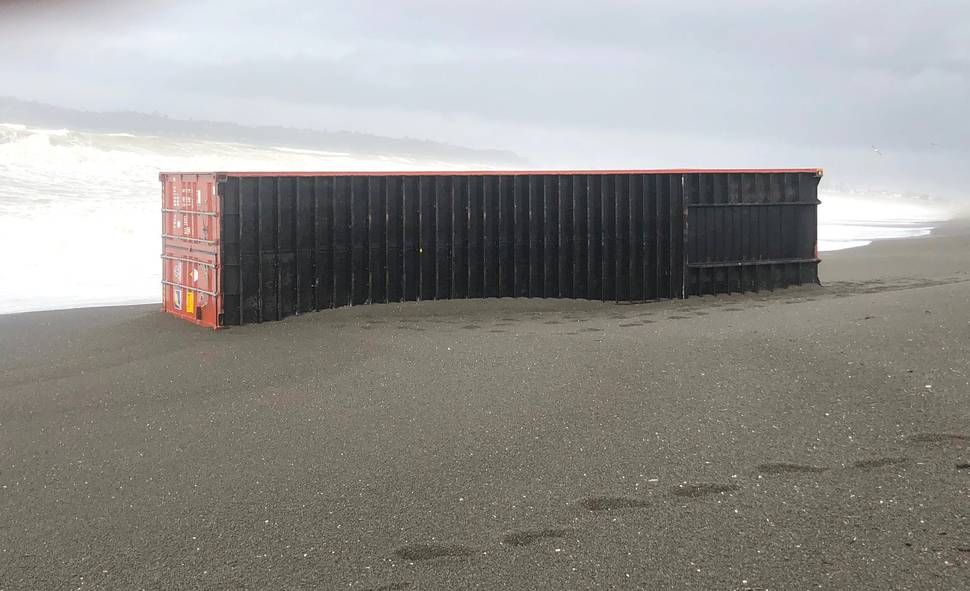 A spokeswoman said the Port is supporting the efforts of the Harbour Master in a plan to secure and retrieve the container that has been located.
"Members of the public are advised to stay well clear of the empty container. We're yet to determine the location of the second container – anyone who sees the container should call Napier Port on (06) 833 4440 or the Police."
"A marine warning has been issued to shipping and the boating community to notify of the hazard.
"Napier Port is also working to retrieve a navigational buoy which has come loose in the swell conditions and is heading toward where the shipping container has beached.
All shipping is currently on hold until weather conditions improve."
Hiranui Rd was also closed, as was Abbotsford Rd, Waipawa, because of a fallen tree.
On River Rd a slip was blocking one lane near the Patangata Tavern and another was blocking 15km along Farm Rd. A detour was being put in place on Porangahau Rd because of flooding at Flaxmill bridge.
Heavy rain and strong winds have cut power and are causing flooding in Hawke's Bay.
Earlier about 750 Unison customers are without power in "mainly rural" parts of Hastings and Napier.
Unison relationship and customer care manager Danny Gough said crews were tending to 500 customers in Hastings and 250 in Napier.
"It's nothing really major, just lots of smaller ones that requires are crews to move from one job to the next."
He said power cuts started late last night and have continued through to this morning. "As we've restored some, others have gone out."
"We've made good progress but then we have other outages occuring, so the guys have certainly had a very busy day in very challenging coditions too."
"We will certainly get the power as soon as we can but we've got to balance that with ensuring the safety of our team.
"Customers should be prepared to experience further outages while this stormy weather continues and stays with us for the foreseeable future."
Gough urged people to stay away from downed power lines and to report any to Unison.
Fifty-seven Eastland Network customers have also been affected in Wairoa.