The young and old came on foot, in wheelchairs, with walkers and riding mobility scooters to attend the biggest Anzac Day dawn service held in Dannevirke.
Among them was 97-year-old Bonnie Bodley, who hadn't missed a dawn service since he returned from the battlefields of World War II.
"There are fewer old soldiers now, we are few and far between," he said.
Read more: Teen's spine-tingling Anzac speech leaves Tararua District mayor near tears
Dannevirke man faced down Nazi firing squad and vicious guard dogs
But this year was special as Bonnie was joined by family from Australia, Napier and Dannevirke for the early morning commemoration.
Youngest son Andrew had brought Bonnie's two grandchildren, Kate and Cameron, from Australia to share their first dawn service with their grandfather.
And while Bonnie admits he remembers those old soldier friends who didn't return from war, or who have passed away, he doesn't dwell on things.
"I'm no different from all the others who aren't with us, but there's no place in my life for sadness," he said.
"The memories are always there but I don't let it get me down."
Guest speaker at the dawn service was Lieutenant Colonel Aidan Shattock, commanding officer of the 1st Battalion Royal New Zealand Infantry Regiment.
Shattock has had two tours of duty in Afghanistan as well as serving in East Timor and the Sinai.
While reminding those at the service of the actions in the early morning on April 25, 1915, as troops landed on the Gallipoli Peninsula, to fight in what was to become a failed strategy, marked by incredible bravery and unbelievable bayonet charges, Shattock's address also focused on the mental wellbeing of our troops.
"Without including those soldiers who returned injured and those who committed suicide, 16,000 New Zealanders and 62,000 Australians who served in World War I never saw their countries again," he said.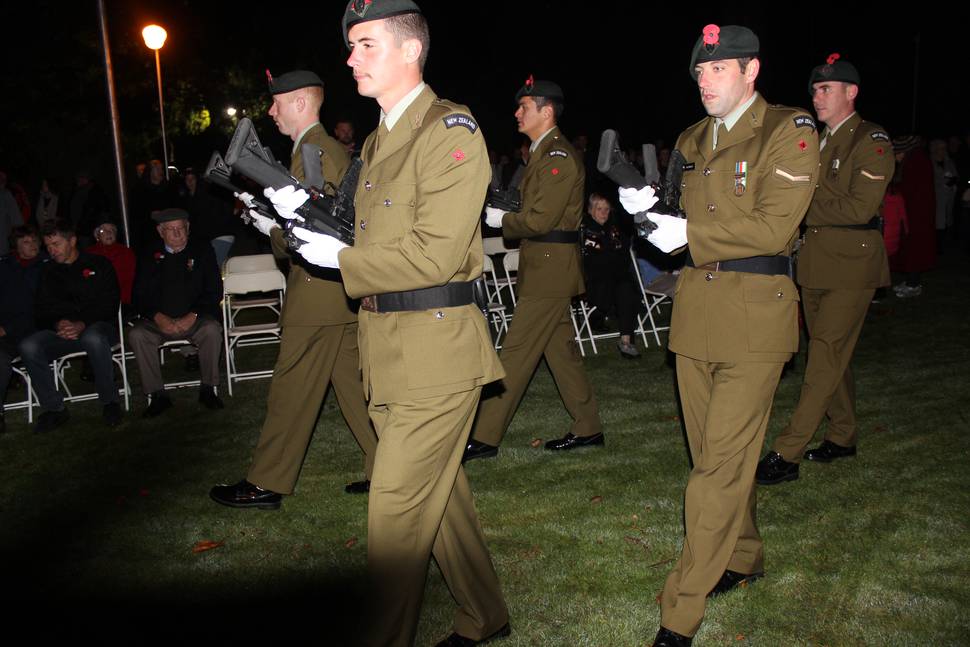 "The extent of the grief and trauma inflected on our communities was huge, with one in three families affected.
"Warfare is brutal, it's a harsh environment. We sent our young men and women to possibly lose their lives and they expected to take the lives of others.
"They had to get back to normal and push their feelings deep down and this attitude lasted until 1990.
"Now we know the effect of psychological stress disorder."
Shattock said it was now time to remember the families who had to pick up the pieces and those for whom the battled raged within.
"Not all wounds bleed and today help is there and service men and women only have to ask," he said.
"But they have to tear down the wall of stigma. Soldiers are not simply faceless warriors or part of a machine, they are sons and daughters and we are duty-bound to look after our people and repair them when they break.
"Those who serve they are and always will be, sons and daughters of New Zealand and we will remember them."