Today is World Kidney Day and the Hawke's Bay District Health Board will be celebrating the fact that in 2017 it matched 13 Hawke's Bay recipients for transplant surgery - the most per capita nationwide.
Hawke's Bay nephrologist, Dr Colin Hutchison, said the success of patient transplants lay with a range of hospital departments who worked against the clock at times to make transplants happen.
Patients were matched and worked up, ready for transplant surgery at Hawke's Bay Hospital, with the surgery itself performed outside of the region.
Patients were then transferred back to Hawke's Bay Hospital post-surgery for the aftercare.
"It really is the incredible effort by a range of services and departments who work together to ensure the success of these transplants," said Dr Hutchison.
"The process is intricate, from the work-up stage right through to the transplant itself and then the aftercare."
Dr Hutchison said that most Hawke's Bay transplants last year were from living donors - either a direct donation through family members/friends or anonymous donors.
"A kidney transplant is normally the best treatment for people with end-stage kidney disease and waiting times can be very long for deceased donor kidneys, so it's heartening to see the majority of our kidneys transplanted last year were from living donors, either paired through people known to the recipient, or anonymous donors.

"Having a kidney transplant is life-changing – our youngest recipient last year was aged 10 and our oldest aged in their sixties," he said.
Flaxmere man Colin Simpson has kidney disease and after putting out an appeal to the community in August last year, his efforts were answered by Otane's Nicky van Pelt in September.
The pair underwent numerous tests and Mrs van Pelt was found to be a donor match.
Mr Simpson said, however, the pair were still waiting to hear back from Auckland City Hospital as to whether they had the go-ahead for the operation.
In the meantime, wanting to raise awareness of the need for donors, the Wairarapa Scrap Metal manager had built a bike with a dialysis machine attached to be used at appropriate public events.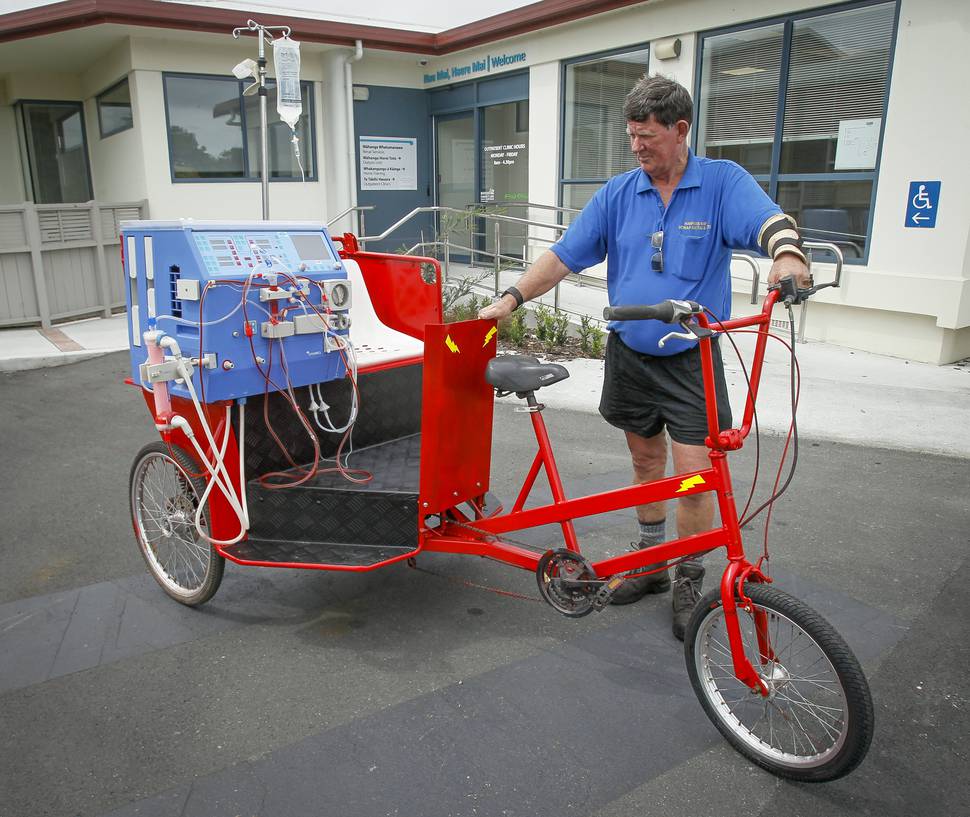 "The bike has been made out of hundreds of bits of scrap metal that come into our yard - the idea is that at events like World Kidney Day someone can sit on the bike and be hooked up to the machine to demonstrate how it works.
"We've been hearing a lot about cancer over the last month, but I wanted to bring to people's attention the problems people with kidney conditions face."
While most of the bike had been constructed from scrap metal, he said The Hub Cycle Centre had kindly donated tyres and other parts.
Give the gift of life
There are more than 600 people waiting for kidneys in New Zealand on the deceased donor list, and only a portion of those people would receive a kidney each year.
Many people with kidney failure found it hard to ask those around them for help, but if people wanted to, and were healthy, the possibility of a living kidney donation, could transform someone's life.
As of December last year, the Ministry of Health brought in compensation for live organ donors, so that people who donated a live organ would be fully recompensed for lost earnings for up to 12 weeks while they recovered.
For more information on what was involved in kidney donation contact the DHB's Living Kidney Donor liaison co-ordinator, Merryn Jones, on (06) 878 8109 ext 2431 or email Merryn.Jones@hbdhb.govt.nz.