The latest QV house price index show Hawke's Bay house prices are continuing to rise.
In Napier, home values have seen strong growth, rising 18.1 per cent each year and 5.6 per cent over the past three months reaching an average value of $393,672.
Hastings values have also gone up 17.8 per cent each year and 6.3 per cent over the past three months reaching an average value of $367,227.
Nationwide house values have risen 13.8 per cent since last year under inflation and reached an average value of $619,660.
QV registered valuer Bevan Pickett said the Hawke's Bay housing market was continuing to perform well under the new loan-to-value ratio rules.
The 40 per cent deposit investor rules were introduced to put restrictions on investors in the housing market but Mr Pickett said majority of the market could continue unaffected.
He said the reason for the market doing so well was because the edge had been taken off slightly with less out of town buyers and local investors in the market following the introduction of these new rules.
"So far the new measures do not appear to be affecting the rate of value growth and strong sale prices are still being achieved, particularly in the lower end of the market with record sale levels still being achieved."
Property Brokers regional manager, Paul Whitaker, said they were seeing pockets of sustained growth due to significantly low stock levels.
"In the price ranges with low stock levels we have seen some amazing results. There is just an imbalance so it is a great time for people looking to cash in and they should take advantage of the market."
With new LVR rules in place, Mr Pickett said investors could still achieve a good return from rental investments in the market and it was much easier for investors to find a 40 per cent deposit entry level for properties in Napier or Hastings rather than Auckland, Hamilton or Tauranga.
"We are also starting to see a number of long term investors exiting the market or selling off large proportions of their portfolios while it is easy to do so."
Tremain's managing director, Simon Tremain, also said they had seen great growth and put it down to net migration and very low interest rates.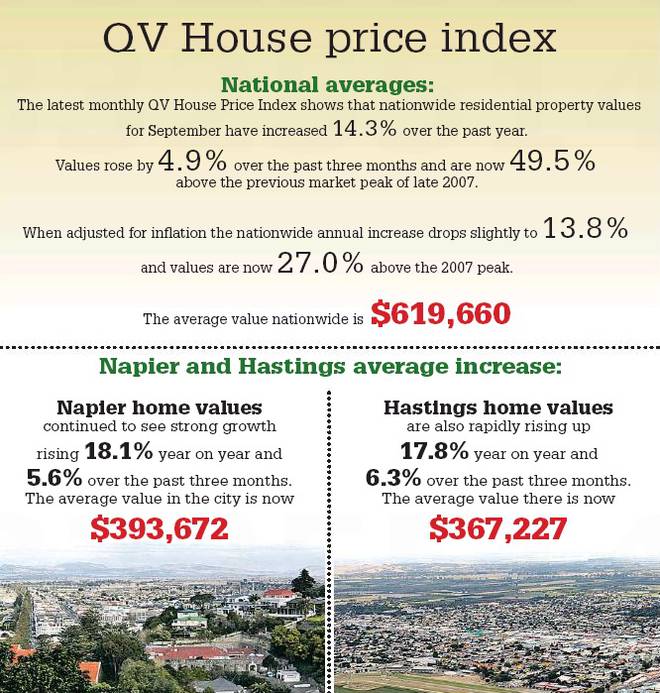 "I think the growth will continue for a sustained period of time with all key indicators positive - net migration and low interest rates," Mr Tremain said.
He said the LVR rules had not affected the company as most buyers were purchasing multiple properties and had substantial equity.
Mr Whitaker said the new rules were making the rich get richer as mainly small investors could leverage off family homes.
Mr Pickett said there was still a lack of good listings available for purchasers, which was a major factor in the market remaining so strong.

"The lifestyle market is also performing well and is now showing definite growth after a long period of values being quite flat."