The oldest school at the national secondary schools kapa haka festival Te Haaro o Te Kaahu has joined those waiting to see whether they get to go another around, in the nine finalists expected to be named late today.
Te Aute College, the Central Hawke's Bay Maori boys school with a history dating back 162 years, had its time in the spotlight yesterday, sandwiched between the performances of Hamilton kura kaupapa Nga Taiatea Wharekura, which opened in 1996, and most travelled Invercargill schools combination Te Wharekura Arowhenua.
It was a proud moment for Shane Hiha who was appointed principal in 2013 to continue the revitalisation of Te Aute after closure beckoned a few years earlier.
He was "proud of the boys" in more ways than one for, like each of the 39 groups in the festival, they had thrown their all into months of preparation for an even better effort than the school's performance at the 2014 event in Gisborne.
"They have shown true commitment and worked really hard for it, giving up evenings, weekends and their holidays to ensure they were ready," Mr Hiha said.
"They wouldn't have represented Te Aute so well without the support of whanau, in particular their tutor Te Hira Paenga and his team."
Earlier yesterday, the Pettigrew-Green Arena where about 1600 students are taking part in the festival, was a packed wharenui for the performance by defending champions Te Wharekura Rakaumangamanga, who came from Huntly in Tainui with royal blessing, among its tutors being Ngawai Hono i Te Pō Paki, daughter of King Tuheitia.
She told Maori Television the experience had been overwhelming.
"They've been training for almost four months and it's been stressful because this is us every weekend."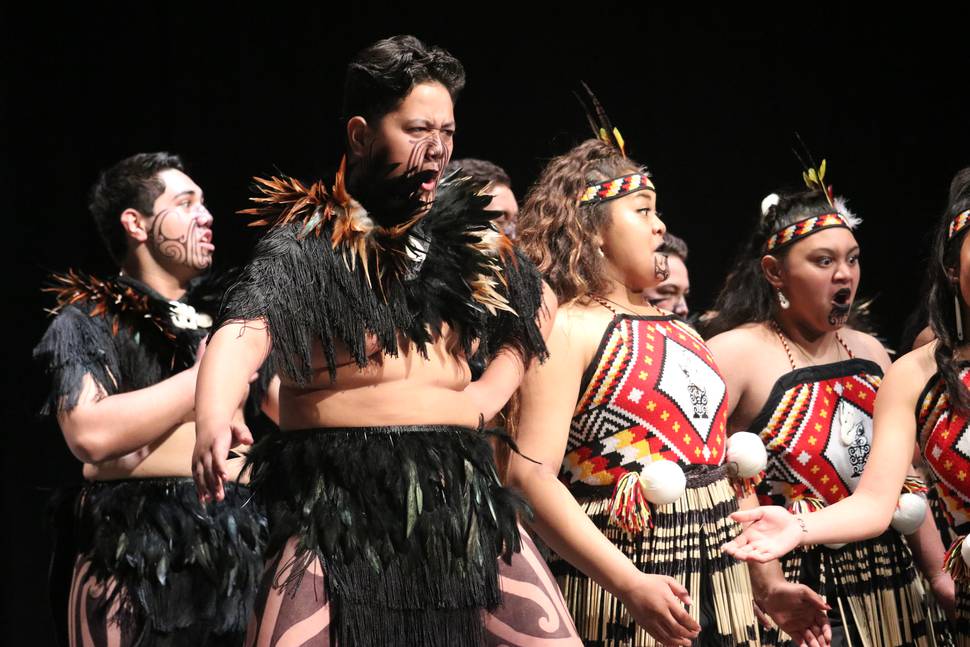 But commentators at the festival said everything paid off with the crowd brought to a standstill after the school's "emotional performance".
"For me, they did themselves proud and they also took the level of their performance up another notch," said Ms Paki.
The last 13 groups perform today before the naming of three from each day for the finals tomorrow.
Today's programme:
Pool C, Session 1, 9am:
* Iti Rearea (Te Wharekura o Ngati Rongomai/Rotorua Lakes High School, Te Arawa).
* Te Wharekura o Hoani Waititi Marae (Tamaki Makaurau).
* Te Ropu Manu Huia (Hastings Boys' High School, Te Matau a Maui).
* Hato Paora College (Manawatu/Horowhenua).
* Nga Puna o Waiorea (Western Springs College, Tamaki Makaurau).
Pool C, Session 2, 1.10pm:
* Te Kura Maori o Porirua (Te Whanganui-a-Tara).
* Raukura (Rotorua Boys' and Girls' high schools, Te Arawa).
* He Waka Kotuia (Kings and Queens high schools, Otakou/Murihiku).
* Nga Kura Kaupapa Maori o Te Puku o Te Ika-a-Maui (Te Arawa).
Pool C, Session 3, 4.40pm:
* Otaki Te Rahui Kura (Te Kura a Iwi o Whakatipuranga Ruamano/Te Kura Kaupapa Maori o Te Rito'Otaki College, Te Whanganui-a-Tara).
* Te Kura Maori o Nga Tapuwae (Tamaki Makaurau).
* Te Roopu Manaaki (Western Heights School, Te Arawa).
* Te Kura Kaupapa Maori o Te Rawhitiroa (Te Taitokerau).