Westshore's Surf Life Saving Club is in need of rescue as the coastline it sits on continues to erode.
The once sandy beach's erosion is a concern to the long-standing club, which stands only metres from the rising waves.
Last weekend's high winds reduced the beachfront even further.
The club's sports co-ordinator, Jimmy Bowden, said he had also noticed a change to the bank in front of the club since the weekend.
At this rate the future of the building was "not looking flash".
He commended Napier City Council's efforts of replenishing the bank with shingle but noted it meant the beach featured a steep and dangerous drop.
"It's a danger for clubbies and the community," he said.
The council built a ramp earlier this year to help the club with athlete beach access, but last weekend's erosion appeared to leave the structure visibly unsupported.
Barrels supporting the ramp floated above the ground on Monday morning, emphasising the beach's reduction.
The barrels had been reinforced by concrete blocks by yesterday morning.
Extreme weather had previously resulted in Westshore's waves coming into the club, an ongoing risk to both the building and the equipment it holds.
The club had to replace its roller doors last winter following waves coming over the shingle bank and into the building.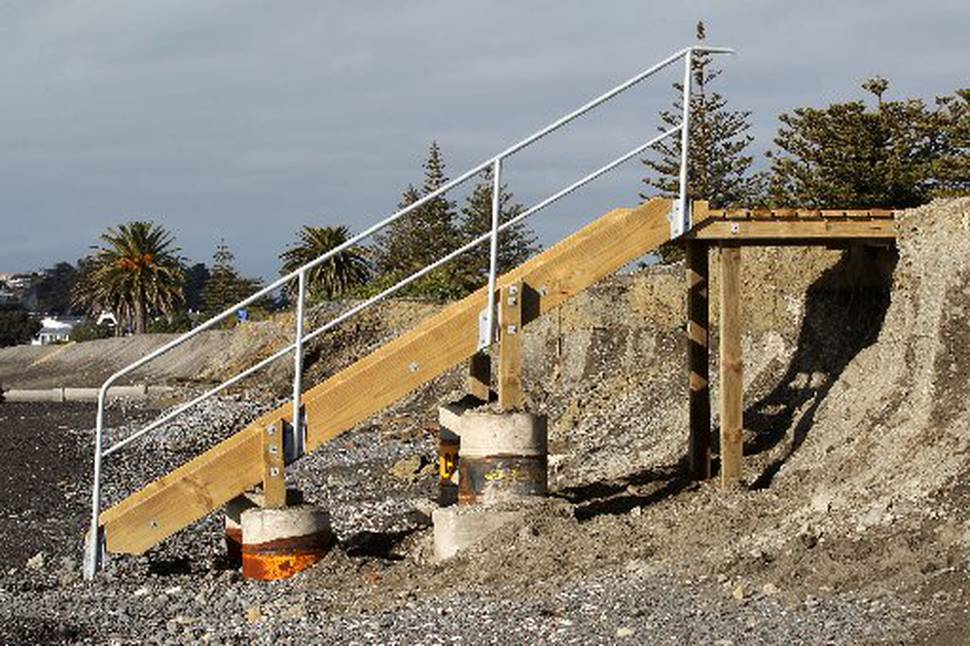 The changing coast had also resulted in new practices for the club, whose beach access was restricted.
"We can't launch our surf boats anymore, we struggle to get our athletes down on to the beach," Mr Bowden said.
Club member Sharon Madden said this change represented a "historical fragmentation" for the club, as young kids no longer were able to watch the boats entering the water.
James Minehan, the council's policy planner/analyst, said it planned to continue the gravel re-nourishment programme subject to consent by the Hawke's Bay Regional Council, and was committed to finding a long-term solution to erosion at Westshore.
"We're currently involved in the development of a Coastal Hazards Strategy looking out to 2120," he said.
Mr Minehan said the council was readying to consult with the community and had detailed maps of the area that specified where the problems were occurring.
Kiri Tristam walks her dog at Westshore every week and said this week the reduced beach was a "stark contrast" to last week.
"Every weekend there's a change," she said.