When Dannevirke's Glenys McGill began searching for answers about the date of a unique Akitio photo, she had no idea how many people would respond to her request.
"It's been unbelievable," she said.
Dannevirke historian Ken Mills was able to date the car in the photo - a 1937 Austin.
"I think the truck is a REO Speed Wagon from between 1935-38," he said. "There wouldn't have been many of those around, but I believe there is one in a collection in Porangahau.
"Those trucks would have been few and far between in those days."
Mr Mills said the REO Speed Wagons are six-cylinder American vehicles and he recalls one at Matamau in the 1950s.
However, Dannevirke's Noel Galloway wondered if the truck was a 1937 British Commer.
Former Waione farmer Harvie Beetham, who moved to Napier earlier this year, has fond memories of the bullock wagons.
"As a 6-year-old boy in 1946 I remember the bullock wagons at Akitio, as I used to play on them," he said. "My parents would pitch a tent amongst the wagons and with my faded memory I think there was four to six wagons. I think the last time wool was loaded out to the ship was 1942."
Mr Beetham also identified the car as an Austin.
Ewan McGregor from Hawke's Bay recalled Mrs McGill's photo was one of a number of images on the loading of wool from Akitio, published in the Auckland Weekly News in 1942.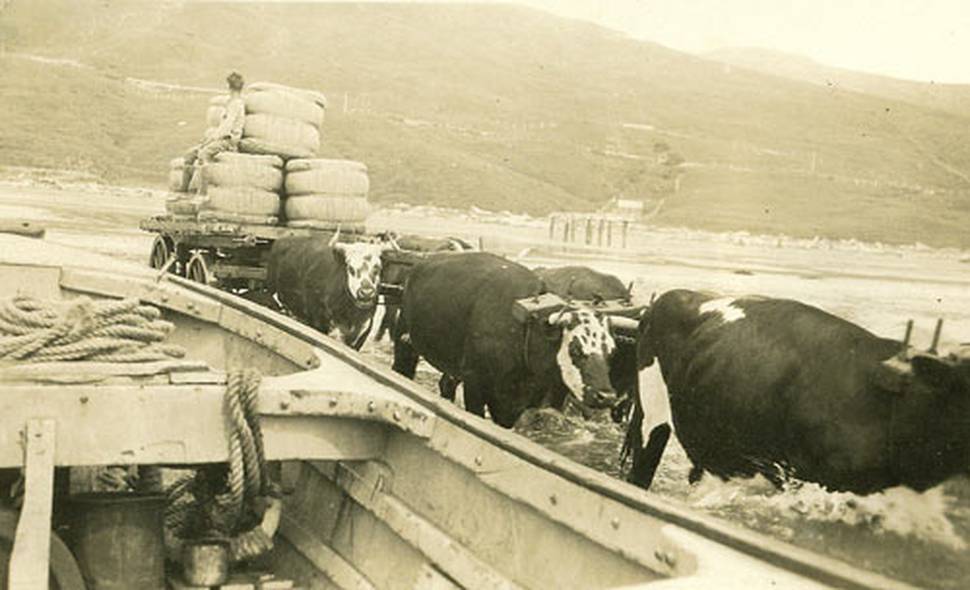 "The paper made a feature of this as I believe it was the last time wool was surfed out from the North Island's east coast. After this wool was trucked to the Dannevirke railhead."
However, Mr McGregor said he doubted there was snow on the beach.
"It was high summer and my photo clearly shows there wasn't any snow," he said.
"A couple of years ago I spoke to Mrs Merle Kerr (nee Franklin), who was in a retirement complex in Hawke's Bay. Her family farmed at Ti Tree Point (east of Dannevirke) and she told me about watching the bullocks walking calmly into the surf and raising their heads when a wave came in."
And while Mr Beetham knew the Bullocky in Mrs McGill's photograph as Old Sonny, who is buried in the Akitio Station cemetery, Hamish Speedy thinks it may be his grandfather Mac Graham.
"The white-faced bullock with horns in the front of the team was Sam," he said.
Two elderly Hawke's Bay residents, Doreen Oliver, 85, of Napier and Mrs Evans, 90, of Hastings both have memories of the bullock team.
Mrs Evans lived "out there on the coast" and remembers reading the Auckland Weekly News reports of the bullock teams which hauled the wool bales to the surf boats which transferred them onto a waiting steamer.