Some of Yvonne Hewitt's first memories of Dannevirke's Salvation Army citadel on High St began when she first attended services at 3.
Yvonne (nee Johnson) now lives in Hawke's Bay, but last Sunday she returned to share in history as the old citadel was decommissioned and the new premises opened.
"I've wonderful first memories of this building and it's also where I was married," Yvonne told the Dannevirke News.
The Salvation Army originally occupied a hall shifted on to the High St site in 1897, but this was later moved to the back of the section and the new citadel opened in 1909.
"For 124 years the Salvation Army has ministered for Jesus Christ in Dannevirke and we can only imagine how many prayers have been said, how many gospels preached and how many have knelt at the mercy seat since 1892, when we began our mission here," Lieutenant Colonel Rod Carey from Wellington, said as the Army said goodbye to its old citadel.
"And how many cups of tea have been drunk here - millions," he said.
However, the hope, healing, fellowship and friendship will continue to flourish in the new premises on Allardice St, Mr Carey said.
"What a wonderful day this is," he said. "In our new magnificent building even great things will be possible, but it's not just because of the bricks, mortar and stone, but the people and leaders who will gather here. This is a new hope and a new beginning."
The Salvation Army purchased the former Old Acquaintance Club for $150,000 and spent between $200,000 and $250,000 earthquake strengthening and refurbishing it and, after the old citadel is sold, the total cost is expected to be $300,000.
Major Mark Ennever was the driver of the project and said it had became obvious the Army couldn't stay in its old citadel.
"Thankfully, God had ideas," he said. "Our team of builders spent eight weeks living in caravans as they gutted the Old Acquaintance Club. It's amazing what can do done with an old bird to bring it back to life.
Mr Ennever said the Salvation Army was very grateful to For Homes for their help and to the Tararua District Council's building department.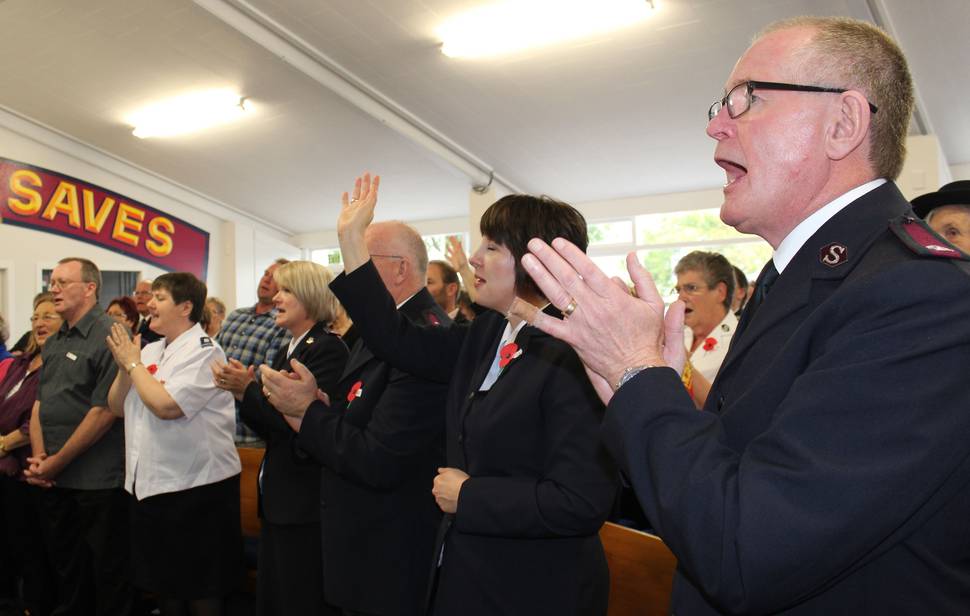 Dannevirke mission director Lynda Ellington was praised for her work, with leadership one of the challenges for the Salvation Army. The congregation was told Lynda has a passion to reach out with the love of God and throughout this district the Salvation Army is known as bringing life in all it's fullness.
Lynda's husband Barry spoke of the enormous pressure his wife has been under over the past 16 months of the project.
"Even though she'd driven Ben [son] and me nuts at times, she's done this for the love of God," he said. "However, with phones and data connections still at the old citadel Lynda will have one leg on each side of the street."