GodsOwn brewery harvested the North Island's only commercially grown hops yesterday.
Brewery owners Rachel Downes and Godfrey Quemeneur have a pure-beer relationship: They met in an English pub where she served him a beer.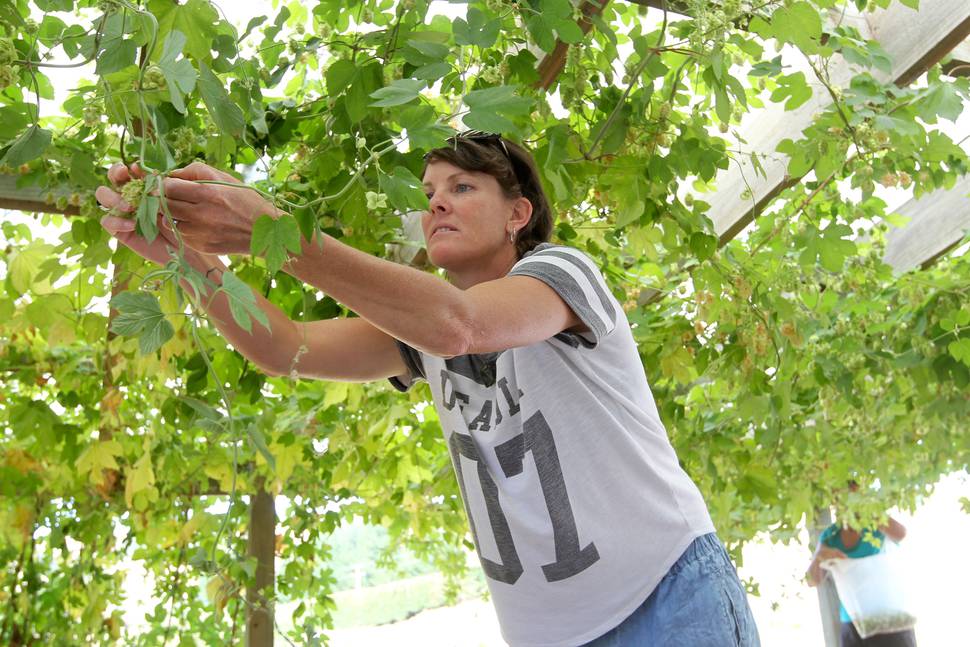 Mr Quemeneur, South African by birth, is a lifetime beer aficionado and chemical engineer.
The couple searched the country for a place for their craft brewery that had right "feel" and in 2010 bought 6.5ha in Maraekakaho. They bought the property with "beer farming" in mind. Their next step will be to grow barley.
"Our aim is to do a whole batch from the land. Grow our own barley, malt it and use our hops," he said. Until then growing their own hops has placed them ahead of other breweries in terms of terroir.
Hops are a perennial climbing plant with a flower used as a beer-flavouring and aroma ingredient.
In New Zealand commercial hop growing was exclusively in the Tasman District but Ms Downes said Hawke's Bay also had a suitable climate. In many other places hops grew "like weeds" but failed to produce the desired flowers for brewing.
New Zealand Hops have the rights to most of the New Zealand commercial varieties and would not sell them plants, she said.
To buy into its growing collective required about $2 million, so the couple bought some plants from a hobby grower and are "very happy" with the results.
Five-year-old vines adorn their Maraekakaho home's verandah and younger vines are strung between large poles.
Yesterday hops were harvested and immediately placed into a "green brew".
GodsOwn's brewery was imported from the United States and assembled by Mr Quemeneur.
It received an off-license in December, dispensing from the 1973 caravan they used to scout the country.
"We are all about making this place a destination," he said.
"We have supplied some to the Rose and Shamrock, after they approached us after Beer Appreciation Day, but the rest has all been from here."
Beer Appreciation Day 2016 is being held Saturday at Duart House in Havelock North from 12.30pm to 7pm.