Two of Hamilton's major football clubs came away with big victories on the weekend, with Wanderers and Claudelands Rovers rising up the table. At the other end of the spectrum Melville United is still struggling to find a foothold in the league after a fourth consecutive defeat.
Premier Men's Football
A game where the result was one of the lesser things that mattered on the day, as Hamilton Wanderers earlier announced that Clive Herbert, father of Ricki Herbert, and grandfather of head coach Kale Herbert had died on Saturday morning, at 85.
Clive had played a crucial supporting role at the club since Ricki and Kale joined in 2017, and was team manager for the Northern Premier League squad. He was a national cycling champion and represented New Zealand as a team official at the 1968 Olympic Games in Mexico.
Uniting for Clive, Hamilton Wanderers pushed on for a 3-2 victory over Birkenhead United. Tommy Semmy opened the scoring in the 32nd minute with an unstoppable shot before Derek Tieku doubled that lead on the stroke of half time.
Alex Connor-McLean pulled a goal back for Birkenhead minutes into the second half, but Derek Tieku scored his second later on to restore Wanderers two-goal advantage. There was late drama as Birkenhead were awarded a penalty in the dying minutes of the game, with the effort from Alex Connor-McLean saved, before the rebound was tapped home to leave the score at 3-2.
The result helps Hamilton Wanderers push away from the bottom, leaving rivals Melville United below them with only one win so far this season. On the weekend they played Western Springs and took the lead early thanks to Logan Wisnewski, but quick goals in the final minutes of the game meant Melville failed to secure another three points.
Claudelands Rovers men continued their rampant campaign with a stunning display against Northland FC, winning 8-0.
Claudelands Premier Women's v Hamilton Wanderers W-League
Claudelands premier women's team held on to their position at the top of the WaiBOP W-League after a hard-fought 6-4 victory over local rivals Hamilton Wanderers.
It was a game of two halves for Claudelands, as in the first half the reds started in a dire position, conceding two early deserved goals, and struggling to get going with a series of loose passes and lack of pressure. Anina Peresson and Nina McKay spearheading Wanderers early dominance.
Despite this, Claudelands were able to slowly grow into the game. Abbie Watson had a series of passes from deep in the midfield which tried to open the game up, while Rachel Porteous continued to provide moments of inspiration.
It was the latter that played a pivotal moment in Claudeland's opening goal. Olivia Schuler broke up a Wanderers attack before laying the ball off to Porteous. Schuler had continued her run to allow Rhiannon Jones to pick up on Porteous' pass and score Claudelands first of the game.
Wanderers were still ahead of the play however, scoring two more goals either side of another Jones goal for Claudelands leaving the score at 4-2 and the reds with an up-hill mountain to climb.
Defensively as a team unit was where the team struggled as players dropped off when not in possession.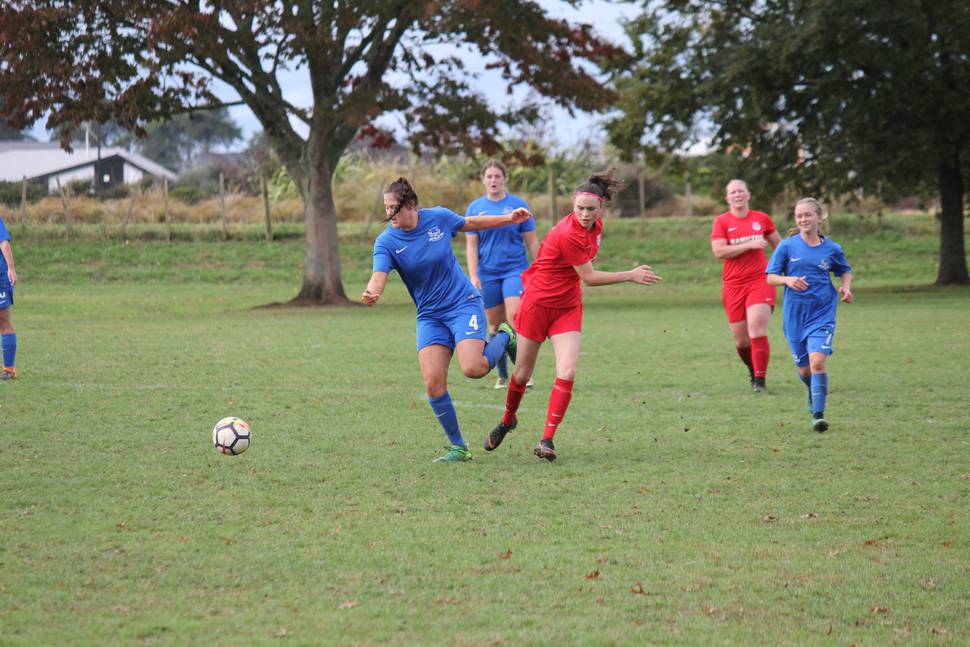 However, Porteous scored a goal of her own seconds before the half time whistle to leave the game at 4-3 and still plenty to do for both sides to claim a victory.
In the second half, the introduction of Paige McCloskey and Stephanie Andrews-Paul brought a much needed boost to the side as Claudelands scored three more, one through Porteous, and two more through Jones to finish the game 6-4, with a much more improved second half performance.
Eyes in the league will now turn to Galloway Park next weekend as Rovers face off title competitors Papamoa FC.
In the Premier League, Hamilton Wanderers made up for their poor result against Onehunga on Anzac Day, coming away with a 3-2 win over Three Kings United. Chloe Henderson, Emma Cawte and Grace Wisnewski scoring the goals.