With spray cans, paintbrushes and a whole lot of creativity, students from Flaxmere College have transformed what once was a derelict 40-foot shipping container into a piece of art.
Ten Year 11 students have spent the past 14 months taking part in Project K - a programme run by the Graeme Dingle Foundation which backs youth development.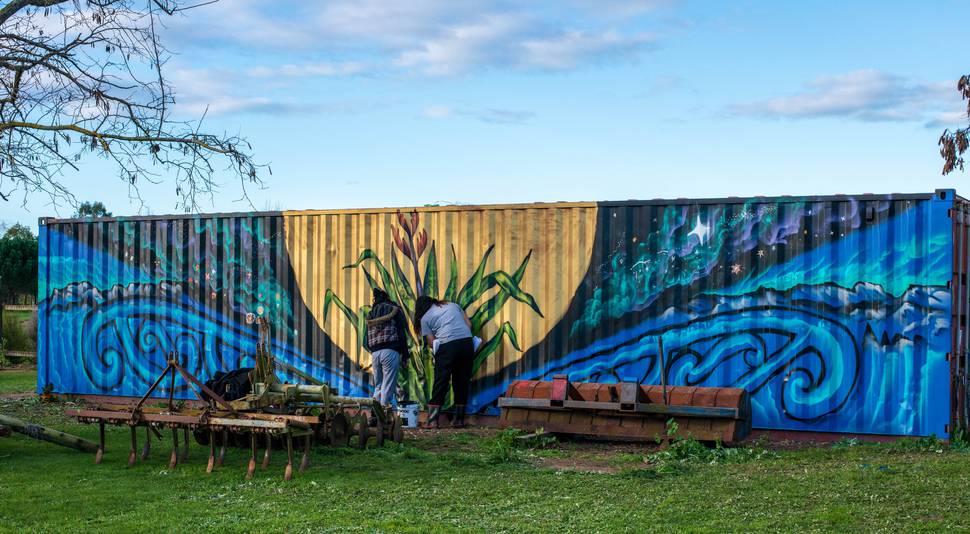 Now in the tail-end of the programme, which ends in August, they have just finished their "community experience" on Te Awanga Marae and the Flaxmere Community Gardens.
Local artist Cinzah Merkens believed it not only reflected the area both historically and culturally, it gave those working on the artwork a sense of pride and ownership over that space.
Merkens said one of the sides pays homage to the land. "We designed something that reflects what the landscape used to be and some of what it is now."
A harakeke (New Zealand flax) can be seen growing over the top of a golden sun.
"The flax growing has got beautiful tā moko pattern work that one of the young artists produced."
On either side, there are two Māori motifs that represent the river which once flowed through the area, Merkens said.
"I look forward to see where they go and what comes out of this - whether it spurs more murals in the community."
Graeme Dingle Foundation Hawkes Bay regional manager Gwyn John said the programme involved three parts: wilderness adventure, community challenge and an individual mentoring partnership with a trained mentor.
"It focuses on building confidence, teaching life skills, promoting good health and encouraging a positive attitude.
"The aim of Project K is to arm these young ones with a belief in their own ability to complete tasks and achieve goals, and to help them maximise their potential."
Many of the students hadn't used the medium of aerosols before let alone produced a larger piece of art.
"They were fast learners and they took to it really quickly."