Peru football fans are gathering outside the team's hotel waiting for them to leave for this afternoon's World Cup qualifier against the All Whites.
The excitement is building before the 4.15pm game at Wellington's Cake Tin.
About 15 fans are outside the Sofitel in Wellington chanting and singing. Some are holding flags, signs, selfie sticks and a speaker.
Maria Arca said she had been waiting for about 35 years to go to the World Cup, and was excited to wave the players goodbye as the headed to the game.
Lucho Arca said he has lived in New Zealand all his life but will be supporting Peru.
"Being a part of this atmosphere, being a part of this crowd, it's amazing."
Meanwhile, police were called to the hotel as about 200 overzealous fans blocked the road.
It was one of two football-related disruptions in the city last night - Kiwi football fans interrupted a Peruvian TV crew who were in the city to cover this afternoon's World Cup qualifier with the All Whites.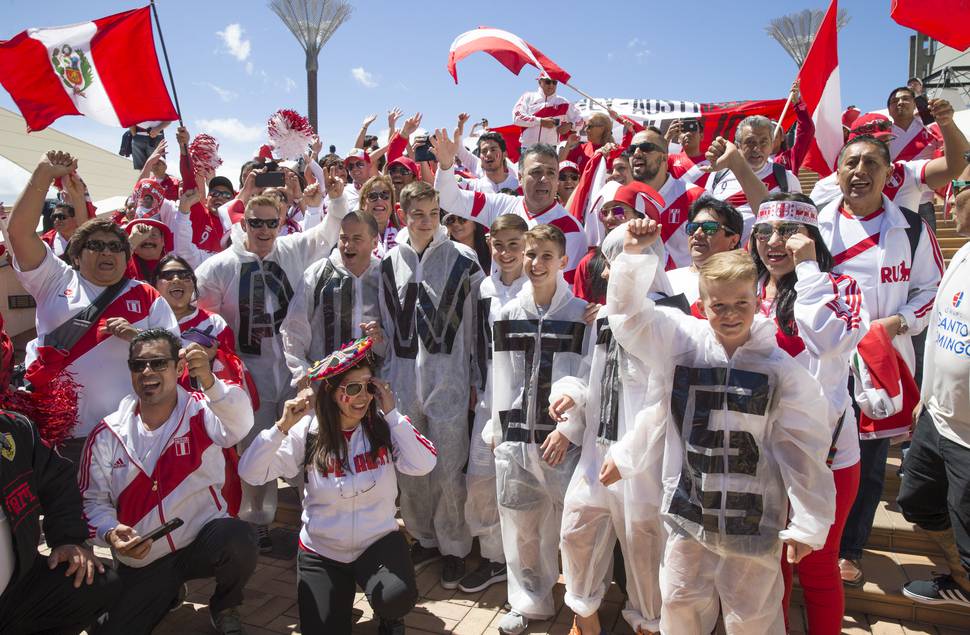 A Wellington District police spokeswoman said visiting football fans caused disruption outside the Sofitel, in Bolton St, were the Peru team are staying, last night.
She said 200 "very vocal" Peru supporters blocked the road outside the hotel.
"They weren't drunk or disorderly but created a lot of drama for motorists. It could be an issue again today."
Police had asked the Peruvian coach when the team was expected to leave the hotel and had been told that expected to take place about 2pm, she said.
NZME Football writer Michael Burgess interviews Peru fans amid crazy atmosphere before All Whites game
Meanwhile, a YouTube video shows Peru journalist Omar Ruiz de Somocurcio doing a live cross with Buenos Dias Peru inside an eatery on Courtenay Pl as men interfere with the broadcast.
A Peruvian journalist and cameraman cut short their live cross to Lima for a Football World Cup match preview after bar patrons interrupted their broadcast. Video / Supplied
The camera then moves off the journalist, shakes around and yelling can be heard.
The journalist can be heard saying that some immature, drunk Kiwis had been interfering with his work for hours and had broken a camera light.
The group moves outside, and the show's anchors say the journalist and cameraman are protected by some Peruvian fans.
A Wellington District police spokeswoman said they were not aware of the incident.
"But [we] encourage anyone who is the victim of any crime to come forward as soon as possible and make a report to police."