If you're anything like us, with just two weeks till Christmas, you're likely at peak present-buying stress.
While you may be the master of dropping hints about what you'd like to find under the tree, choosing the right gift for your loved ones can often be the most time-consuming thing about the festive season.
Sure, some of your dearly beloved might be on Santa's naughty list this year, but most of them have been on their best behaviour and deserve to be spoiled this silly season.
Treating family and friends at Christmas is considered an important gesture, but it's wise not to completely blow the budget for what's really just one day of the year.
So the Herald has put together a list of carefully selected gifts for the fussiest of recipients. The best part? They all come in at under $100.
You're welcome New Zealand.
The makeup master
It can be hard to keep up with the beauty guru in your life: They always seem to know the latest craze in brow shapes, how to perfectly highlight their cheekbones and their contouring game would make Kim K jealous.
But no matter how many products this beauty fiend has, these gifts will be sure to impress.
From the cream that promises the perfect Brazilian butt, to the body scrub that leaves skin as soft as a baby's tooshie - we've got you covered.
1. Sol de Janeiro Bum Bum Cream: $71 from Mecca
2. Too Faced Beauty Cracker: $23 from Mecca
3. Grown Alchemist Intensive pack: $65 from Mecca
4. Nivea Deep shave care: $8.99-$12.99
5. Frank Body Double Express-O Cup: $33 from Mecca
6. Bondi Sands Gold pack: $27 from Farmers

The master chef
The foodie in your life always knows the hottest dining spots and recently advised that your favourite condiment, Sriracha, is "so 2016". Rude.
You've already got them every kitchen utensil and gadget under the sun, so where to next for your foodie friend?
Why not introduce them to a new chilli sauce, said to be a right "Hoot", or treat them to an ice cream date at Auckland's most unique ice cream experience, Giapo.
1. Hoot Chilli Sauce: $12.50 from Hoot Sauce
2. Campfire cast iron toasted sandwich maker: $34.99 from Rebel Sport
3. Giapo voucher: $20-$100 from Giapo
4. Bluebells Festive Gift Box: $15 from Bluebells Cakery
5. Nespresso Festive Assortments Trio: $33.50

The drinks geek
While this discerning friend likely prefers their drink shaken, not stirred, you can still impress them with your gift choice this Christmas.
To please even the finest of tastes, treat them to a festive bottle of Moet and cheers the occasion together.
A round of cocktails will wow your Christmas guests, and espresso martinis using Quick Brown Fox Coffee Liqueur are sure to go down a treat. It also makes for a great festive nightcap served over ice.
Or "gingle" their bells with this year's most genius Christmas decorations and drinks in one.
1. Social Club Bar gold shaker: $39.99 from Stevens
2. Quick Brown Fox Coffee Liqueur: $50 available in all good liquor stores
3. Glass carafe and tumblers: $4.99-$12.99 from H&M
4. Gingle Bells: $89 from Grabone
5. Mixology ice moulds: $39.99 from Living & Giving
6. Moet Festive Box: $65, available nationwide

The homeware expert
This person can spot a Kmart steal from a Citta splurge a mile away, but don't let that put you off buying them an interior gift they'll adore.
If you're after a gift that makes everyone happy, go for an Ecoya Pine candle, a signature seasonal scent to fill their home with Christmas cheer.
Want something a little different? Why not get them an abstract print of their favourite Kiwi holiday location? Bridget Hall Design has a fantastic range available on Etsy.
1. This Works Dream Team Linen Spray: $22 from Mecca
2. Diptyque Candle Carousel: $97 from Mecca
3. Wink Door Mat: $35 from Shut The Front Door
4. Ecoya Fresh Pine: $54.95 from Ecoya
5. Remarkables Ski Resort Trail Map Print: $25 from Bridget Hall Design on Etsy

The well travelled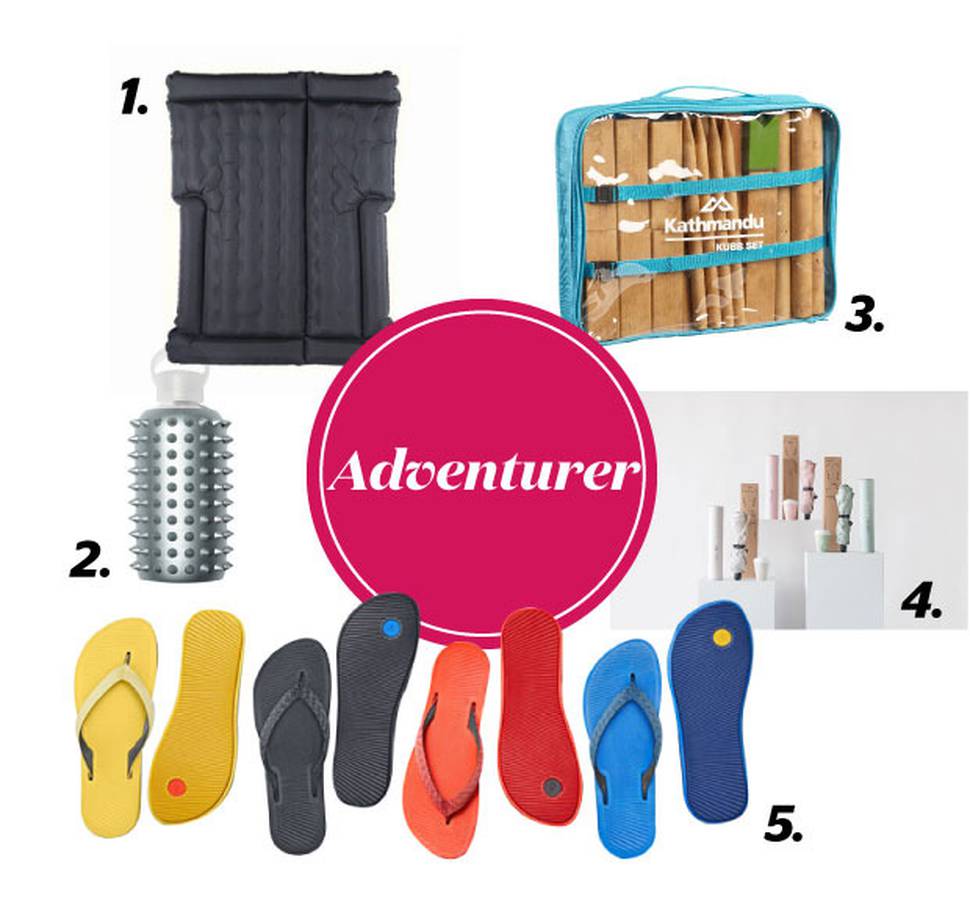 If you can catch this person in between marathons and skydiving, you might want to consider one of these adventurous purchases.
Let them rest their well-travelled feet in a pair of All birds jandals, made from sugar cane. Or challenge them to a friendly game of Kubb on the back lawn.
Any of these gifts are sure to keep their adventurous spirit inspired.
1. SUV car inflatable camping air-mattress: $69 from Grabone
2. BKR spiked glass water bottle: $71 from Mecca
3. Wooden Kubb set: $59.99 from Kathmandu
4. Blunt umbrella and Blunt + Ideal Cup: $99-$119 from Blunt
5. Allbirds Sugar Zeffers: $60 from Allbirds

The old dog looking for new tricks
Year after year you watch the disappointment in this person's eyes as they quietly sigh over another pack of business socks, while their family hope this might be the impetus they need to get off the couch and into the workforce next year. Yeah, right.
If you want to be the one who gives them something they'll genuinely enjoy, why not treat them to a Zuru X shot so they can embrace the big kid they really are. Or an inflatable drinks holder, so they can take their lounging to the next level in the pool.
1. Zuru X shot: $35 from the Warehouse
2. Inflatable swan drinks holder: $10 from Kmart
3. NZ Scrabble set: $29 from the Warehouse