When Pauline Collins came to the Bay of Plenty for her grandson's engagement party, she never thought she would be meeting Rachel Hunter, let alone falling at her feet, literally.
Pauline was one of 300 people attending an intimate gathering in Tauranga on Saturday hosted by the supermodel turned yogini, who was starting her "Beauty of Soul" tour of New Zealand's North Island organised by Hunter's close friend, Auckland spiritual philanthropist Emma Mildon.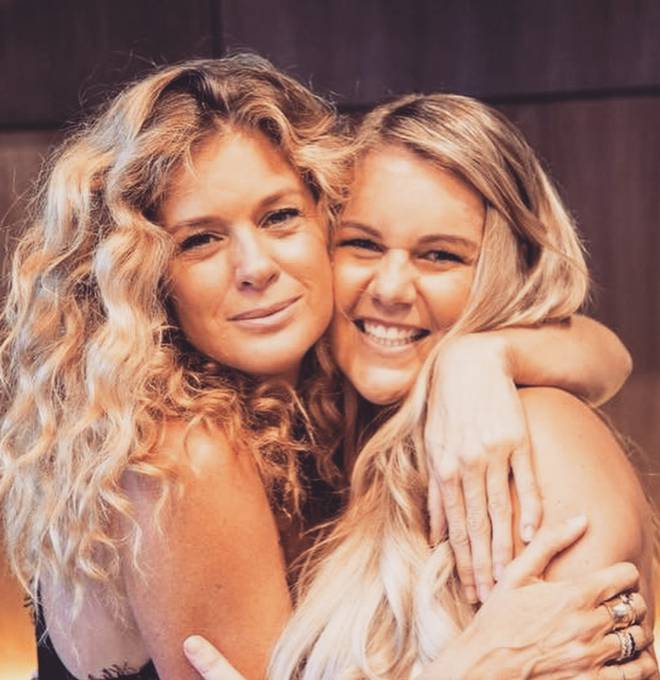 Collin's daughter Angela Hale had invited Collins to Tauranga from Wellington to celebrate her son's engagement.
As a surprise she took Collins and her sister, Joanne, to one of the private suites in Baypark this morning for the special session with Hunter as all three had been fans of Hunter's television series, Tour of Beauty.
Guests had been advised to "bring your own cushion, pen and paper and an open heart".

Hale brought a chair for her mother for comfort, and the trio decided to park themselves along the back wall "so we wouldn't block anyone's view."
"I put the chair against what I thought was a wall. Mum sat down, and the wall was actually a black curtain ... the chair made the curtain open and behind was Rachel getting ready before she was due to come in.
"We were so stunned, and just stared, but Rachel just grinned and said 'hi'. I absolutely love her, how cool is she? So down-to-earth, funny, and a really genuine person."
The encounter summed up the authentic mood of the event.
The setting was "chilled", with candles and aromatherapy scents, and included meditation as well as conversation about Hunter's recent transformational journey to India, where she completed 200 hours of yoga teacher training with the top Sattva yoga academy in the Himalayas.
Hunter sat cross-legged on a stage with a photo of her mother, candle and a buddha statue - she told the audience she drove to Tauranga with it buckled in the back seat beside her friend Laura.
Guests gathered around the room sitting on their cushions and Laura roved with a microphone for the many questions.
Hunter began the event by saying that when she cut her tarot cards that morning, a message came clearly that people were coming for "support".
Hunter told the audience she was inspired to do the unscripted, conversational talks in small communities after journeying through "grief, anger and resentment" after losing her beloved mother.
A period of stress and exhaustion had followed her loss which caused her to develop tinnitus, ringing in the ear.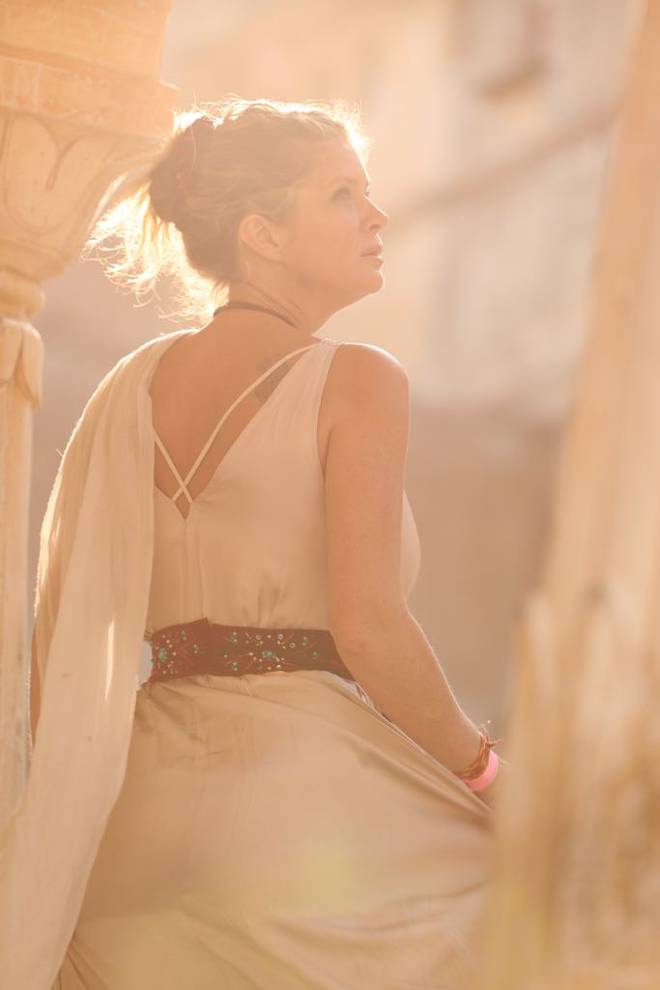 It was during her intense yoga instruction in India where she progressed to a state of self-acceptance, something she now feels compelled to share with others.
Hunter uses a combination of yoga, meditation and pranayama (controlled breath exercises) to reach a sense of calm, and had to learn to "stop being the person trying to please everyone else, trying to make other people happy ... or thinking I am not good enough."
She urged people to uncover "stillness in mind, even when life is busy" and warned women and mothers in particular not to "run themselves dry", alluding to a period in 2010 when she became "super sick" six weeks before she was due to marry when she was juggling work, travelling, her children's ice hockey schedules, dance practice, "and all the things we do as women, you know how it is."
Hunter says she now meditates for an hour-and-a-half at varying times in the morning, and another hour in the evening.
She had lost weight because of the intense meditation.
"It is not about weight loss or looking good outwardly, I am over all that, I cannot be bothered ... but it does make me have more energy and naturally gravitate to nutritious food".
WIth meditating, her skin improved and she said she even experienced the "glitter spirals" emanating from eyes yogis talk about after mediating and using Pranayama, breath work.
Once after meditating I went to a Japanese restaurant with my sister, I had a feeling of
warmth for others ... and she said, wow, your eyes ... and I joked that if meditating did that then I was going to do it four hours a day."
She keeps it real.
"It is not like I am floating around, I mean I drink coffee, I do normal things, we all have the normal day to day, but it is about finding joy in the everyday."
She acknowledged wellbeing is "a whole industry now … but is it actually making us well?
''You have to do the things that work for you, and it could be as simple as learning to breathe or gardening or whatever brings joy. Run a bath, light a candle and let your belly flop out … stop sucking in."
She urged people to "be themselves ... let the crazy out" and shared how a regret of her mother's, a very spiritual woman, when she was dying told Hunter that she wished she'd been open about it, "worn kaftans" and not worried what people thought.
It was this revelation that led Hunter herself to pursue a more openly spiritual path.
"Who cares if people think you are weird", and joked about how she had brought the stone buddha statue from Auckland, buckled up in the car.
"We care so much about what others think but why? Our egos are a disaster ... we shouldn't be afraid to be who we are. Try and you will be surprised. Instead of being judged you might find people are drawn more to you ... people pick out a book on the bookcase that is interesting and intriguing ... what kind of book do you want to be?"
The session was peppered with questions from the audience, including serious topics such as grief, self-esteem, and the stresses of motherhood.
There were tears, and peals of laughter as Hunter commented and the crowd roared with laughter, when she said how it was unrealistic to like everyone.
"Once I was sitting next to someone who had so much negative energy I nearly passed out, because I was holding my breath".
She finished the morning with a series of breathing exercises.
"When you are feeling sad or anxious, or any intense emotion ... if you breathe deep from your belly then let that breath out, it brings you back to the moment."
"Feeling zen and peaced out" is how Matua woman Vicky Beauchamp-Dixon was left after attending the gathering with her co-worker from Zespri.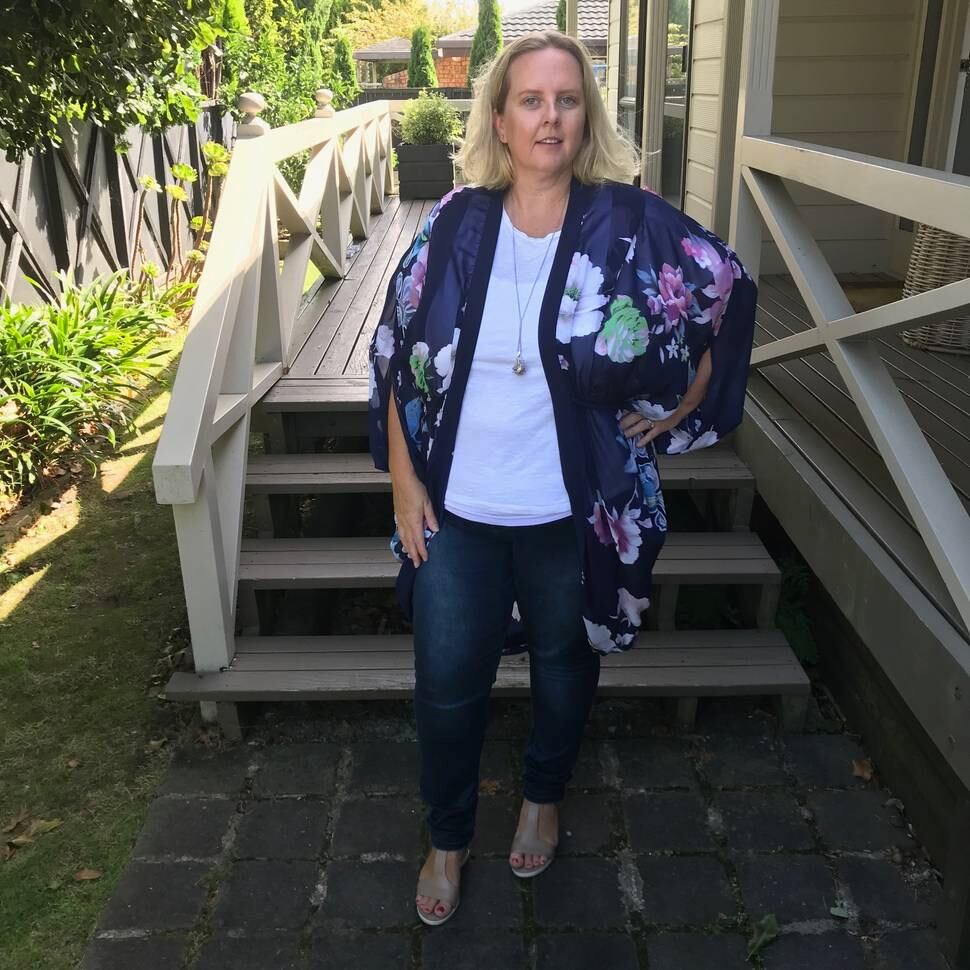 "I came out so relaxed, I really connected with her and I think everyone did, it was really powerful and special."
Beauchamp-Dixon said she had been a fan of Hunter's since her television series, Tour of Beauty.
"On that she came across so real and down to earth, she is all about the inner beauty, and in the flesh she is even more like that ... I feel like the session could have gone on all day with us all talking, laughing and connecting. It was unrehearsed and just flowed naturally."
Beauchamp-Dixon said people would take something from the session and make a difference in their lives. She is going to do breathing- "that breathing, that was amazing, I felt like I was breathing properly for the first time. Rachel Hunter taught me how to breathe!"
Angela Hale said she related to Rachel recognising those in the audience needing support.
"I just feel like she is a special person with a gift. Yes she was a model but I think her real gift is this, what she is doing today. I really believe every single person in this room felt connected and supported today. It was such a beautiful safe environment. We left feeling so happy. And it is so amazing that she came here to Tauranga ... and we got to bump into her ... literally!"
Hunter posted later that evening on social media, thanking "300 beautiful faces" for "love and appreciation in the room", and support.
People who had attended outpoured positive feedback, commenting how the talk had had a positive personal impact on them.
"Thank you Rachel for being such a real and beautiful soul. Your down to earth nature and kind heart shines through. Today was so inspiring," one attendee said.
Hunter's tour continues in other locations across the North and South Island. Ticket inquiries: Eventbrite.
Tour dates

Takapuna, North Shore, March 14, Takapuna War Memorial Hall
Hamilton, Hamilton Garden Pavilions, March 15
Freeman's Bay, Auckland Central, March 27, Freeman's Bay Community Centre
Whangarei, March 24, Kamo Hall
Invercargill, March 30, Invercargill Working man's club
Dunedin March 31, Dunedin Town Hall
Christchurch, April 1, Great Hall - Christchurch Arts Centre
Nelson, The Granary, 2nd of April
Wellington, April 6, Market Lane
Wellington, April 7, Powe Living Yoga
Taupo, April 8, Hilton Taupo