It's a beauty pageant like no other - with women competing to see who has got the best derriere.
And the winner of this year's Miss Bumbum has revealed how she left her husband in order to take part in the competition in Sao Paulo, Brazil.
After beating 13 other big-bottomed girls to pick up the coveted title, Rosie Oliveira, 28, revealed how her husband had made her choose between him and entering the beauty pageant.
However, she insisted she doesn't regret deciding to leave him to pursue her lifelong dream of being named the owner of Brazil's most beautiful bottom.
Rosie, who burst into tears after she was announced the competition's winner at a glitzy ceremony in Sao Paulo, said: 'He told me to choose between this and him. But I'd already entered the competition without him knowing.
"It was the easiest decision I've ever made. I've dreamed of this moment since I was a child, I wasn't going to let my husband get in the way. It's still sinking in, I still can't believe it actually happened. I'm pinching myself to see if I might still wake up."
But she added: "I know people all over Brazil expect much from their Miss Bumbum, and I wont let them down. I want Brazil to get better, so we have health, education and security for all.
"I've also been offered a shoot in Playboy magazine, but it's not definite yet."
Being crowned the country's Miss Bumbum means Rosie, who represents the jungle state of Amazonas and who studied journalism, will become a megastar.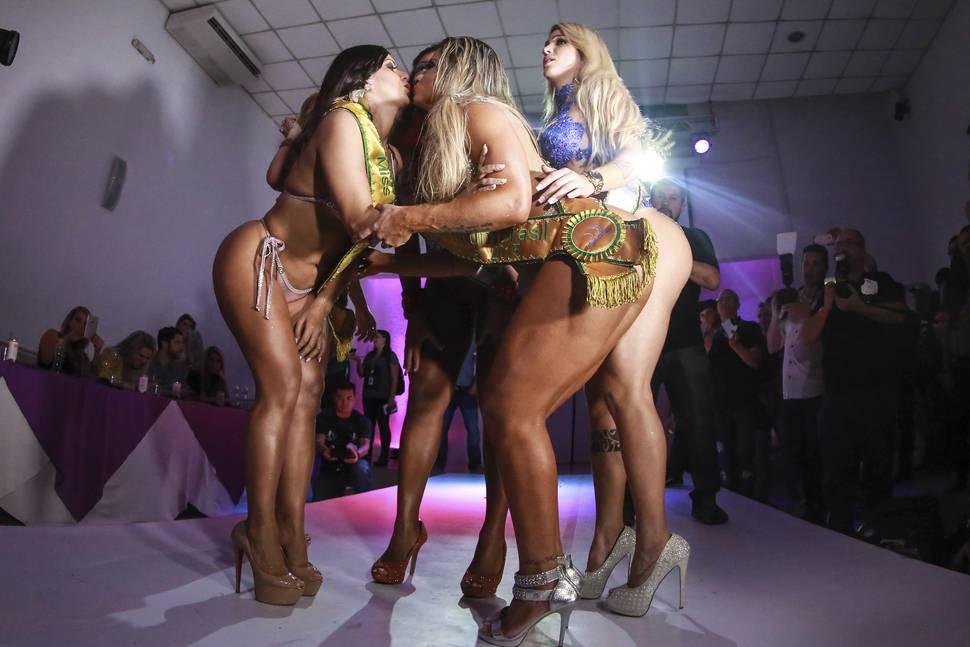 Previous winners have gone on to earn millions in endorsements, appearances and magazine shoots, including last year's winner Erica Canela, who became an instant celebrity and starred in a reality show in Portugal.
And the 14 women competing for the title at last night's final knew how their lives could change overnight as they each paraded their behinds in front of a panel of 12 judges.
Firstly, they walked down the catwalk wearing their choice of evening dress before showing off an array of skimpy ensembles as they danced to their choice of music.
And many left little to the imagination as they wiggled, shaked and gyrated their bottoms, which measured between 92 and 107cm round.
One candidate suddenly whipped off her bikini top, then also her bikini bottoms, to reveal just sequins covering her modesty.
Another woman, desperate to impress, got down on all fours and shook her derriere wildly to the delight of a packed floor of reporters and photographers from all over Brazil to cover what is considered one of the year's biggest events.