We're used to seeing her wafting through the crowds in fitted dresses and sky high heels.
But today the Duchess of Cambridge rocked a much more sporty look as she visited the National Tennis Centre in London in her role as patron of the Lawn Tennis Association, her first solo engagement since taking a break from public duties.
Kate, 35, was the epitome of casual chic in recycled Monreal London "tuxedo" track pants worth an eye-watering $426 and $320 Nike Air VaporMax trainers, loved by footballers such as Cristiano Ronaldo and Rio Ferdinand.
According the the Daily Mail, the royal who is pregnant with her third child, has been stepping back into the limelight after suffering from hyperemesis gravidarum - a severe form of morning sickness.
And today she proved that the worst is most definitely behind her as she joined youngsters on the court to practice their tennis skills.
Since resuming royal duties earlier this month, she's attended three engagements alongside Princes William and Harry but today is her solitary outing.
The Duchess is a keen tennis fan and the trip to the National Tennis Centre in London is part of her role as LTA patron, having taken over the post from the Queen.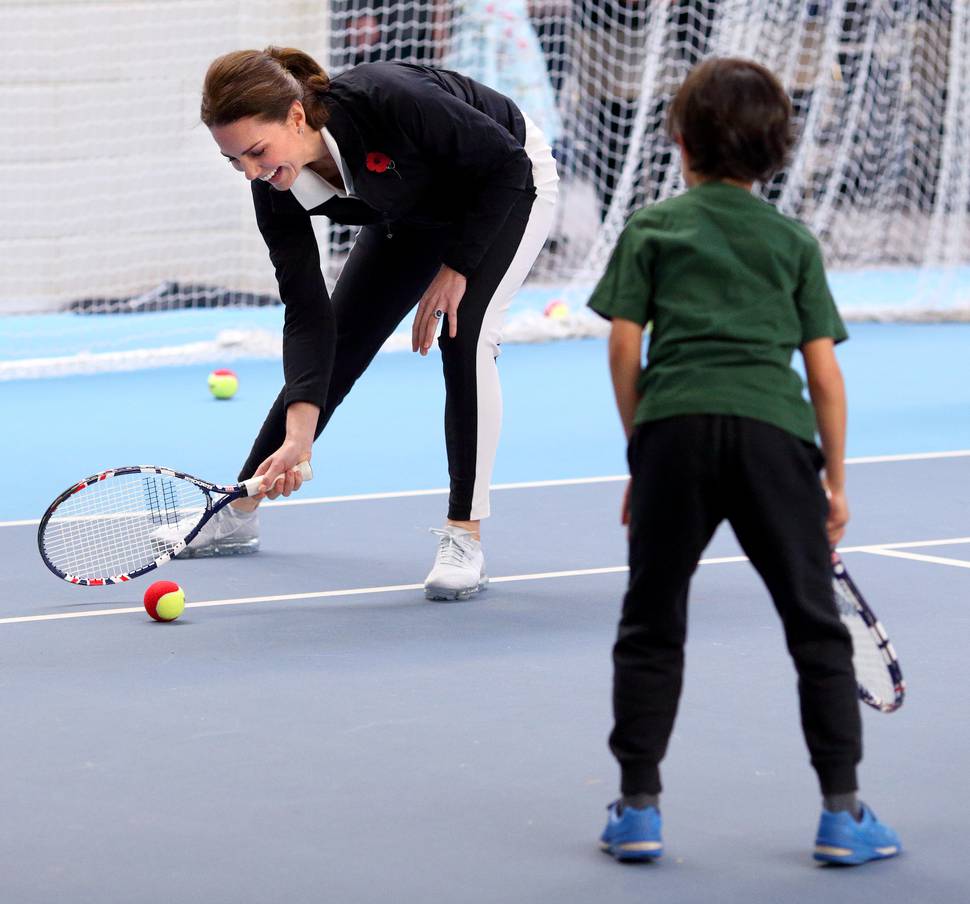 She is set to watch some on-court sessions including a Tennis for Kids event and meet some of the UK's top junior talents.
She is also set to meet youngsters who are taking part in the Coach Core apprenticeship scheme.
It was designed by The Royal Foundation of The Duke and Duchess of Cambridge and Prince Harry to take people aged 16-24 with limited opportunities, training them to be sports coaches and positive role models and mentors in their communities.
Kate is now in her second trimester and the royal baby is due in April.
The Queen was patron of the LTA, which is the national governing body of tennis in Great Britain, the Channel Islands and the Isle of Man, for 64 years.
Earlier this month, Kensington Palace revealed that the latest addition to Kate and William's family will arrive in April.