Halloween is just days away, and whether you've had your Eleven from Stranger Things costume in the wardrobe since March or are still fretting about what to wear, come October 31 you'll want to have something sorted.
But before you decide to turn to your favourite celebrities for inspiration, you'd be wise to note even those in the spotlight don't always get it right. In fact, plenty of famous folk have been left more than a little red faced by a costume choice that's gone horribly wrong.
From being culturally insensitive to downright dull, here are the top 10 celebrity Halloween costumes you most definitely should not try at home.
HINDU GODDESS KALI, worn by Heidi Klum in 2008
As Rihanna is to the Met Gala, Heidi is to Halloween. She hosts her own annual Halloween bash with only the most famous faces in Hollywood snagging an invite.
However, even this Halloween Queen has gotten it wrong: This interpretation of the Hindu Goddess Kali ruffled more than a few feathers back in 2008.
A NAZI, worn by Prince Harry in 2005
Oh Harry. We sure do love you and your cheeky sense of humour but this costume - which international press had a field day with - was jaw dropping in all the wrong ways.
You may be a real life Prince Charming, but even you let us down this time.
A TERRORIST, worn by Chris Brown in 2012
Chris Brown also made headlines after dressing as an Islamic terrorist and posting photos of his controversial costume on Twitter and Instagram - of course he did.
After a lot of backlash, the singer wisely removed the pictures. What Chris forgot on this occasion is that the internet never forgets.
MILEY CYRUS, worn by Perez Hilton in 2013
Perez came in like a wrecking ball in this Miley Cyrus-inspired costume, giving red carpet photographers a little more than they bargained for.
LEAFY GREENS, worn by Kyle MacLachlan in 2016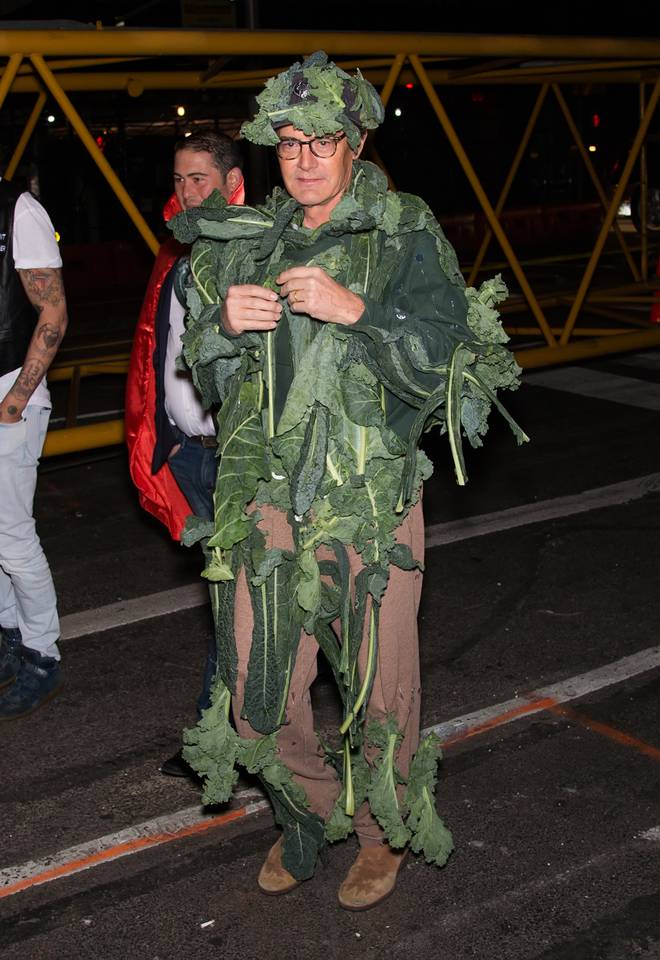 If Monday had a face, it would be Kyle MacLachlan arriving at Heidi Klum's Halloween party adorned in wilting vegetable leaves.
CRAZY EYES, worn by Julianne Hough in 2013
Dancing with the Stars judge Julianne Hough ended her Halloween party in apologies after dressing as Orange is the New Black character Crazy Eyes.
Hough thought it appropriate to paint her face black. She was swiftly told by fellow party guests to remove the makeup, but not before photographers recorded her blunder.
A BARE-BREASTED GORILLA, worn by Heidi Klum in 2011
Yes, Heidi gets two spots on our list. This one's for her gorilla costume, complete with breasts, and some scary red carpet antics with ex-husband Seal.
A LION IN SNEAKERS, worn by Hugh Grant in 2015
Hugh Grant made a weak attempt at dressing as the king of the jungle when he chose to pair what looked to be an adult onesie with a pair of running shoes.
Jog on Hugh. Jog on.
SKIMPY SANTA, worn by Tara Reid in 2016
Tara Reid, clearly a little confused about which party season she was dressing for, shocked in this barely-there Christmas outfit worn to a Halloween party.
However it was her frail appearance rather than her costume mix up that most concerned onlookers.
A DILL PICKLE, worn by Snooki in 2010
Nicole "Snooki" Polizzi took her famous love of pickles to the next level in 2010 when she dressed as Queen of the Pickles, complete with a giant pickle on a stick.