The first line of the night was one we were going to hear many, many times.
"Yeahhhh man, my f*** Kiwis!" Dominic Fike shouted.
Thrilled to have made it here for the first time, the 23-year-old Florida musician didn't hold back on voicing his love for Kiwis between just about every song - both the bird and the people.
From the very first song, "Phone Numbers," his recent collaboration with Kenny Beats, the crowd felt awed by his electric energy on stage,
As well as his admirable swagger, he showed off an incredible vocal ability and even bounced a jig that was oh-so-cool.
The genre-bending musician has a remarkably distinct voice, which matches his unique style. And while Fike still doesn't have many songs — he's only released one EP that's less than 15 minutes in total and a handful of singles - so it did make me question why he wouldn't play complete songs. Instead, he'd stop performing halfway through and move on to his next track. It often felt like he'd stop after the first minute. Few songs were played in their entirety. An odd choice.
This means his set was only 40 minutes but in that limited time, his energy levels continued to skyrocket. Perhaps from all the energy he saved by not playing whole songs. He'd bounce around and belt out his falsetto, to suddenly switching to rap or picking up his rock guitar before sitting down on the keyboard, he kept things interesting.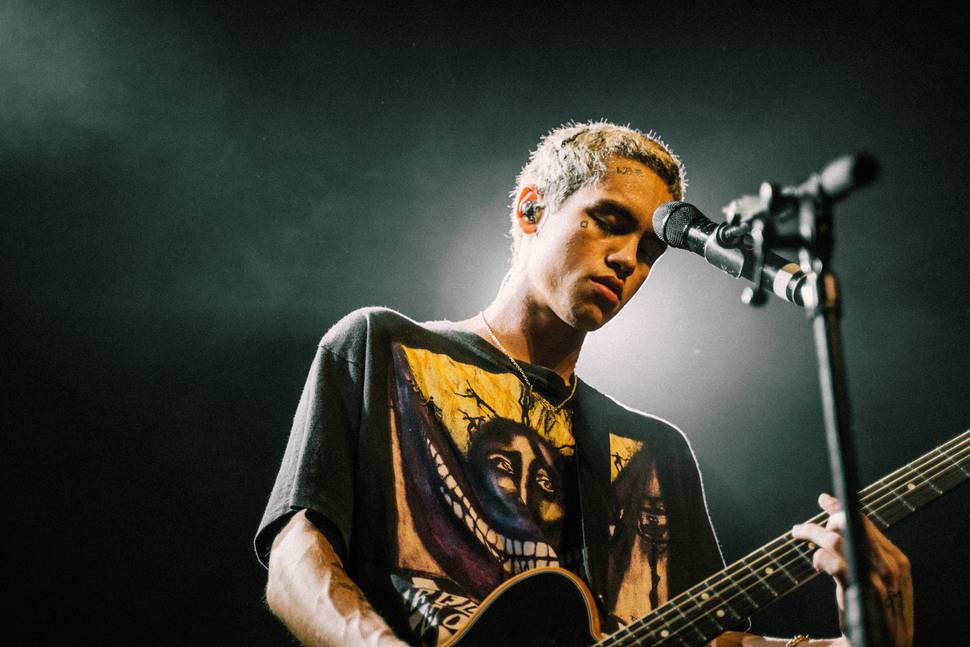 It's also rare that an artist takes so much time to interact with the crowd, but Fike did so between every single song.
The crowd was young and made up of all types of people, which makes sense because the indie-pop-rap-rock singer definitely doesn't want to limit his audience to just one category.
His talent on the guitar is something that should be mentioned. His guitar playing had strong rock tendencies and he played extremely passionately, almost as though he was having a boogie with it.
Fike's talent was clear as he put his entire body and soul into the performance, with sweat dripping down his face he continually had to wipe away.
The set was short of dull, and he would often scream: "Hello! How we doing New Zealand!" out of the blue, as though he was waking us up. He appeared completely enamoured with New Zealand, which is a great thing, because it's clear he's about to blow up and the Kiwi audience will be desperate to have him back.