Lowdown
What: Hamilton Gardens Arts Festival
Where & when: At the gardens, February 20 - March 3
hamiltongardens.co.nz or hgaf.co.nz
"I do think there's a squatch in these woods…"
And so begins another episode of the frankly bonkers Animal Planet TV "reality" show Finding Bigfoot, which I sometimes watch with Miss Nine in the hope of boring her to sleep.
When I ask if she thinks the team of seemingly likeable people will find a Bigfoot, also known as a Sasquatch or just plain squatch, she reminds me the series wrapped in 2018 and we're watching old episodes: "Mum, if they really had found one … well, I think we would have read about it by now in your newspaper."
But could it be that the team was looking in the wrong place? Those running the annual Hamilton Gardens Art Festival think so.
For this year's festival, the 20th, organisers are following up on reports that there is a squatch in the woods – or, at least, somewhere on the 54ha gardens' site, which was once a municipal rubbish dump but now a jewel in Hamilton's ever growing and glowing crown.
They're bringing in the experts; not the Finding Bigfoot crew but Wellington-based "investigators" who want those with sensible walking shoes and a sense of adventure to join them on their hunt around the gardens. Think of it as a citizen science project with not a lot of science but a heap of improvisation and creative endeavour at its heart.
Sasquatch is one of 50+ theatre, music, art, dance, circus, film, meeting-of-minds and street performances on the 2019 HGAF programme. In the name of research, I joined festival codirector Bronwyn Bent for a walk around a small area of the gardens – it was a very hot day so we didn't want to go too far – in search of signs of the legendary Sasquatch.
Our excursion started with lunch at the excellent cafe that overlooks Turtle Lake and, given its extensive menu, seems to be sticking with the mantra of making the most of seasonal, fresh and locally available produce.
Given Bigfoots (Bigfeet?) are reputedly shy creatures – the lack of posing for photos to prove one's existence is testimony to that – I didn't expect to find one here. Instead, I discovered a generously proportioned toasted bagel with cream cheese, hot-smoked salmon, pickled red onions and caper berries - delicious.
We could have continued the search by heading to the Rhododendron and Governor's Lawns. These are sites for several festival events including the Pacific Crystal Palace Spiegeltent, where headliners Strut & Fret stage the "cheeky, Vaudeville-style" circus-cabaret show Deluxe Deluxe, which is exclusive to the HGAF – not bad considering past venues have included Sydney Opera House and London's West End.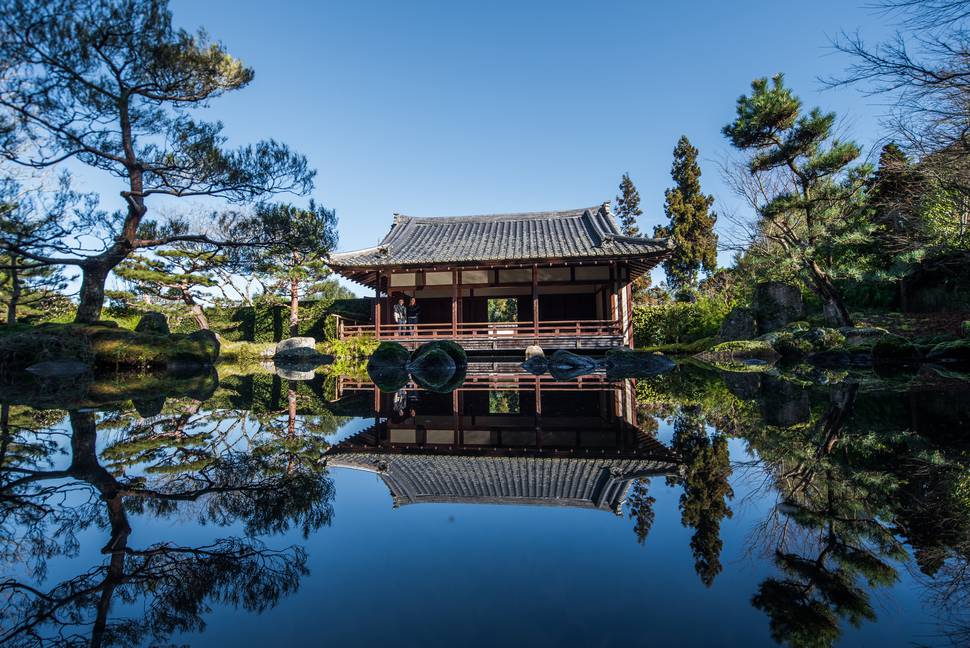 Instead, we opted for the Enclosed Gardens, away from roads and, as the name suggests, are more sheltered, thus providing possible cover for a Bigfoot. It's important to note that Hamilton Gardens were founded, in the 1950s, on the concept of capturing the history, context and meaning of gardens rather than being botanical ones. They aim to tell stories about gardens, their development during time and across cultures and their use. The gardens are best compared to a museum with a collection that provides a glimpse into art, culture, beliefs and lifestyles.
This is encapsulated in the Enclosed Gardens, where you can go from a Japanese Garden of Contemplation to one celebrating New Zealand author Katherine Mansfield in the space of a few minutes (it will take a little longer given that there are around 11 other gardens in between).
At this point, I proved to be a negligent Sasquatch tracker. My attention and imagination were consumed by the gardens themselves and reflecting on Bent's comments about how fun planning the arts festival is because you get to marry performances to specific spaces.
And what spaces they are!
Have flowers ever blossomed as brightly as they do in the Indian Char Bagh Garden (venue for HGAF writers' events)? How could you ever – probably never – use the steampunk Huddleston blimp in the Braithwaite Court in a performance? How clever were the gardeners and designers who made the Concept Garden as a form of outdoor conceptual art? How cool will it be to watch the movie Some Like It Hot, part of the festival's film programme, in the Chinoiserie Garden where fanciful European fantasies about Oriental garden design are on show? If only there was more room in the Tudor Garden ...
This year, Bent and fellow festival co-director Sally Barnett decided The Mystery of the Paper Crane, a puzzle game where audiences have to find the ambassador's missing daughter, would be best in the Japanese Garden; they've picked the Medici Court – which looks like it comes straight from the set of a Romeo and Juliet movie – for a raft of comedy, opera and theatre performances; the Modernist Garden, which pays homage to the US West Coast gardening traditions, is the venue for Hood Street: The Musical, celebrating a night on the town in downtown Hamilton.
Opened late last year, the Mansfield Garden is the newest space to play with. Complete with a tennis court and life-size replica of a house similar to the Mansfield's Wellington home, it's an authentic interpretation of the New Zealand garden described in Mansfield's short story The Garden Party.
Obviously, it's ideal for performances of The Case of Katherine Mansfield while the house front becomes a canvas – of sorts – for Hamilton-based Dr Mesmer's Private Army to stage its music and multimedia show, Something Childish but Very Natural (also a short story by Mansfield). Projections have been specially designed to wrap around the house as musicians interpret her stories.
We walked back through the Productive Garden Collection, which includes Te Parapara, where traditional Māori horticulture is on show, and a herb garden from which plants for Java Dance Theatre's The Creamery will be plucked.
There was no squatch – at least that I could find in woods or anywhere else – at Hamilton Gardens, but there was a bounty of stunning sights, sounds and smells. Much like you can expect with its arts festival.